Event Information
Refund policy
Contact the organiser to request a refund.
Eventbrite's fee is nonrefundable.
MKAI August Expert Forum | Using AI for Good Part 3 | How AI can be applied to solve some of our biggest challenges
About this event
In this event, we discuss AI accountability in the digital age, the Microsoft AI for Good Research Lab, and how AI can be used for the common good. There is also a real-world use case of AI being used to prevent water leakage and improve water sustainability.
Agenda (all times in BST):
5:00pm: 🎙️Welcome and Announcements by host Richard Foster-Fletcher and sponsors Aiimi and Data Reply
5:10pm: 💻 Speaker 1 - Frits Bussemaker, Chairman, Institute for Accountability in the Digital Age (I4ADA)
Presentation: Accountability in the digital age: AI and beyond
Frits works as an independent Business Community Builder and Program Manager with a long and strong international track record since 1988 in "organizing value" by connecting people, ideas and organizations in Communities. He seeks to "organize serendipity" i.e. his experience is that unexpected great value is often to be found by bringing different communities in contact with each other. This has resulted in numerous Program Management and consultancy positions focussed on bringing together Information Technology, Innovation and Impact.
One of his key communities is the 'Institute for Accountability in the Digital Age' (I4ADA) which he chairs. The institute was set up at the instigation of UNESCO to seek 21st-century solutions on how to manage accountability in the Digital Age. To help find these solutions I4ADA is building a global multi stakeholder community consisting of national and local governments, international policy makers and institutes, NGOs, civil society, the ICT industry and platforms, as well as other relevant organizations.
5:30pm:💻 Speaker 2 - Anusua Trivedi, AI for Good Research Lab, Microsoft
Presentation: ECO: Using AI for Everyday Armed Conflict Analysis
Anusua Trivedi is a data scientist on Microsoft's advanced data science and strategic initiatives team, where she works on developing advanced predictive analytics and deep learning models. Previously, Anusua was a data scientist at the Texas Advanced Computing Center (TACC), a supercomputer center, where she developed algorithms and methods for the supercomputer to explore, analyze, and visualize clinical and biological big data. Anusua is a frequent speaker at machine learning and big data conferences across the United States, including Supercomputing 2015 (SC15), PyData Seattle 2015, and MLconf Atlanta 2015. Anusua has also held positions with UT Austin and University of Utah.
5:50pm:💻 Speaker 3 - Hans De Canck, Manager - AI Experience Center / AI for the Common Good
Presentation: Why Brussels needs an AI for the Common Good Institute
Hans manages and direct the development of the AI Experience Center of the Vrije Universiteit Brussels (VUB). The AI Experience Center will become a state of the art Digital Innovation Hub in Brussels. Several research centers from the Vrije Universiteit Brussel have joined forces to develop a multi-disciplinary Research and Innovation offering on AI towards Academia, Industry, Policy makers and the broader public. The AI Experience Center will accelerate this offering.
He works with the research teams across the university and act as a coordinator for the AI for the Common Good initiative, launched by rector Caroline Pauwels early 2019.
6:10pm:💻 Speaker 4 - Richard Fielding, Smart Water Systems Engineer at Anglian Water and Jack Lawton, Data Science Principal at Aiimi
Presentation: How we can use AI to prevent leakage and improve water sustainability
As the UK population grows, leakage within our national infrastructure represents a serious risk to our ongoing water supply, with billions of litres of water lost each day due to leaks. With rising demand on water supply in the UK, solving the issue of leakage is not only vital for maintaining supply to customers, but also for achieving long-term sustainability in the industry. In this session, Richard Fielding, Smart Water Systems Engineer at Anglian Water, and Jack Lawton, Data Science Principal at Aiimi, discuss how Aiimi are using AI technology to help Anglian Water accurately detect leakage in their network.
5:30pm-6:30pm: Consecutive Technical Breakout workshop with James Robinson, Data Consultant and Tajhame Francis, Data Scientist at Aiimi
Workshop: Engineering for AI
How to extract the value out of your dataset using feature engineering techniques and how to prepare your dataset for modelling. James will present and Tajhame will facilitate and answer questions.
James is an expert in all things machine learning, data science and data engineering. In his consulting role at Aiimi, he enjoys working with his clients to build a solution for all parts of a data problem and make sure it works within the framework required. James is a stickler for doing things the right way, always using best coding practices along the way!
Tajhame is a Data Science Consultant with a background in applied mathematics. As a Data Scientist with Aiimi, Tajhame has had a varied commercial experience, giving him a broad set of skills across data architecture, data engineering, data science and application development.​ Tajhame is always up for getting involved throughout a project's lifecycle, from the scoping of requirements to deployment into production, and has a great head for project strategy.
6:30pm: Panel discussion with all speakers
6:55pm 🔮 Roundup + What's next with MKAI
7:00pm Close
MKAI's Summer Series of AI for Good forums is made possible by our partners Aiimi and Data Reply UK.
Aiimi:
During COVID-19 disruption Aiimi can:
Help your employees work from anywhere with InsightMaker
Automatically process your Customer Services inbox
Problem solve with your team through facilitated Virtual Design Sprints
For more information have a look at Aiimi's remote working services visit https://www.aiimi.com/
Data Reply UK:
Part of the well-known Reply group, Data Reply UK offers a broad range of advanced analytics and AI-powered data service to enable Digital Leaders and Chief Officers achieve meaningful outcomes through the effective use of data.
They support companies in designing and implementing human-centered data products to turn embryonic ideas into enterprise solutions with Big Data Engineering, Data Science and Intelligent Process Automation.
You can find out more and get in touch at www.reply.com/data-reply
MKAI is supported by:
Webtrends Optimize: AB Testing & Website Personalisation
Webtrends Optimize is a powerful, enterprise-grade experimentation platform with a suite of website optimisation tools to enhance your visitors digital experience. Full access to all features is available, as standard, to all users. That means no paywall features, no tiers and no upgrades needed.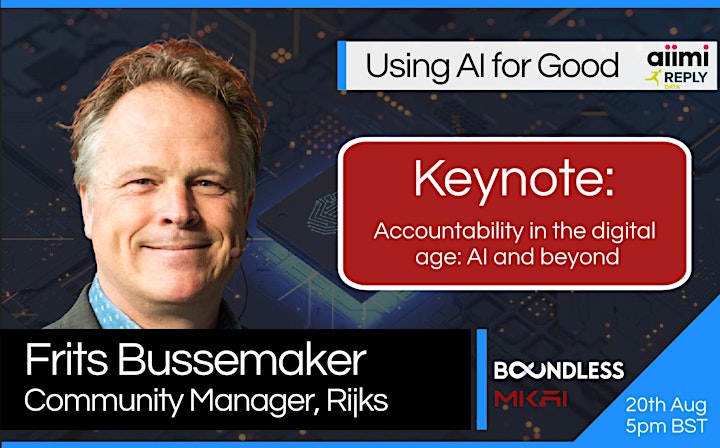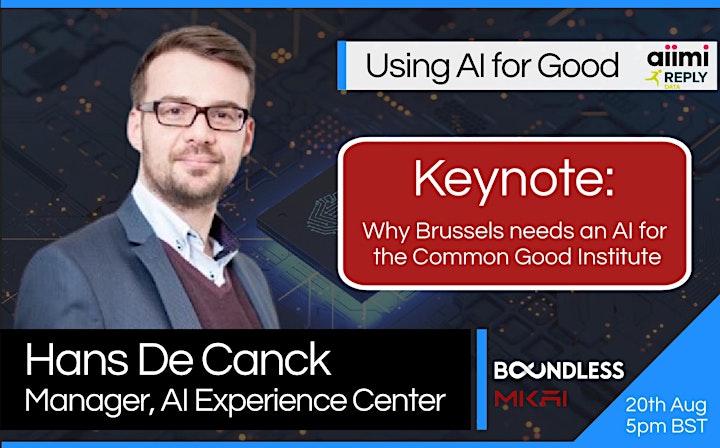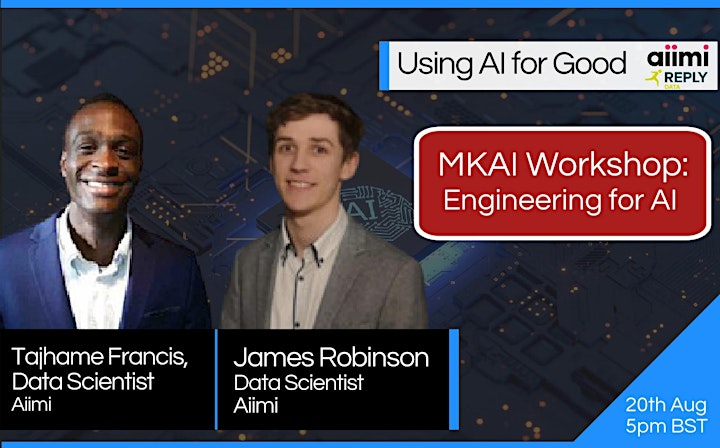 Date and time
Location
Refund policy
Contact the organiser to request a refund.
Eventbrite's fee is nonrefundable.