About this Event
🕒 MKAI Technical Forum 23rd September 2020. Times around the world:
9am PST (West Coast US)
12pm EDT (East Coast US)
5pm BST (UK)
6pm CEST (Central Europe)
8:30pm IST (Indian Standard)
Agenda (all times in British Summer Time (BST)):
4:30pm: Open for Table Themed Networking in REMO (meet new people and move around virtual tables of varied discussion)
5:05pm: 🎙️Welcome by Host Richard Foster-Fletcher, Co-Organisor Ghaith Sankari and sponsors Aiimi and Data Reply
5:15pm: 🎙️ Ulie Schnaithmann, Machine Learning Scientist at Arterys
Talk: Neural architecture search in medical imaging
Ulie Schnaithmann is a Machine Learning Scientist at the medical imaging start-up Arterys, helping enhance the radiology workflow with Deep Learning.
After double majoring in Computer Science and Psychology, Ulie started a Master's in Data and Knowledge Engineering, focusing on Machine Learning. During graduate school at Otto-von-Guericke University in Germany, she was doing research into aneurysm detection in MRI scans.
While completing her degree, she wanted to solve real-world challenges and joined Arterys in San Francisco. In collaboration with the company she wrote her thesis on Transfer Learning in medical image segmentation.
Ulie has several years of experience in Machine Learning, as well as Software Engineering and is passionate about advancing Healthcare with the help of Artificial Intelligence.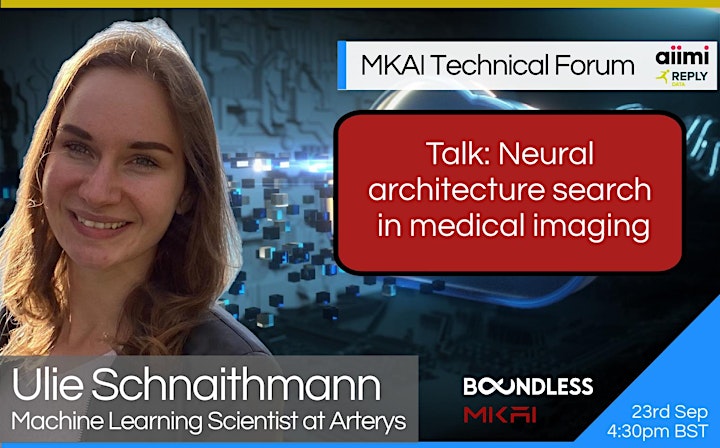 5:40pm:🎙️ Jan Jitse Venselaar, Data Scientist, Consultant, Architect
Talk: Automated ML in practice
Jan Jitse Venselaar studied physics and mathematics at Utrecht University in the Netherlands. After finishing his PhD in 2012 there, he worked as a researcher at Caltech in the US and at Gottingen university in Germany.
He was an engineer and architect at ASML, working on developing and deploying machine learning solutions to resolve nanoscale structures on chips using visible light. After a brief spell as senior data scientist at a startup applying machine learning to monitor the progress of disease in MS patients, he is now developing ML solutions for the manufacturing industry.
In his spare time, he likes to run and try to predict the outcome of the Eurovision Song festival using machine learning.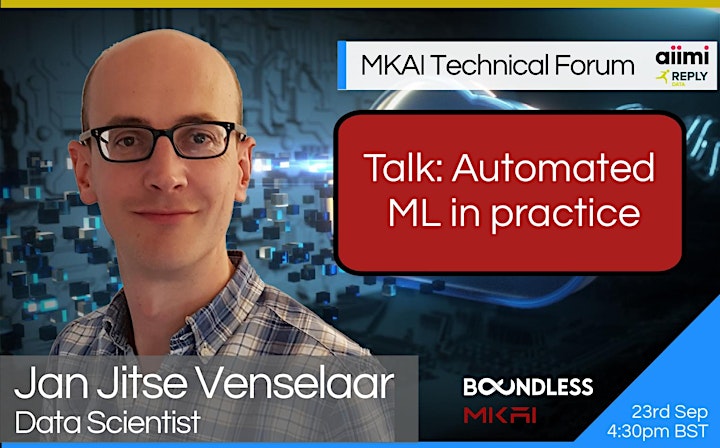 6:05pm: 🎙️ Jack Lawton, Data Science Principal at Aiimi and Paul Sliwinski, Consultant Team Lead at Aiimi
Talk: AutoML vs Real Data Scientist
Using a single data set, we'll compare the processes of building a predictive model using PowerBI's AutoML feature, versus a data scientist building a model manually. In the session, we'll solve a common data problem using both approaches. Our two presenters will step through each option and provide a comparison at the end.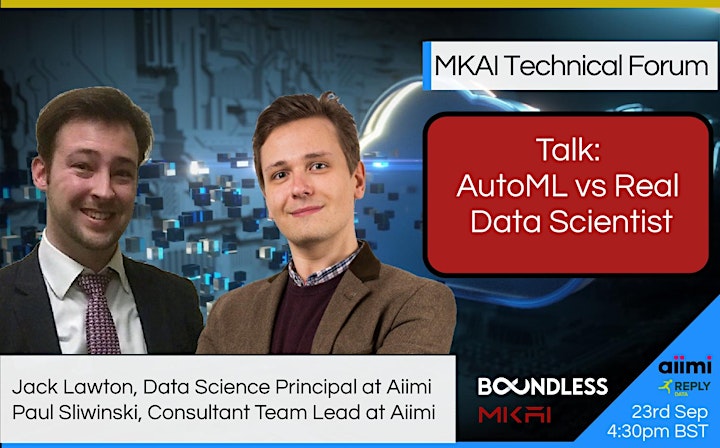 6:30pm: Panel discussion with all speakers
6:55pm 🔮 Roundup + What's next with MKAI
7:00pm Close and optional virtual table-based networking
MKAI technical forum is made possible by our headline partners Aiimi and Data Reply UK

Aiimi:
During COVID-19 disruption Aiimi can:
Help your employees work from anywhere with InsightMaker
Automatically process your Customer Services inbox
Problem solve with your team through facilitated Virtual Design Sprints
For more information have a look at Aiimi's remote working services visit https://www.aiimi.com/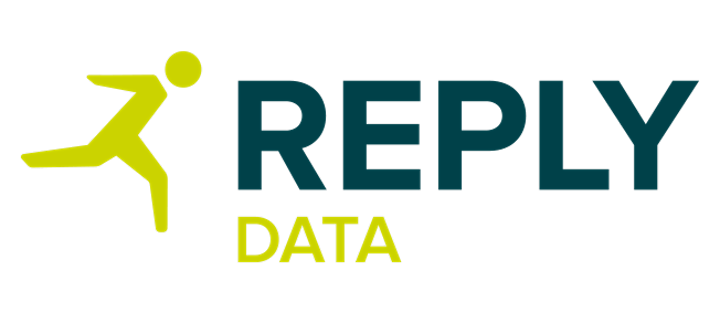 Data Reply UK:
Part of the well-known Reply group, Data Reply UK offers a broad range of advanced analytics and AI-powered data service to enable Digital Leaders and Chief Officers achieve meaningful outcomes through the effective use of data.
They support companies in designing and implementing human-centered data products to turn embryonic ideas into enterprise solutions with Big Data Engineering, Data Science and Intelligent Process Automation.
You can find out more and get in touch at www.reply.com/data-reply

MKAI is supported by:
Webtrends Optimize: AB Testing & Website Personalisation
Webtrends Optimize is a powerful, enterprise-grade experimentation platform with a suite of website optimisation tools to enhance your visitors digital experience. Full access to all features is available, as standard, to all users. That means no paywall features, no tiers and no upgrades needed.
You can find out more and get in touch at https://www.webtrends-optimize.com/