Description
Please note the venue has changed from the original location and is now being held in the Farnborough Air Sciences Trust Museum, in Hampshire.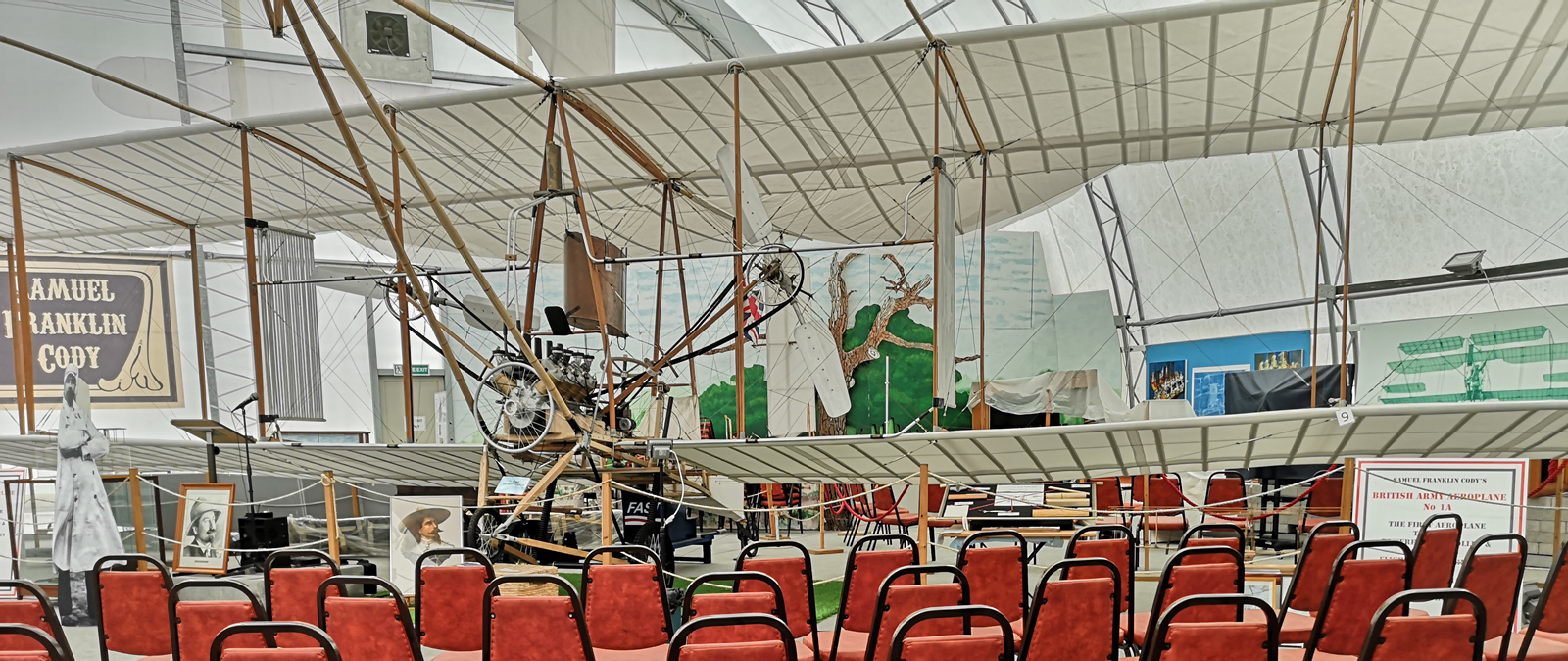 We are really excited to be hosting this year's 63rd MMF at the Farnborough Air Sciences Trust Museum, in Hampshire, on 25th September 2019.
The 63rd MMF is the latest in the MMF series of one-day, non-profit making events which are run to provide opportunities for the informal exchange of ideas, knowledge, techniques and developments across an extensive range of marine scientific measurement activities.
We're really excited about the new venue and we hope you will be too; it should be really quirky and interesting! You will also have a chance to look around the museum during the day and the helpful and knowledgeable staff will be on hand should you have any questions.
Lunch and a selection of refreshments will be provided throughout the day. All you need to do is turn up and soak up the presentations and conversations.
More than just the MMF
As a bonus, and to help maximise your experience, the Southern Region Hydrographic Society evening meeting will be held after the MMF. So, if you're attending the meeting during the day, you can also join us for the evening. It will start at 17:00 and finish no later than 21:00.
Again, food and refreshments will be provided for what will be a fantastic evening. If you plan to attend just let us know on the sign up form.
Be sure to check back here for more information and see the great speakers as they get added. A full agenda will be provided one month before the event. If you have any questions, please don't hesitate to contact us.
MMF 63 & Hydrographic Society Draft Programme
MMF63 Agenda
0845 - 0915 Delegate registration and refreshments
0915 - 0930 Welcome
0930 – 1030 Session One
0930 – 0950 Talk 1 – History of FAST
0950 – 1010 First Descent: Indian Ocean
Oliver Steeds, Nekton
Nekton present First Descent: Seychelles, the first of a series of Expeditions to explore and conserve the world's most unknown and least protected ocean the Indian Ocean. From submersibles to ROVs, from sensors to Sonarydyne's BlueComm, the Expedition deployed a suite of over 21 different scientific and communications technologies, including 6 new systems to conduct multidisciplinary research and amplify ocean awareness. 12 technology partners participated to enable this ground-breaking partnership between marine research and subsea technology providers sharing a common purpose to explore and conserve the ocean. In partnership with Associated Press and Sky, the Mission broadcast a series of world firsts from the submersibles including a live documentary series, newscasts and a Presidential Address. The Seychelles' President's live broadcast became the largest news story of the day and Associated Press estimated that coverage of the Mission across TV, print and digital reached 3.5billion people.
1010 – 1030 Environmental Monitoring of the Ocean Cleanup by AutoNaut USV
Phil Johnston, Autonaut
An AutoNaut USV has provided environmental monitoring for the ambitious Ocean Cleanup project since November 2018. A 5-metre AutoNaut accompanied the 600-metre plastic removing device, System 001 or "Wilson", in a series of missions of between 20 and 30 days duration in the Pacific Ocean. The wave-propelled USV has acquired data on ocean current, meteorological and oceanographic parameters to: 1) Study the area known as the Great Pacific Garbage Patch and 2) Support understanding of interactions between aggregations of plastic litter and the Ocean Cleanup barrier itself.
1030 – 1100 Networking Break with Refreshments
1100 - 1200 Session Two
1100 – 1120 WireWall – A new approach to coastal wave hazard measurements
Robin Pascal, NOC
The construction of seawall defence schemes typically cost £10,000 per linear meter. With reductions in public funding, cost savings are required that do not cause a reduction in flood resistance when building or modifying schemes to provide protection over the next 100 years. The design of new coastal flood defences and the setting of tolerable hazard thresholds requires site-specific information of wave overtopping during storms of varying severity. By converting an existing wave measurement technology into a prototype overtopping measurement system "WireWall", flume observations of wave-by-wave overtopping velocity and volumes have been made to:
(1) perform calibration of overtopping tools, e.g., the industry-standard empirical rules within EurOtop; and
(2) design a field rig to collect in in situ measurements.
Recent advances in technology mean existing wave height sensors can now measure at the high frequencies (a few 100 Hz) required to obtain overtopping data. These observations will provide local authorities with site-specific data and calibrated overtopping tools to inform the design of new cost-effective seawalls. Field deployments of WireWall during winter 2018/2019 will be the first step towards the development of an overtopping monitoring system that could ultimately be integrated into new coastal schemes.
1120 – 1140 TBC, Chelsea Technologies
1140 – 1200 Fisheries active acoustics from a Wave Glider – challenges and successes!
Dr Dave Pearce, CEFAS
On the back of previous water quality missions carried out by Cefas' Wave Glider SV3 "Lyra", scientists and engineers at the Lowestoft laboratory collaborated to develop the capability to collect fisheries acoustics data using this remotely piloted surface vehicle. The system was tested and modified during two 7 week missions as part of the NERC/Defra AlterEco project. This talk looks some of the decisions taken during the integration, the logistical considerations during the missions, the data collected (and ground truth samples required) and an assessment for the potential use of these to complement traditional ship-based pelagic fishing surveys.
1200 – 1300 Networking Lunch Break
1300 - 1410 Session Three
1300 – 1310 News from MMF Steering Group
1310 – 1330 USVs: A Safe and Economic Solution to Collecting Ocean Data
James Ives, CEO XOcean
Using Unmanned Surface Vessels (USVs), XOCEAN provides turnkey data collection services to surveyors, companies and agencies. From mapping the seabed to integrity inspections, XOCEAN offers a safe and economic solution to collecting ocean data. XOCEAN CEO James Ives presents an overview of the use of the XO-450 platform to perform 'Over-The-Horizon' operation using satellite communications.
1330 – 1350 Smart Sound Plymouth, Britain's platform for innovative marine technology development
Dr James Fishwick, PML
Smart Sound Plymouth is ideally suited for building and supporting the next generation of marine technologies. Coordinated through the Marine Business Technology Centre (MBTC), Smart Sound Plymouth is a partnership between the core members of the MBTC programme. Plymouth City Council, along with the Plymouth Marine Laboratory, Universities of Plymouth and Exeter and the Marine Biological Association, boast considerable knowledge and expertise in the areas of advanced marine autonomy, alternative propulsion, environmental monitoring, advanced materials and cyber security.
Covering over 1000km2 of sea off Plymouth Sound, the proving area's impressive variety of water depth, sea states and weather conditions is ideally suited for conducting sea trials, including sub-surface tests with access to offshore water depths of 75m. Through the MBTC, access to Smart Sound Plymouth is free of charge for eligible businesses and includes a number of physical assets to aid technology development. These include unmanned surface vessels; fully instrumented data buoys that form part of the Western Channel Observatory; and a high speed communications system. Smart Sound Plymouth provides access to a professional team and a fleet of support vessels to facilitate even the most challenging mission trials.
Smart Sound Plymouth is home to the Future Autonomous at Sea Technologies (FAST) Cluster providing access to industry leading companies with cross sector expertise in cutting edge marine technologies.
1350 – 1410 Expanding coverage & broadening horizons: ARC-Boat swath sonar developments
Neil Crossouard, HR Wallingford
HR Wallingford has been working in collaboration with ITER Systems to trial their Bathyswath-2 swath sonar system on HR Wallingford's remotely-controlled/autonomous survey vessel; the ARC-Boat. Over 120 ARC-Boats are in use around the world today, and until recently they have been typically used to measure river currents using Doppler current meters or map bathymetry using single-beam echo sounders.
The Bathyswath-2 sonar - deployed on the HR Wallingford ARC-Boat - mapped a wide area of the River Thames bathymetry, compiling a detailed picture of the morphology and depth profile of the river bed. The success of this survey further adds to the suite of instrumentation which the ARC-Boat is capable of carrying.
The demand for 'drone' boats is growing as un-manned vessels can survey in hazardous areas without risk to human life and can access areas which cannot be reached with conventional manned boats. Drone boats also typically require less setup time compared to manned boats, which usually require mobilising once the surveyors reach the site.
Neil will present results of the ARC-Boat/Bathyswath-2 survey and future developments planned by HR Wallingford and ITER Systems on this front.
1410 – 1440 Networking Break with Refreshments
1440 - 1600 Session Four
1440 – 1500 Joint monitoring programme for ambient noise in the North Sea
Dr Jake Ward, NPL
Eight nations collaborate on monitoring noise in this €3.5M project to protect the marine environment. Challenges of standardisation, modelling and measurement are addressed in the project, as it now approaches mid-term of three years. This MMF presentation will focus on the relevant problems of standardisation in the project for a) terminology, b), equipment performance, and c), data processing. The entire North Sea is mapped using as few as 14 measurement stations, comprising both fixed cabled hydrophones and autonomous recorders. The value of standardisation across the borders is to protect a single asset shared by many member states.
1500 – 1520 Progress on Ground Roll Waves
Unlike fluids such as water and air, solids support shear waves which can be extremely complex. However, a relatively simple and coherent wavelet can occur in mud, modelled as a medium, progressively stiffening with depth. More confirmatory measurements will be required, but some progress has been made on the theory, to explain past measured data from dredging and piling trials
1520 – 1600 Optical communications technology; enabling wireless streaming of live undersea video
Dr Darryl Newborough, Sonardyne
Sonardyne's Bluecomm 200 technology provides the capability to stream live high definition video, with low latency through the underwater environment. This technology was utilised during the recent Nekton First Decent mission in the Seychelles, where video from inside and outside of the manned submersible was transmitter through the water and then around the world via satellite in a world first.
The presentation will highlight the performance envelope of optical communication and the challenges and limitation.
1600 – 1615 Closing Remarks
Location of the Venue
The museum is in Farnborough, just off Junction 4 of the M3. The nearest train stations are Farnborough Main, which is on the Southampton to London Waterloo line, or Farnborough North, which is on the Reading to Guildford line.
Onsite parking will be provided.
Any funds left after the event will be donated to https://sudep.org/.