Modelling and Analytics for a Sustainable Society Study Group
Description
Purpose and background
The MASS Study Group is a two half-day event that will give companies and researchers the opportunity to have their ideas and data of real world sustainability problems mathematically modelled and analysed. On the other hand, the study group provides mathematicians with an opportunity to work on new application areas and to develop new collaborations. Modelling and Analytics for a Sustainable Society (MASS) is training a cohort of doctoral students with world-class research skills in mathematical modelling, statistics and scientific computation that are transferable and applicable across the resource disciplines of Energy, Food and Water, enabling them to address key questions posed by resource scientists and decision makers. The MASS programme provides the motivation for this study group focused on sustainability problems, and MASS students, academic supervisors and other interested modellers and data analysts will form problem solving teams.
Problems
Study Group problems should neither be too simple/already done nor too difficult/time-consuming. Ideally, they should be non-confidential and publishable, but arrangements will be in place to ensure confidentiality kept for those that have confidentiality purposes. Real-world problems for which the solution mathematics could play a role are requested. Any problem which can be described quantitatively and modelled mathematically or statistically can be submitted.
Problem titles include:
Energy Storage Modelling
Brewing Process Energy Modelling
Understanding incomes and equality at the Urban Level
Modelling pod-set, pod-filling and dry matter partitioning in Bambara groundnut
Activities
Problems are presented to teams of doctoral students and expert mathematicians and computer scientists. Teams will devise or create possible mathematical and/or computational models to help explain data/results or to test novel hypotheses. The problem presenters will introduce the problems and be involved during the day to field questions, help develop models and direct analysis.
Schedule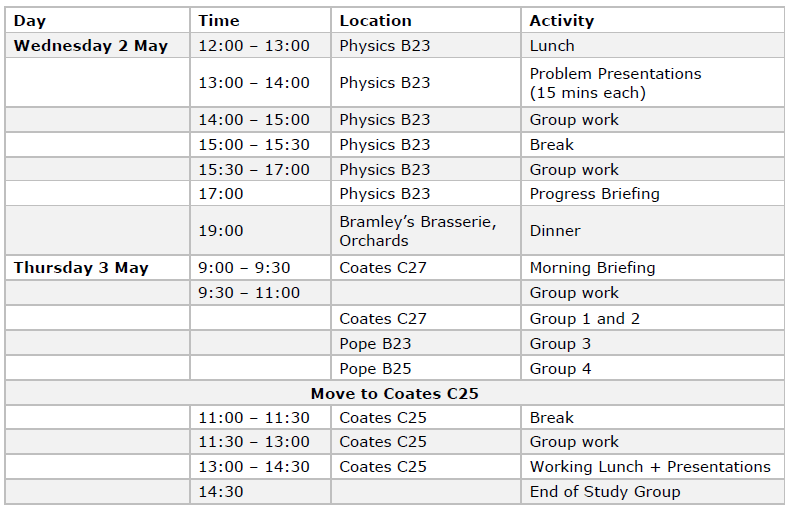 Outcomes
A written report, summarising the progress made during the workshop, is submitted after the meeting. Study groups often lead to future projects, papers and collaborations. MASS doctoral students and other academics are given the chance to work on a diverse range of problems and engage with a wide range of professionals.