Description
(English version below)
Schedule:

16.00 Arrivo ospiti
16.30 Chiusura porte ed inizio conferenza
18.30 Cocktail
19.30 Fine evento
L'evento è sold out. Sei un brand, press o influencer e vorresti assolutamente esserci? Contatta virginie@modeltag.com
Per la prima volta in Italia: un evento per parlare del nuovo social network TikTok.
ModelTag organizza a Milano la prima conferenza informativa in Italia dedicata a marketing manager, CEO, professionisti e studenti di master in comunicazione, content creator ed influencer, per analizzare insieme e scoprire le potenzialità di un nuovo social network che sta sorpassando i classici Instagram e Facebook, con il doppio degli utenti di Snapchat.

Come alcuni di voi già sapranno, TikTok è l'app e community globale di content creator che sta conquistando il mondo ed è già l'app più scaricata in molti app store. La conferenza ModelTag di quest'anno sarà concentrata su questo nuovo social media e su come può esser utilizzato dai brand e dai content creator nelle nuove campagne a livello nazionale ed internazionale.
Le domande principali alle quali troverete risposta sono:
Cos'è e chi c'è dietro TikTok?

Come posso utilizzarlo per il mio brand?

Come creo e come gestisco un profilo?

Quali top brand stanno già utilizzando TikTok?


Chi sono i content creator su TikTok e chi è il loro pubblico?
La conferenza avrà una durata di 2 ore, dalle 16.30 alle 18.30, a seguire networking cocktail privato dalle 18.30 alle 19.30 per brands selezionati, speakers, sponsors e stampa.


Matteo Flora, Founder di The Fool s.r.l., la Reputation Company Leader, e di TF42, la prima Legal Tech Company italiana, viene da un trascorso di Hacking, Intelligence e Computer Forensics.
Tiene una seguita video-rubrica giornaliera in cui parla di Propaganda Digitale e di come la Rete ci cambia.
Ci mostrerà la crescita esponenziale di TikTok nell'ultimo anno e come si è riflessa sugli altri social media.

TikTokkers, content creators con centinaia di migliaia di followers su TikTok che condivideranno come creano i contenuti, come stanno collaborando con i brand e come sono cresciuti così rapidamente su questo social focalizzato sui video.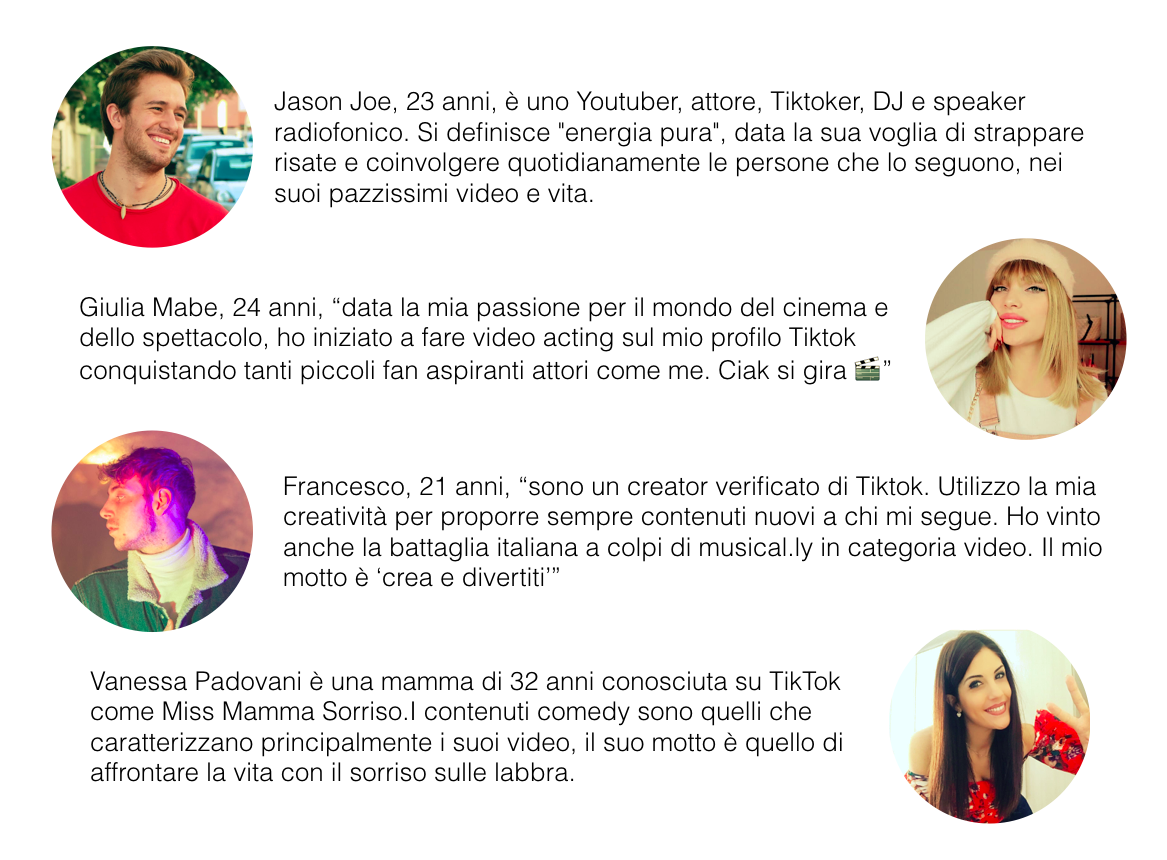 Carlo De Micheli, Founder di ModelTag, analizza tendenze sui social media dal 2012 ed è esperto di influencer marketing, con pubblicazioni sui più importanti giornali internazionali incluso il New York Times. Carlo ci spiegherà le differenze fra i "vecchi" social media caratterizzati da testo ed immagini ed i social media di nuova generazione dove i contenuti sono solo visuali e come i brand si stanno e dovranno adattare.
Nicoletta Vittadini è Professore Associato di Sociologia dei Processi Culturali e Comunicativi all'Università Cattolica del Sacro Cuore dove insegna Web & Social media e Sociologia della Comunicazione.
Si occupa di comunicazione digitale dagli anni Novanta e di socialità online da quando ha curato, nel 2002, Dialoghi in rete una delle prime antologie italiane su questo tema. Il suo ultimo libro è Social Media Studies. I social media alla soglia della maturità: storia teorie e temi, FrancoAngeli, Milano 2018. Ha partecipato a reti di ricerca nazionali e internazionali sul tema dei social media e dell'evoluzione delle audience contemporanee, tra cui: Transforming Audiences, Transforming societies, Cost Action UE 2010-2014. Dal 2012 dirige il Master in Digital Communications Specialist realizzato da Almed (Alta Scuola in media Comunicazione e Spettacolo dell'Università Cattolica) e ASSOCOM.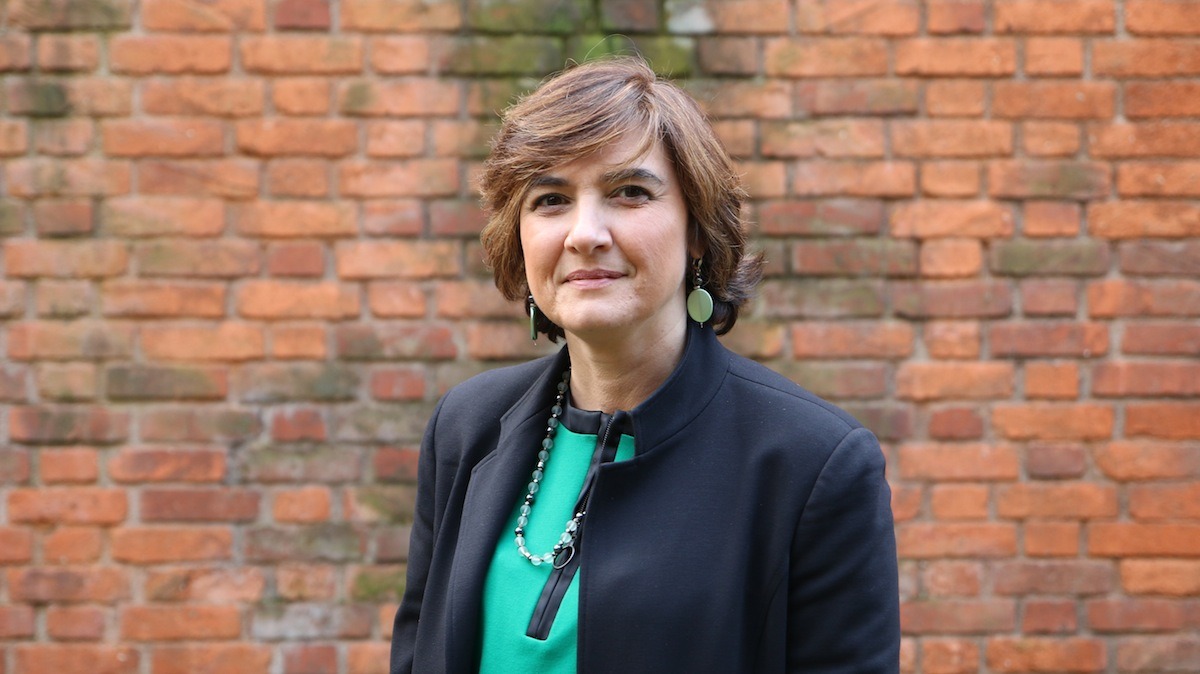 Stefan Lange Country Director News Republic per Italia, Spagna e America Latina. Stefan dal 2011 svolge diversi ruoli in News Republic, acquisita da Bytedance alla fine del 2017. News Republic è leader globale nelle app di aggregazione di news ed è disponibile in più di 40 lingue. Prima di lavorare a News Republic, ha sviluppato la sua carriera in diverse aziende internet, mobile e media in diverse nazioni. È un padre orgoglioso di 2 figlie, nato in Germania e abita a Madrid.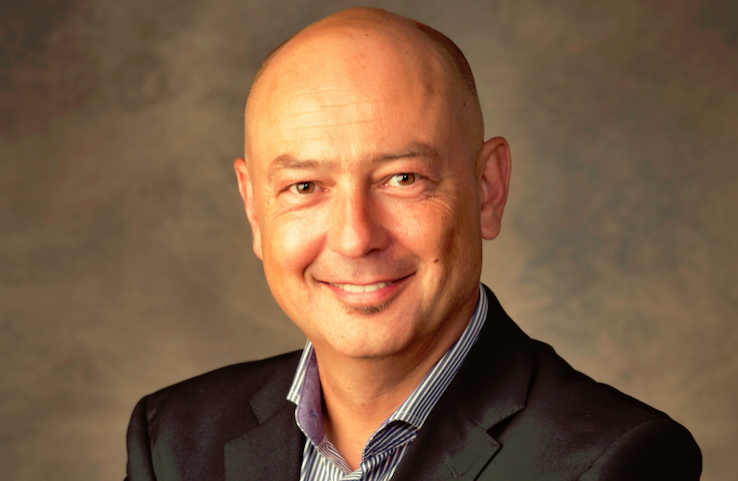 -----
[ENGLISH]
The event is sold out. Are you a brand, press, or influencer and would absolutely like to be there? Get in touch with virginie@modeltag.com

The first informative event in Italy dedicated to talking about this new social network.

Who is this for?
Marketing managers, CEOs, professionals and master students in multimedia and communications, content creators, and influencers.
As some of you already know, TikTok is an app and global community of content creators that is conquering the world, being the most downloaded app in many app stores already. This year's ModelTag Conference will be focused on how this new social media can be used by brands and content creators in their new campaigns on a national and international level.

The main questions that will be answered are:

What is and who is behind TikTok?

How can I use it for my brand?

How do I make a profile and how do I manage it?

What are top brands doing on TikTok?


Who are the content creators on TikTok and who is their audience?

The conference will be 2 hours long, from 16.30 to 18.30, with a private networking cocktail from 18.30 to 19.30 for selected brands, speakers, sponsors and press.
Matteo Flora, Founder of The Fool s.r.l., the Reputation Company Leader, and of TF42, the first Italian Legal Tech Company, he had experience in Hacking, Intelligence, and Computer Forensics. He holds a popular daily video-cast where he talks about Digital Propaganda and How the web changes us. He will show us the exponential growth of TikTok in the past year and how it was reflected on other social media.
TikTokkers, content creators who have hundreds of thousands of followers (see pictures in the Italian version above) on the TikTok social network. They will explain how they create their content, how the are collaborating with brands, and how they have grown so fast on TikTok.

Carlo De Micheli, Founder of ModelTag, analyzing social media trends from 2012 and expert in influencer marketing with publications on the most important international medias including The New York Times. Carlo will explain the differences between the "old" text and image driven social media and the new generation image and video-driven society and how brands will have to adapt.

Nicoletta Vittadini is an Associate Professor at Università Cattolica del Sacro Cuore, Sociologia dei Processi Culturali e Comunicativi, where she teaches Web & Social media and Sociologia della Comunicazione.
She works with digital communication since the 90's and online sociology from when, in 2002, she curated Dialoghi in Rete, one of the first Italian anthologies on this topic. Her latest book is Social Media Studies.
She participated in national and international evolution of contemporary audiences, including: Transforming Audiences, Transforming societies, Cost Action UE 2010-2014. From 2012 she is director of the Master of Digital Communications Specialist at Almed (Alta Scuola in media Comunicazione e Spettacolo dell'Università Cattolica) and ASSOCOM.

Stefan Lange Country Director News Republic for Italy, Spain, Latin America. Stefan is since 2011 in different roles working for News Republic, acquired by Bytedance end of 2017. News Republic is a leading global news aggregation app available in +40 languages. Before joining News Republic, he developed his career in different companies in the internet, mobile and Media business in different countries. He is proud father of 2 daughters, was born in Germany and is living in Madrid.

FAQs
What language will the event be in?
Mostly in Italian, some parts may be in English.
Do I have to bring my printed ticket to the event?
Let's save some trees, the digital version on your phone is good to go.

____________________________________________
Disclaimer: Tutti i marchi riportati appartengono ai legittimi proprietari; marchi di terzi, nomi di prodotti, nomi commerciali, nomi corporativi e società citati, incluso TikTok, possono essere marchi di proprietà dei rispettivi titolari o marchi registrati d'altre società e vengono utilizzati a puro scopo esplicativo ed a beneficio del possessore, senza alcun fine di violazione dei diritti di Copyright vigenti.
Durante la conferenza verranno effettuate riprese audio/video e scattate fotografie che potranno riprendere uno o più partecipanti. Chi si iscrive prende atto che: la pubblicazione e/o diffusione potrà avvenire in qualsiasi forma sul sito internet, su carta stampata e/o su qualsiasi altro mezzo di diffusione, anche tramite social network (quali ad esempio Facebook, LinkedIn, Youtube e Twitter), su stampa locale, nonché su monitor visibili al pubblico; le finalità saranno meramente di carattere pubblicitario e promozionale sempre in ambiti riferibili alle attività e iniziative istituzionali della azienda; la posa, la conservazione e l'utilizzo come sopra è a titolo gratuito, senza limiti di tempo; Il materiale stesso verrà conservato negli archivi informatici dell'azienda; La presente liberatoria/autorizzazione potrà essere revocata in ogni momento contattando per posta ordinaria o elettronica l'azienda titolare; Il Titolare del trattamento dei Dati personali è ModelTag Ou. Vieta inoltre l'uso del medesimo in contesti che ne pregiudichino la propria dignità personale e il decoro.