About this Event
From side-hustles and self-employment to juggling motherhood and building an empire, the Modern Career Women event will uncover what it takes to get ahead in the modern world of careers without comprising on your passions or beliefs.
Through an in-depth panel discussion, you will be learning about the step by step process this incredible all-female panel took to carve out successful careers. Each panelist will represent a unique modern career path, whether it's being a leader in a business, having a lifestyle business or building a business for growth, what all these women have in common is experience and advice to share with you.
We will be exploring how these women:
Define and strive for success
Have cultivated careers focussed on their unique strengths
Manage motherhood and their career
Experienced challenges and what they learned from them
Have built unique careers in the modern world
Specifically, this MCW event is for you if you are interested in hearing more about:
The world of corporate wellness - careers, opportunities and tips
Side-hustles
Coaching
Self-employed and consultancy life
How to build a well-tech start-up
Wellness festivals
Life after redundancy
How to make a success of your lifestyle business
Expect to hear practical tips and insights and to meet like-minded individuals who, similar to you, want to build a successful and fulfilling career.
Get ready to be inspired and empowered to take action in your own career!
Arrival: 6.30pm
Start: 7pm (sharp)
End: 8.30pm
Meet Your Panelists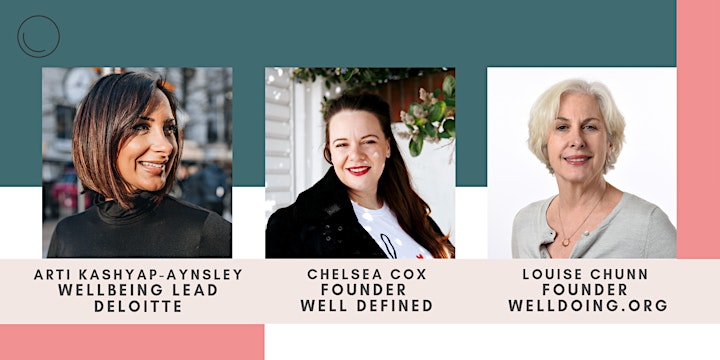 Arti Kashyap-Aynsley: Business Leader
Wellbeing Leader, Deloitte Consulting UK | Transformational Coach | Resident Coach @Ladies-Who-Launch
After qualifying as a Chartered Accountant with PwC, Arti joined Deloitte Consulting in 2010. Since joining the firm, Arti has had the opportunity to work on a multitude of programs focused on Finance Transformation, has been involved in large monumental and strategic firm programmes and has dedicated much of her time to developing the younger generation of Deloitte employees. With a passion for well-being and the development of others, Arti recently secured the role of Wellbeing Leader for Deloitte Consulting in the UK - the first of its kind for the firm.
Arti now leads this well-being division and is tasked with managing the wellbeing and experiences of Deloitte's employees. Arti is also focussed on challenging and inspiring the business to think more holistically about how they evolve in this space.
In 2019, after Arti started her side hustle as a transformational coach, she joined the Ladies who Launch team as their resident coach and now writes and contributes to their channel working closely with the founding team.
Chelsea Cox: Lifestyle Business
Founder of Well Defined
Chelsea's career started off in business & commercial management which led her to join The Telegraph in 2011. Here, Chelsea was part of the team who launched Europe's largest wellness festival dedicated to women, Be:Fit London. After leading the Be:Fit London team for 3 years, earning multiple awards along the way, The Telegraph put the brand up for sale.
Chelsea sourced a large amount of private investment to enter the bidding process, but unfortunately, her management buyout was unsuccessful. The learnings and experience Chelsea took from this process, as well as her decade of experience in business & commercial management, led her to launch her consultancy Well Defined. Through this platform, Chelsea supports women in business and female-led brands with their strategies, business development and outreach.
Most recently she launched a sister company to Well Defined, Well Assisted, which offers diary management and virtual PA services to busy women. She is a huge advocate of women supporting women in business.
Louise Chunn: Growth Business
Founder of welldoing.org
Louise Chunn is the founder of therapy platform welldoing.org which matches people with the right counselors and therapists. A UK-wide marketplace, it has helped more than 12,000 people find the professionals they need.
As a prize-winning journalist and editor, Louise was previously editor of five magazines, including Psychologies, In Style and Good Housekeeping, and has just launched bi-monthly magazine Planet Mindful, published by TI Media (formerly Time Inc). Louise was also Women's Page Editor of The Guardian and deputy editor of both Vogue and Elle.
She regularly writes for newspapers such as The Telegraph and Sunday Times, and magazines such as GQ and Elle on mental health and wellbeing.