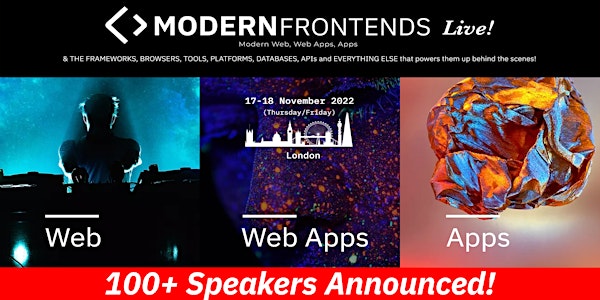 Modern Frontends Live! -November 17-18 (Conf ) & November 15-16 (Workshops)
Location
Excel London
Western Gateway
London
E16 1XL
United Kingdom
Join us on November 17-18, 2022 (Thursday/Friday), in London, for Modern Frontends Live!
About this event
Join us in November in London for Modern Frontends Live! The official website is modernfrontends.live.
UPDATE: 100+ Speakers have been announced!
What is Modern Frontends Live! ?
Modern Frontends Live! is about Modern Web, Web Apps, Apps & the frameworks, libraries, browsers, tools, platforms, databases, APIs and everything else that powers them up behind the scenes!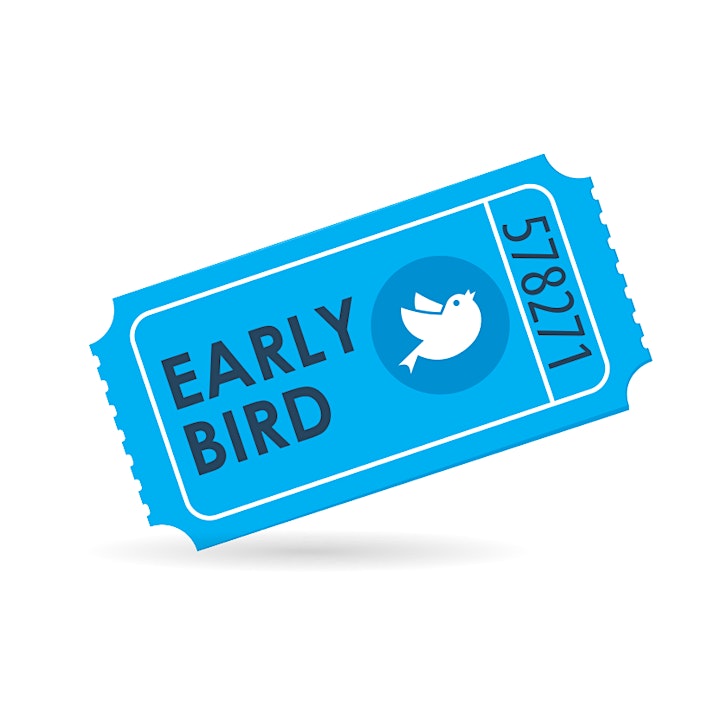 Sale of Super Early Bird & Early Bird Tickets has finished.
Early(ish) Bird Tickets are on sale now until August 31st. Don's miss out!
Don't miss out on a fun, interesting and informative 2 days of expert speakers, demo stands, workshops, career fair and much much more. You'll also get the chance to network with experts and learn more from some of the amazing developers and speakers we have lined up!
When - November 17-18, 2022 (Thursday/Friday) with workkshops on November 15-16.
Where - Excel London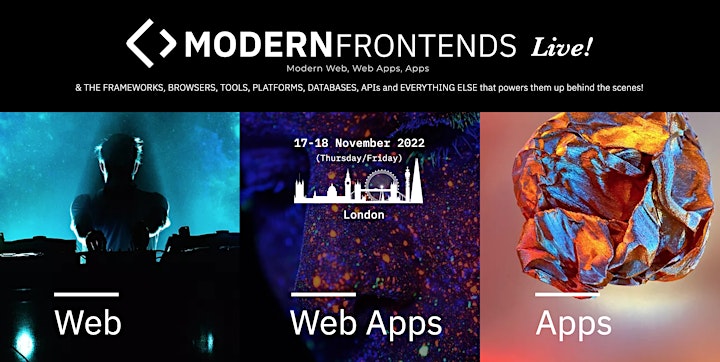 Talks will be about (and this is not an exhaustive list) -
- Coding
- Design
- Frameworks
- Libraries
- Browsers
- Tools
- Platforms
- Databases
- APIs
- Architecture
- Design
- Accessibility
- UX/UI
- Testing
- Devops
- Dev Experience
- Engineering Leadership
- etc.
There will be people taking photographs and potentially filming the event. By attending you agree to the possibility of being photographed and filmed once inside the venue. Thank you for your interest in Modern Frontends Live! and we look forward to seeing you there!