Modern slavery, expertise and evidence roundtable
Description
Modern slavery, expertise and evidence roundtable
Tuesday 15 May 2018
1.30pm - 3pm
Room 216
2nd floor, Elmfield Building, Northumberland Road, Sheffield, S10 2TU

- Professor Joel Quirk, University of Witwatersrand (South Africa)
- Dr Sanja Milivojevic, La Trobe University (Australia)
- Klara Skrivankova, UK and Europe Programme Manager, Anti-Slavery International
- Patrick Burland, International Organisation for Migration

Chairs: Dr Hannah Lewis and Professor Genevieve LeBaron

This Roundtable brings together two leading scholars of modern slavery from Australia and South Africa, and experts from Anti-Slavery International, to reflect on current efforts to address modern slavery. Speakers will share cutting edge research and practitioner perspectives on the state of global and national government efforts to combat modern slavery, including: Are current government and civil society initiatives to measure, study, and combat modern slavery working? Are the right actors and experts involved? Is it dangerous to enact solutions when the evidence base on modern slavery is still so thin? This interdisciplinary conversation will benchmark the state of anti-slavery movements and governance, and chart out pathways forward.

This event is jointly organised by the Department of Sociological Studies, the Migration Research Group, and the Sheffield Political Economy Research Institute (SPERI).


Joel Quirk is a Professor of Politics at the University of the Witwatersrand, South Africa. His research focuses on slavery and abolition, human mobility and human rights, global governance and the political economy of human rights activism, repairing historical wrongs, and the history and politics of sub-Saharan Africa. Recent works include The Anti-Slavery Project (Penn, 2011), Mobility Makes States (Penn, 2015), and Contemporary Slavery (Cornell, 2018). Joel has also recently co-edited special issues on Repairing Historical Wrongs (Social & Legal Studies, 2012), Sampling Techniques in Johannesburg (Journal of Refugee Studies, 2012) and the Politics of Numbers (Review of International Studies, 2015).

The politics of numbers: Modern slavery, the performance of expertise, and the marketplace of activism

The last two decades have been marked by a growing number of efforts to quantify global patterns of exploitation.The most recent example of this larger trend is the 2017 Global Estimates of Modern Slavery and Child Labour, which has calculated that 40.3 million people are currently subject to modern slavery, with 24.9 million being subject to forced labour and 15.4 million being subjected to forced marriage as a specific form of slavery. Building upon arguments and insights from existing works on social movements, the politics of numbers, and the marketplace of political activism, this presentation will considers the recent history of efforts to quantify global patterns of exploitation, the political projects within which they have been embedded, and the extent to which these recent efforts remain politically compromised by what they do not say, and with the types of underlying connections and associations which they do not address sufficiently.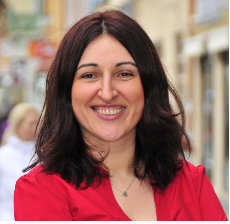 Dr Sanja Milivojevic is a Senior Lecturer in Criminology at La Trobe University, Melbourne, Australia. Her research interests are borders and mobility, human trafficking, security technologies, gender and victimisation, and human rights. Sanja's most recent research focuses on the use of security technologies in regulating migration in the Western Balkans. She publishes in English and Serbian. Sanja's latest book, Sex Trafficking and Modern Slavery: The Absence of Evidence is published by Routledge (with Segrave and Pickering).

Australia's response to human trafficking nationally and regionally: the question of impact

This presentation provides an overview of Australia's response to human trafficking within Australia and the Asia-Pacific Region. It focuses on the diplomatic commitments and policy mechanisms that have been put in place and the regular engagement with selected NGOs and partner nations, which are taking place largely in the absence of an evidence-base. While NGOs may influence decisions including policing and law reform, there is limited engagement with questions of impact and effectiveness. Within the context of a growing uptake of the language of modern slavery that is overshadowing the human trafficking discourse, the focus of who is being protected, how they are being protected and how justice might be achieved becomes increasingly vague. The rhetoric of counter-trafficking and anti-slavery is self-fulfilling: any effort that claims to be working towards this eradication of exploitation is considered evidence of disruption.