Description
Professor: John Newman
Course ID: 9306
Course description:
In this elective we explore a number of issues central to understanding entrepreneurship and entrepreneurial behaviour. The course is designed to help students assess entrepreneurship as a career realistically, considering the process, risks and rewards. We examine the ways individuals typically decide to become an entrepreneur and undertake entrepreneurial ventures, and examine the potential consequences of pursuing an entrepreneurial career unprepared. We explore what are the key success factors required of successful entrepreneurs: the roles of creativity and creative thinking, managing the small firm, managing its growth and the role of the entrepreneur as a leader. From a process driven perspective, the elective will explore how market opportunities are identified, screened, categorized and then capitalized on. We will spend time learning how to determine the correct amount of capital needed to begin a venture and how to search and negotiate to meet initial capital needs. The course also teaches students how to write a formal business plan which would be of sufficient quality to attract professional financing. In short, this elective will cover the three, crucial startup "P's": People, Proposition and Pitch. We will discuss and examine the characteristics of successful entrepreneurs in a mix of businesses in both for and not-for-profit environments and experience their life-views first hand as they share their stories, both the good and the bad. In the end, some attendees may decide entrepreneurship is not for them. This too is a good outcome - better discovered in the classroom than in the real world.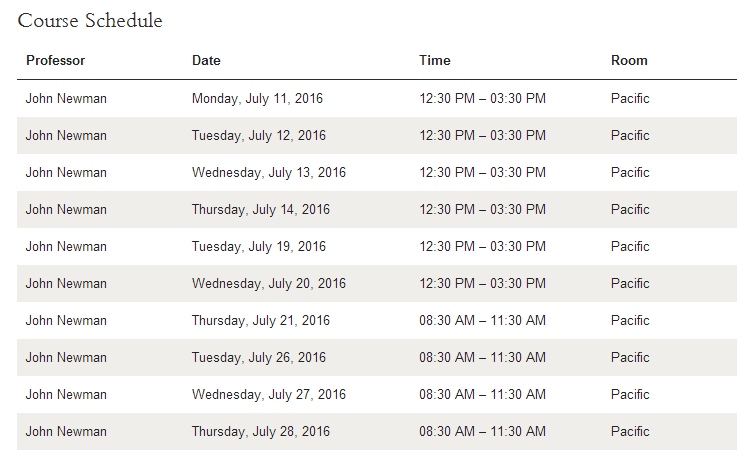 *Terms and Conditions
By signing up for this elective and paying the administration fee you hereby agree to the full terms and conditions of participating in the 2016 Lifelong Learning program. To read the full terms and conditions please click here.