MoM charity concerts: Diana Beckett, Soprano & Guy Newbury, Piano
Music on Mondays: A series of lunchtime concerts raising money for a different charity each week. Summer Season 2021
About this event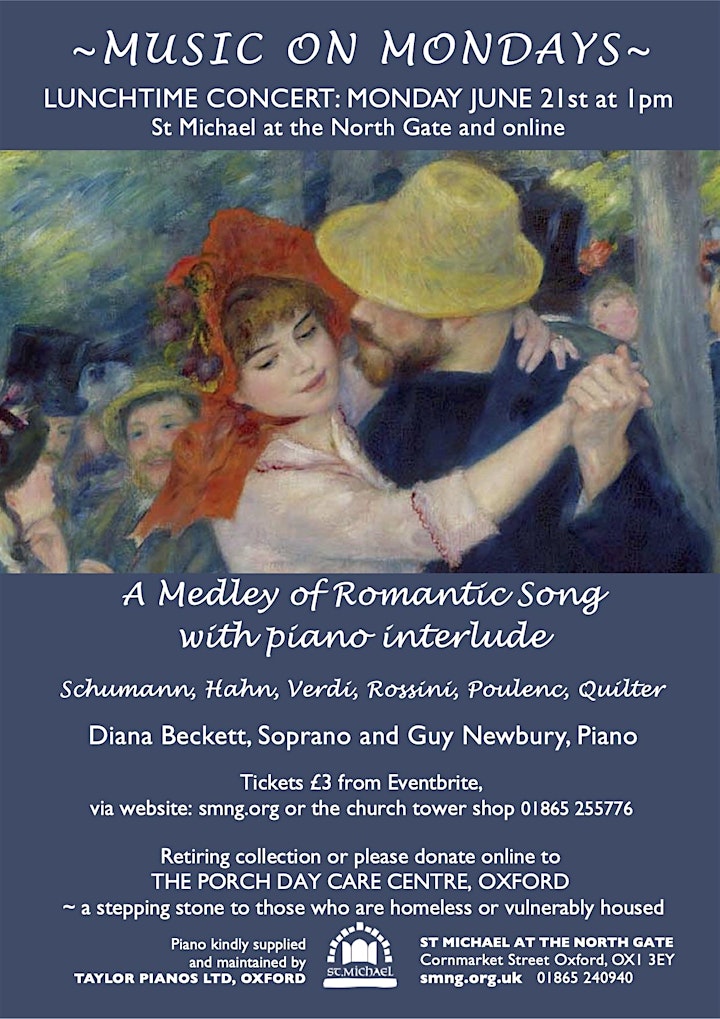 If you cannot come to the concert please cancel your ticket through Eventbrite or phone us on 01865 240940, as we may have a waiting list.
Monday 21st June
This week the musicians are:
Diana Beckett, Soprano
Guy Newbury, Piano
A Medley of Romantic Song: Schumann, Hahn, Verdi, Rossini, Poulenc, Quilter
Diana says:
"I am delighted to be giving a Monday lunchtime recital at St Michael's. It will be such a pleasure to sing to a live audience again.
"I have chosen a programme of some of my favourite songs from the nineteenth century romantic period with Schumann as the starting point but continuing into the twentieth century. These are mostly love songs, from the dreamy to the ecstatic.
"For his piano interlude, Guy has chosen first two pieces from Schumann's Waldszenen. Poulenc's Les Chemins de l'Amour is followed by two of his Nocturnes - intimate sensitivity and subtle, witty humour. "
Tickets are £3 each to cover church costs.
There will be a retiring collection in aid of:
The Porch Day Centre - providing a stepping stone to those who are homeless or vulnerably housed. The Porch has recently bought a new bigger building to provide its services.It will be possible to make cash or card donations after the concert or online directly at The Porch Day centre . More information on our website:
Organiser of MoM charity concerts: Diana Beckett, Soprano & Guy Newbury, Piano