A combination of yoga, nutrition, dance and crafting to bring simple, fun moments of mindfulness that improve health and wellbeing.
About this event
This is not your usual mindfulness course. For many mindfulness conjures up the idea of sitting with your eyes closed in complete silence - which often just doesn't feel achievable so they never try it. But the reality is mindfulness is simply about being present and focused on one activity.
This programme will show you that you can introduce simple, fun moments of mindfulness into your daily life which bring a huge array of positive health benefits.
Research has shown that mindfulness can help to:
Reduce anxiety and stress
Boost immune function
Improve brain function and focus
Lower blood pressure
Create a feeling of calm
Improve mood
So if you're feeling stressed, anxious or overwhelmed by life right now, join us for 5-days of mindfulness which will leave you feeling
Energised
Positive
Calm
Focused
We're mindful of the fact that many of us are spending too much time glued to our screens so our sessions will be live online for just 15-20 mins each day. We'll introduce each technique and you can then carry on with the activities in your own time offline. Recordings of every session will be sent out the following day if you can't join us live.
Want to get your kids involved? Some sessions will be suitable for kids (these will be clearly labelled) and they can join in for free!
Sessions will be held at midday and/or 5/6 pm each day and will include:
Mindful creativity - make your own beaded rainbow brooch, with Sam from Bead Creative.
Being creative is most definitely food for the soul! Lose yourself in the moment, quiet the mind, and enjoy the textures and colours of the material we will use. Feel a real sense of pride and achievement by creating something beautiful that you can wear.
Materials and equipment for the creative mindfulness rainbow brooch will be posted to you. We recommend registering by Sunday 7th of March to ensure you receive your pack in time for the first session on Monday 15th. Packs will be sent to those registered after this date but may not arrive in time.
4 sessions (Midday Mon, Weds, Thurs, Fri)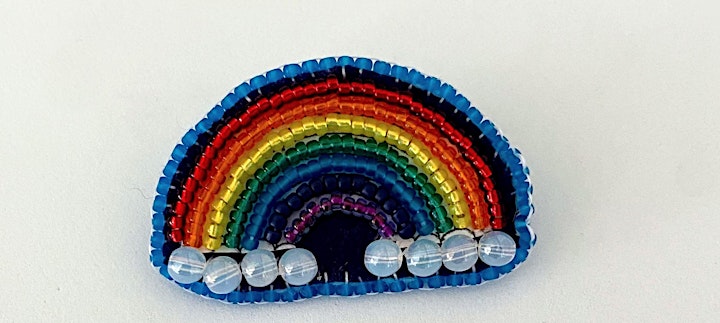 Mindful movement - yoga, breath and visualisation with Anna from Anna Banana Yoga
 Yoga is a great tool to help reduce stress and anxiety and bring more mindfulness into your day. Anna will share three techniques to help you do this:
Discover how to use your breath to keep you calm
Learn a short and simple sequence of moves to get you out of your head and back into your body
Enjoy a guided relaxation to give your mind a holiday!
2 sessions (6 pm Weds, Thurs)
Mindful eating - healthy snack making demo and nutrition talk with Bethany from Eat Breathe Believe
Take a moment out to prepare some healthy, tasty snacks which will nourish you and your family. During this live cooking demo, Bethany will show you how to prepare healthy snacks and take a more mindful approach to cooking and eating. The snacks are easy to prepare, require no special equipment and can be made with basic staples you can find at most supermarkets. Bethany will also be giving a short introductory talk on nutrition, stress and health.
1 session, suitable for children (Midday Mon, 6 pm Tues)
Mindful dance - with Nicola from Pixie Studios
Get your endorphins pumping, your body moving and put yourself in a positive mindset ready for the weekend with this mindful dance session with Pixie Studios. Nicola will guide you through a high energy warm-up followed by learning a short routine from Mamma Mia and finishing off with a relaxing stretch. Suitable for adults and children - no dance skills or previous experience required! A great way to take your mind elsewhere and a fun break from the norm which will leave you smiling.
1 session, suitable for children (5 pm Fri)
This programme is for you if:
You want to find ways to better manage your feelings of stress and anxiety.
You find meditation and mindfulness overwhelming or unobtainable.
You're experiencing feelings of low mood, low energy, stress, anxiety and/or poor concentration.
Life feels overwhelming right now.
You never have any time to focus on self-care and your health.
You're always doing everything for everyone else.
The details:
The programme runs from Monday 15th - Friday 19th March with daily live sessions, daily emails and a Facebook group for extra support between live sessions.
Each moment will be 15-20 minutes live, to minimise zoom fatigue as we've all had enough of living online! You'll be given prompts and actions to help you be more mindful in your daily life after each session.
Some sessions are suitable for children (these will be clearly labelled). Children can attend the sessions free with a paying adult.
Tickets cost £30 per person.
What's included:
Eight moments of mindfulness live sessions on Zoom across the week. Each session will last 15-20 minutes and include ideas you can practice all week and will be recorded if you can't join us live.
Materials and equipment for the creative mindfulness rainbow brooch - packs will be posted to you. We recommend registering by Sunday 7th of March to ensure you receive your pack in time for the first session on Monday 15th. Packs will be sent to those registered after this date but may not arrive in time.
Access to our Moments of mindfulness Facebook community for on-going support and ideas.
Daily emails throughout the week to keep you inspired and motivated.
A PDF of recipes, tips and advice for you to refer back to after the sessions.
A PDF and a recording of the mindful yoga moves so you can choose how to do them at home.
A guided visualisation recording.
Hosted by:
Anna Hann, Yoga teacher and founder of Anna Banana Yoga. Anna Banana Yoga believes there's a yoga practice for everyone, and I want to help you find yours!  Together we'll get you back to a happy mind and body.
Bethany Cox, Nutritional Therapist and founder of Eat Breathe Believe - helping people find their healthiest selves with simple, achievable and sustainable changes to their diets and lifestyles.
Sam Giles, Jewellery designer and founder of Bead Creative. Bead Creative provides creative bead-based activity kits suitable for both children and ladies.
Nicola Anne Clift, Singer and founder of Pixie Studios - an independent Theatre School in St Albans. Pixie Studios helps improve children's fitness, coordination, memory and most importantly confidence with singing, dancing and acting.
Organiser of Moments of mindfulness - easy ways to reduce stress and anxiety