About this Event
Dear Friends,
It is my pleasure to invite you to our MOMENTUM 2019 !
MOMENTUM is a conference for men, run by men, with challenging, no-compromise teaching, straight talk on key issues facing men , opportunity to network & much more.
This year is truly an international affair, we are excited to welcome men from Germany, France, Holland and all across the UK. There will be refreshments & great food throughout the day, and for lunch you can enjoy our special meat & barbecue grill.
So set this date as your encounter with God, register today & invite a brother. It's time to gain MOMENTUM!
Jerome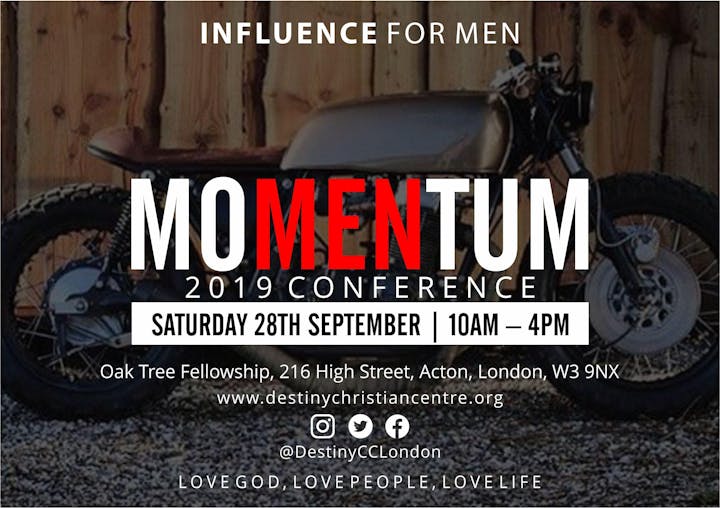 Influence is the ministry for men at Destiny Christian Centre.
Influence is defined as the capacity to have an effect on the character, development, behaviour & ultimately the destiny of an individual.
The purpose of Influence is to help men:
• Discover their God-given vision for life and be equipped to fulfil it.
• Be empowered spiritually, physically, financially, emotionally and socially.
• Build strong friendships and accountability
• Develop a passion and commitment to Christlikeness
• Win the fight for the family, have awesome marriages and love their wives as Christ loved the church
• Be equipped to take their place at the forefront of their industry.
• Develop spiritual integrity to live a life free from sexual sin.
Influence : Lead the family // Serve the church // Transform the community // Impact the world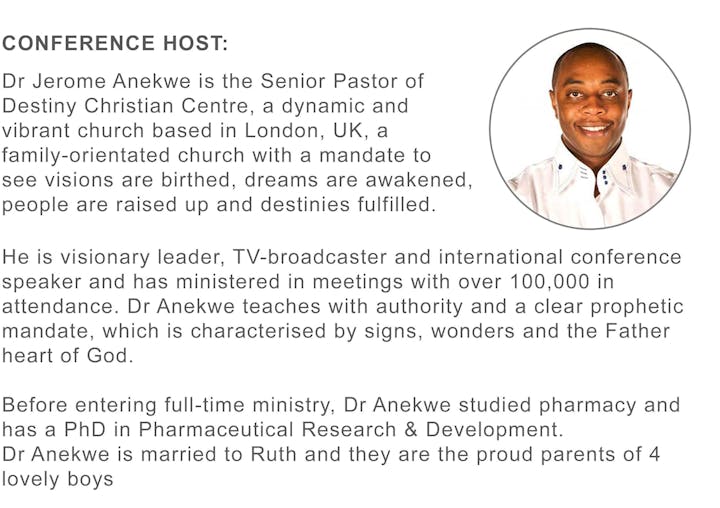 KEY CONFERENCE POINTS:
FREE Registration via Eventbrite
FREE Conference pack for every registered delegate
FREE morning and afternoon refreshments
Meat & BBQ Grill Lunch - £10 (*optional, purchase on the day)