Join us for an informal 'Create Chat Connect Workshop ' with Nikky Reed founder of #NOLABELS and the creative behind Nikky's Creations...
About this Event
We meet weekly to try our hand at various crafts. We have lots to choose from, and encourage the sharing of skills with each other.
Nikky will happily demonstrate a technique or a particular make to inspire your creative side. Or you can choose an idea from a vast array of books, and magasines on hand to ignite a creative idea.
You are also welcome to bring your own work in progress with you to complete with the #NOLABELS community as company.
You can try your hand at:
Card Making
Jewellery Making
Embroidery
Crochet
Seasonal crafts
up cycling
Below is an example of cards made in our first meet up!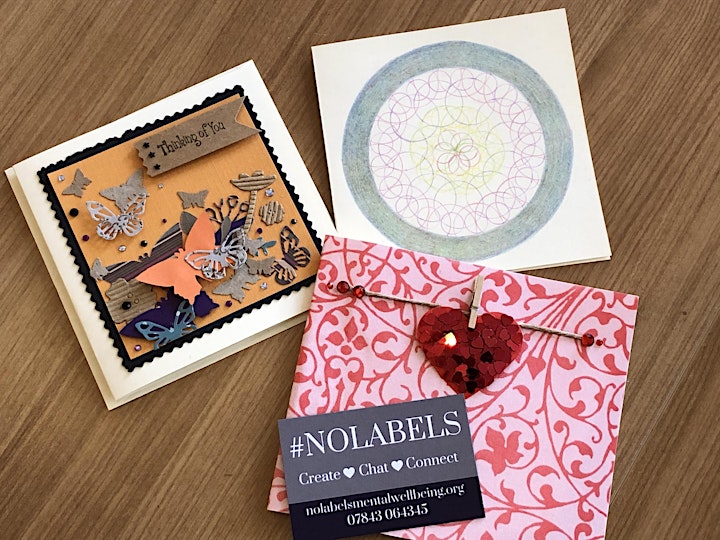 This event is FREE, we ask for a donation towards the costs of running the session and any materials used.
Hot drinks are provided free of charge and you can bring a preferred drink or snack (if you wish to).
Please consider that #NOLABELS receives no government funding or support. We are an Independent business and every little helps towards the costs of running this fantastic community space.
#NOLABELS specialises in providing craft experiences for people with mental wellbeing needs. However, we welcome everyone.
If you would like some additional support to attend, please contact Nikky Reed who is a mental health professional and a passionate creative. We can offer introductory meetings and various other ways of supporting you to access #NOLABELS for support, and Craft Therapy.
Contact Nikky Reed on 0784 306 4345
Follow on Facebook and Instagram @nolabelsmentalwellbeing
nikkyreed@nolabelsmentalwellbeing.org
www.nolabelsmentalwellbeing.org