Sales Have Ended
Ticket sales have ended
Hopefully you will book our event later.
Sales Have Ended
Ticket sales have ended
Hopefully you will book our event later.
Video-led presentations by history consultant Kwaku with special guests highlighting British African histories on Monday nights in November
About this Event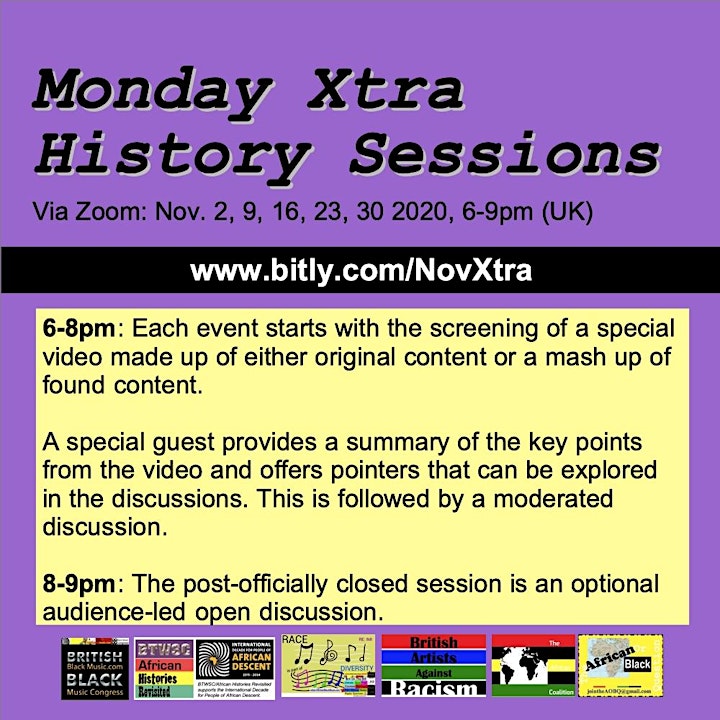 Following on from the various Zoom meetings we've organised and been consumed by hundreds of attendees from Britain and beyond, we've decided to offer a special, more focused programme for a small group serious about learning about British African history not commonly covered elsewhere.
Although there are no free options, we're offering until Monday Nov. 2 40% off the price of the five events. In other words, 5 events in Nvember for the price of 3 events, if booked in advance via - www.bitly.com/NovXtra
Links to to book £5 (individuals) and £10 (businesses, corporates, statutory bodies) individual events are below.
Each event is led by history consultant Kwaku, supported by a special guest, and moderated by political and community activist Nana Asante.
PROGRAMME:
Nov. 2 Where Would Reggae Be If It Were Not For Migration? Special Guest: Reggae DJ and academic Dr William 'Lez' Henry. Click here to book.
Would reggae music have been a global musical genre, if it had not been for the forced migration from Africa, and the voluntary migration to Britain?
Nov. 9 1974: That Carib Club Story. Special Guest: Click here to book.
The story of Dennis Bovell, one of the owners of the three sound systems playing at the Carib Club, also known as Burton's, when a fracas between the revellers and police shut down the night's entertainment, and the court case, that ended up at the Old Bailey, jail and its impact on his creativity.
Nov. 16 Today Brixton Is Locked Off: The Day Black Lives Matter Shut Down Brixton. Special Guest: Political activist Marc Wadsworth. Click here to book.
In the summer of 2016 a BLM protest locked down Brixton for over six hours without major incident. But how do young heads learn from the elders in order to strategise their activism?
Nov. 23 Police And The Criminalising Of The African British Youths By Numbers. Special Guest: community activist Cecil Gutzmore. Click here to book.
Highlights little-known and cause célèbre cases involving groups of African youths, such as Tottenham Court Road Two, Stockwell Six, Oval Four, Mangrove Nine, Waterloo Four and the Thornton Heath 15.
Nov. 30 Reading British African History In Books. Special Guest: Community Historian Tony Warner Click here to book.
ESPECIALLY FOR PARENTS, TEACHERS, RESEARCHERS & LOVERS OF HISTORY: A look at the history of documenting British African history in books; highlighting a selection of recently published lists, a personal selection and reflection by the special guest, plus opportunities to order books on the night.
Dec. 7 Black Music And A History Of Racism In Britain: Dec. 7 1507-Dec. 7 2020: Click here to book
A 500+ year history of the engagement of racism in Britain with black music, Africans, and African musicians. Based mainly on documented fact with anecdotal and assumptive asides, it covers from the wicked consequences, the fortitude, the resilience, the conquering, the I-didn't-know-that to the fancy-that, and lots more details in between! An unmissable learning forum with space for you to have your say.
Produced by BTWSC/African Histories Revisited in association with BBM/BMC (BritishBlackMusic.com/Black Music Congress), TAOBQ (The African Or Black Question), and RE:IMI (Race Equality: In Music Industry).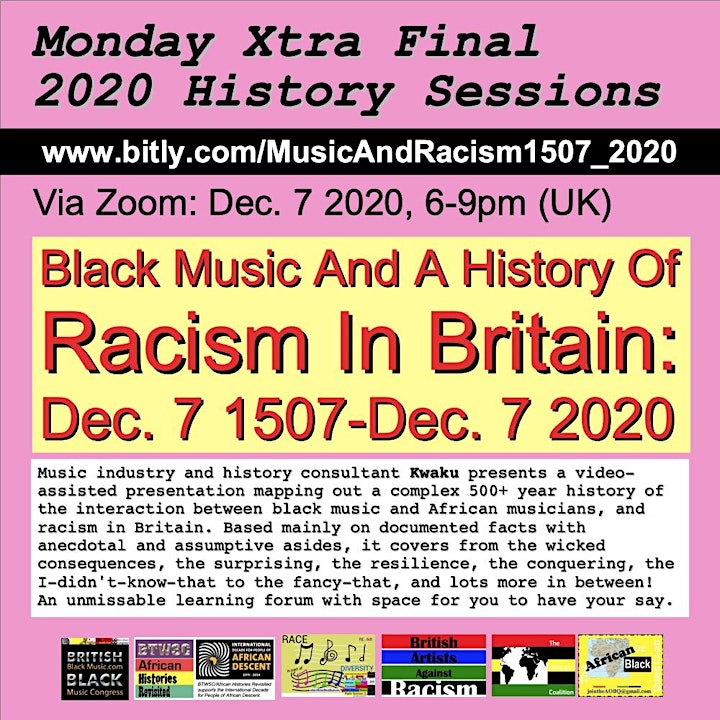 Date and Time
Location
Refund Policy