Event Information
Refund policy
Contact the organiser to request a refund.
Eventbrite's fee is nonrefundable.
This event is about helping you understand how to bring about changes in your financial area and make your life and your loved ones better.
About this event
Money is unavoidable subject. Although it is clear that money may not make you happy, the lack of it may cause you unhappiness. We also know that:
1. Most people would like to spend less time worrying about money.
2. Most people in life would like to have peace of mind with their finances
3. Most people would also like money to work harder for them. Most people think they have to just work hard which isn't necessarily true. There're strategies for money to go a long way.
4. Most people want to pay less income tax. Why not, as this would mean more money in their wallets.
5. Most people would also like to have a happy and less stressful later life.
If you feel the same as above and would like to be in more control then this Money and Business Masterclass is for you. We believe that everyone should be able to know their options when it comes to money and should also be able to do something about it. Women should also know that is is important to have a sense of direction in regards to money. It is also important to note that no matter where you're in life there's something you can do today to make things better for you and your loved ones tomorrow.
At IWAW CLUB we encourage every woman to be a master of their own fate and to take control of their financial health. That's why we have decided to bring you a money expert - Monica Bradley to help you learn and master the science and the art and have your questions answered so that you can start the New Year with more clarity and power.
Monica Bradley is the MD for MB Associates which is an award winning business in the financial services sector in the UK. Monica has been in financial services since 1987. MB Associated covers areas like mortgages, protection, savings and investment, inheritance tax planning, wealth management, legal and tax advice. Her main focus is the high net worth individuals and those with complex income structures such as consultants, contractors, company directors and self employed.
End the year with knowledge to help you unlock and start the New Year with power!!
Join us on the 5th December 2021 at 4:00 pm via zoom. We won't have this master class anytime soon to join email info@iwawclub.com or DM. If booked by Friday you bring a friend and end the year with more control and power together!!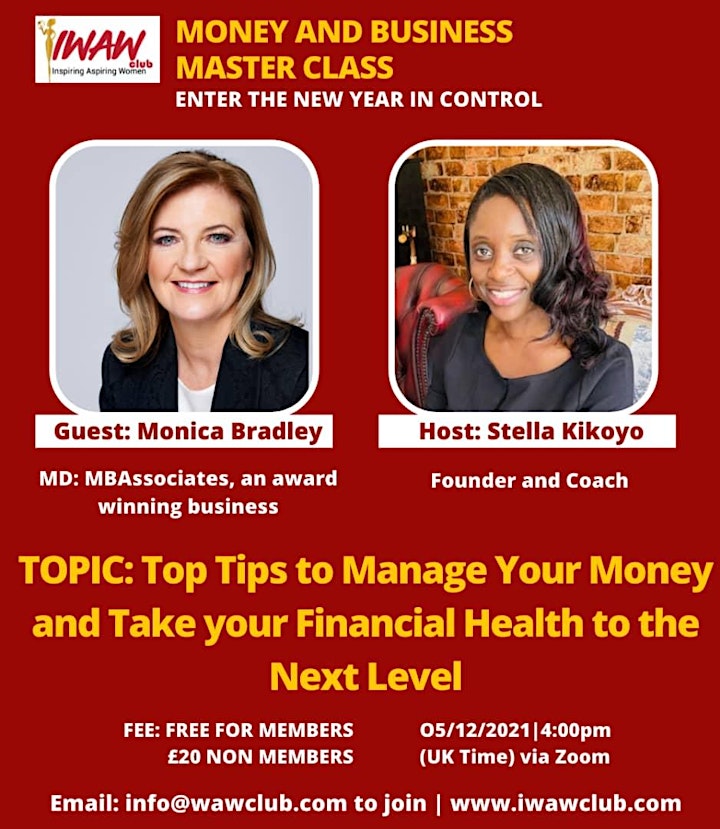 Date and time
Location
Refund policy
Contact the organiser to request a refund.
Eventbrite's fee is nonrefundable.
Organiser of Money and Business Masterclass
contact us info@iwawclub.com or Stella.kikoyo@gmail.com

IWAW -Inspiring Women for Aspiring Women is a women's networking club that is aimed at inspiring women to grow and glow personally, professionally and in business through sharing knowledge, skills and experiences. We organise free and paid for meetings, events, talks, workshops, masterminds and summits.
The networking club was founded by Stella Kikoyo who is a strategic intervention life coach, a senior lecturer, a professional chartered Institute of Marketing facilitator and business trainer and a member of the Chartered institute of marketing, a Fellow of the Higher Education UK and qualified as a knowledge broker with KBB. Stella is also a mentor with North London Leadership Programme.
Stella is passionate about women's growth and development both within and outside. She believes that every person has potential and needs to live to fulfill this potential.  Since the beginning, as a club we have covered a number of subjects. See some of them below. 
Health and well being - meditation
Self Love
Journaling 
The need of body Heath through exercise
Mindsets and Mindfulness
Neuro Liguistic programming.
Mindfulness and presence
Overcoming Fear. 
Collaboration offering of mindfulness, yoga and meditation
A Mindfulness Vision Board Master Class
Making a dream career change
A post pandemic perspective of money and giving
Making intentional decisions
Finding your purpose
Financial Management tips
The aim is to uplift women to live with confidence, to dream, believe, aspire and grow and to inspire others by sharing knowledge and experience and collaborate for growth.