Event Information
Refund policy
Contact the organiser to request a refund.
Eventbrite's fee is nonrefundable.
A life-changing and minsdet-shifting 2 days to help you break free from corporate shackles and live a life of purpose and fulfilment.
About this event
DUE TO COVID-19 THE PROGRAM WILL NOW BE DELIVERED ONLINE over 4 days
Saturday 13th June - 11am to 2pm
Sunday 14th June - 11am to 2pm
Saturday 20th June - 11am to 2pm
Saturday 21st June - 11am to 2pm
What is MONEY MASTERY for Purpose?
It is an immersive and interactive 2 Day programme for Professional Muslims looking for any of the following:
- *Learn how to break the relationship between time and money through entreprenuership*
- Learn how to manage and grow money
- Achieve a better work-life balance or spend more time with your family / kids
- Do something more meaningful with your life
- Have more time for seeking sacred knowledge and serving humanity
- Find ways of owning a home without getting involved in mortgages
- Earn an extra income on the side
- Have a secondary income stream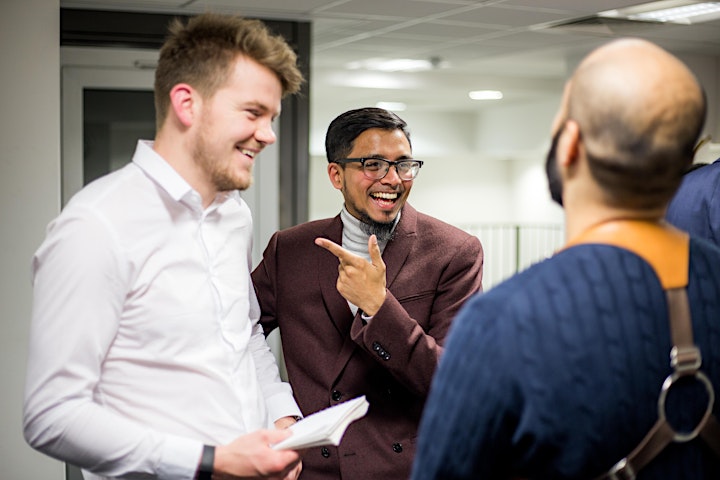 WHY MONEY MASTERY for Purpose?
Things are very difficult for Muslim Millenials when it comes to money and finance. We live in times when tuition fees, living costs, rent and house prices are at an all time high.
But we live in a time when kids are making millions having fun on YouTube. Many young digital nomads are travelling the world while working on their laptops. Countless people are quitting their jobs and starting lifestyle businesses.
What does it take to master the money game in 2019? How does one become wealthy? How does one escape the rat race? How does one live a life of fulfilment and freedom? How do we make time for the more important things in life?
We learnt all of the above the HARD WAY.
WHO ARE WE?
This unique workshop is the culmination of many years of entrepreneurial pain in search of more time, money and freedom. We both had different journeys, but the main motivation was exactly the same.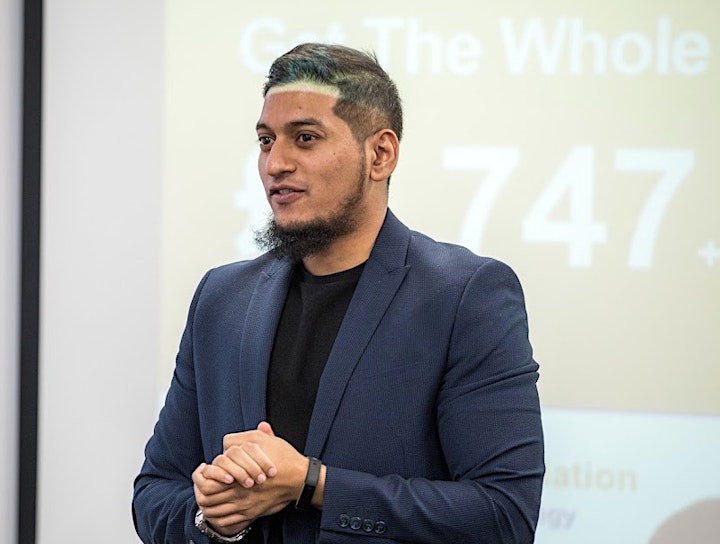 USMAN AHMED - Serial Entrepreneur and Personal Development Coach
After excelling at GCSEs and A Levels, Usman went on to study BSc Physics at the University of Manchester. He then qualified as a science teacher and pursued the teaching profession until he made an important realization. Having been involved in Da'wah work locally and internationally since the age of 17, he found it increasingly difficult to make time for his islamic activities and personal spiritual development. In 2013 he chose to sacrifice his teaching career in order to resume da'wah work, enhance his self development, and create financial freedom & flexibility.
The next 3 years were a tremendous journey experimenting various online and offline businesses whilst simultaneously doing more Da'wah work and conveying the message.
The 6 year journey in search for freedom led him to set up businesses in various sectors such as supply teaching, first aid, private tutoring, tuition agency, online marketing, business advisory and more.
The final stage of the journey was Property. Usman invested heavily in educating himself through mentors and programs on different property strategies to create passive income streams, flexibility and freedom.
Over the last 2 years Usman has implemented selected strategies and now has a 100% flexible work life-balance with no boss and multiple (active and residual) income streams from various ventures.
He is now passionate to help others do the same.
The new found freedom has allowed Usman to spend more time pursuing his passion of da'wah, teaching and personal development. Over the last 5 years he has taught courses and workshops in UK and abroad on Marriage, Teaching Skills, Overcoming Habits, Time Management and Personal Growth.
TANIM ZAMAN - Serial Social Entrepreneur
After achieving straight A*s and As at GCSE and A-levels, Tanim studied BSc Economics at the London School of Economics. While at university, Tanim was the president of the LSE SU Islamic Society and worked for Deloitte, Bloomberg, UBS and Barclays.
Having always wanted to be an entrepreneur Tanim took a gap year after graduating and started an online business, helping students and graduates succeed at job interviews and assessment centres. In a short space of 2 years, his training helped over 2000 people in 19 countries and opened his eyes to power of the internet in starting, scaling and automating a business.
After setting up (and automating) this first venture Tanim spent 3 years learning everything he could about the world of business. He re-educated himself by learning from mentors, studying 60+ business books and working in various businesses and industries such as eCommerce, Direct Sales, Digital Marketing, Health&Nutrition, Private Education, Corporate Traning, Business Development and Consulting.
He has a passion for harnessing the power of business for social good and has co-founded 4 businesses, all of which are focused on helping others achieve more. 3 of these businesses grew to 6-figure per annum revenue within 12-18 months.
Over the years Tanim has seen many talented people becoming trapped in the infamous "Rat Race", and observed inspired and driven young people become depressed and soul-less empty suits. Tanim is now on a mission to help talented muslims escape this trap and live a life of fulfilment, contribution and passion.
>>> https://youtu.be/_idBJzXHVlU
What you can expect to gain:
1. More clarity on your own unique an authentic legacy in the world
2. A mindset shift which will aim to take you from an Employee (working for money), to business owner (people/systems/technology work for you) to an Investor (money and assets work for you)
3. Overcoming negative thoughts and self-limiting beliefs holding you back from your true potential
4. Understanding of your money blue-print and learn how Millionnaires manage and grow their money
5. Understanding the truth about Passive Investment Income and Passive Business Income
6. Understanding how to achieve true financial security and not rely on employment income only
7. Learn 3 different proven business models and strategies to start earning money on the side. This will be taught by experts already doing these strategies successfully and already teaching 100s of students to do the same
8. How to carve out more time to build a business and a better future
9. Transform the way you look at money
10. Understand how money and business are complimentary to the Islamic Faith
11. A profound vision setting exercise to help you figure out your calling and make the most of your precious life
12. An opportunity to join a community of fellow Muslim professionals wishing to embark on the same journey as you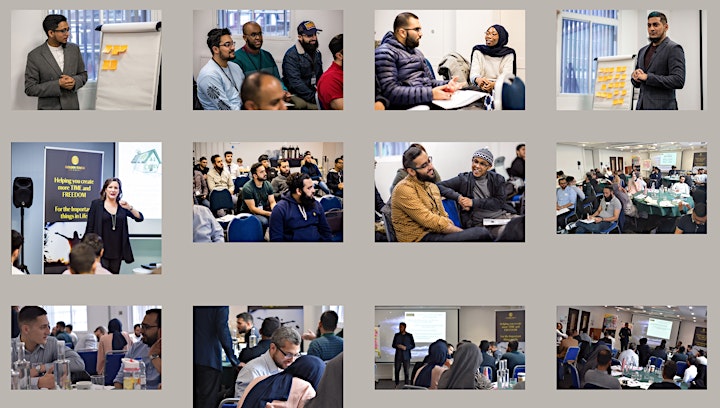 How is MMfP different from other programs?
The programme has been designed for Muslim Professionals wishing to succeed in both Dunya and Akhirah
All of the concepts and business models presented are Shari'ah compliant
There is no music, dancing and jumping around like the many seminars we have (begrudgingly) attended in the past
The main objective of the programme is to help you gain clarity on your life mission, then give you the tools to free yourself up and chase your dream.
Our vision is to help 150 people/ year, who want to make the world a better place and seek the Pleasure of their Lord.
We therefore have a vested interest in your success! Your success is our success.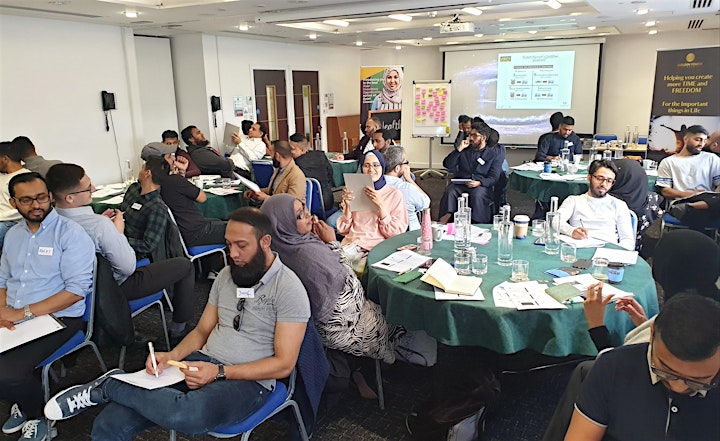 What we will cover:
-Importance of Mindset and why it can keep us trapped
-The 13 Timeless Financial Freedom Concepts
- Active Income Vs Passive Income - understanding the difference and pros & cos
- The 2 types of Passive Income (PII and PBI)
- Importance of the Inner Game
- Exploring and Tackling your Money Personality
- Learn how the world's wealthiest manage and grow their money
- 3 Concepts to achieve more in less time
- The Power of Compounding
- How to buy a house with no mortgage
- A Personal Self-Assessment and Financial Audit
- Financial Freedom Vs Time Freedom
- How to achieve the balanced sunnah way of life
- How to figure out your Calling (what is the work that you 'cannot not do'?)
-The Legacy Pyramid (wha are the necessary steps and stages to be able to leave an authentic legacy after you're gone?)
-Your own Eulogy (what do you want to be remembered for?)
- How to build multiple streams of income
- How to earn passive income from Property (with no large investment or mortgages)
- How to systemise and automate your business so you can focus on the next one (until you have 6 income streams)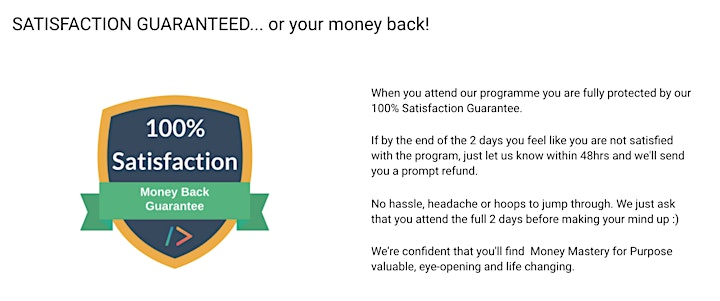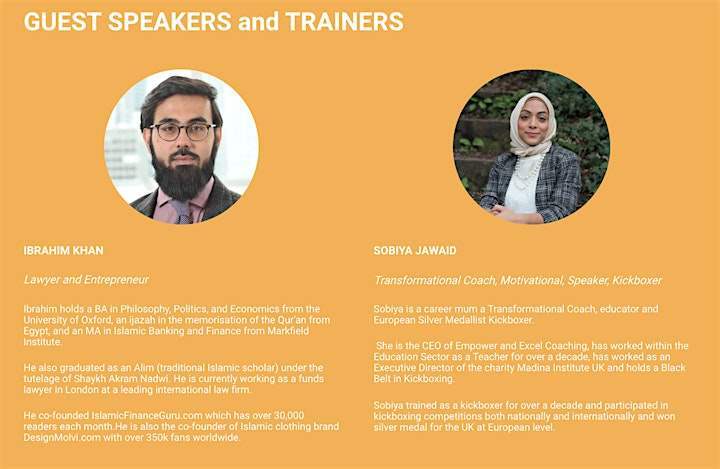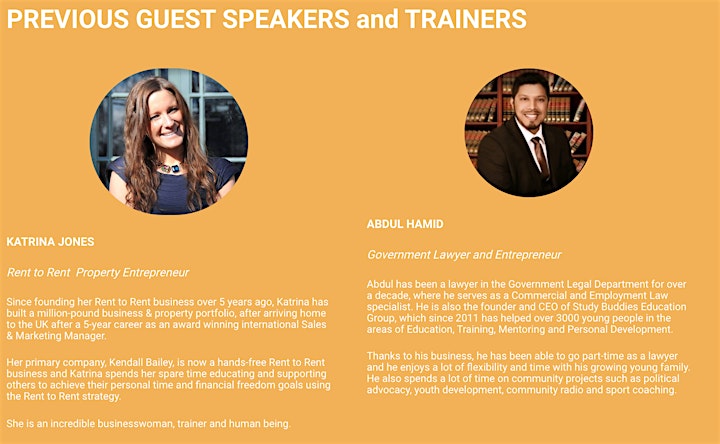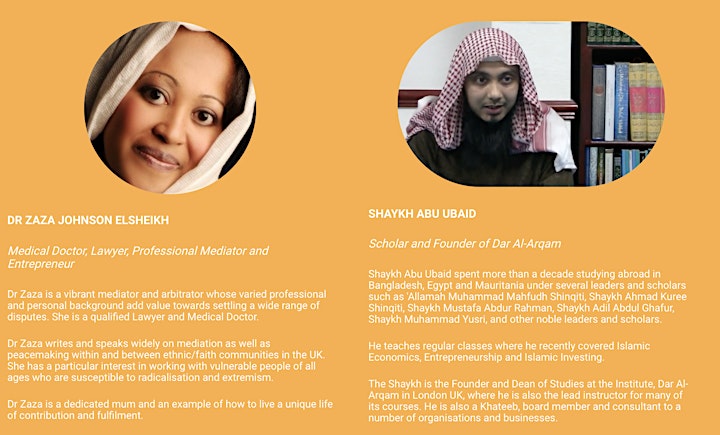 CHECK OUT OUR TESTIMONIALS:

Location
Refund policy
Contact the organiser to request a refund.
Eventbrite's fee is nonrefundable.
Organiser of Money Mastery for Purpose - 2 Day Mindset Shifting - ONLINE