Description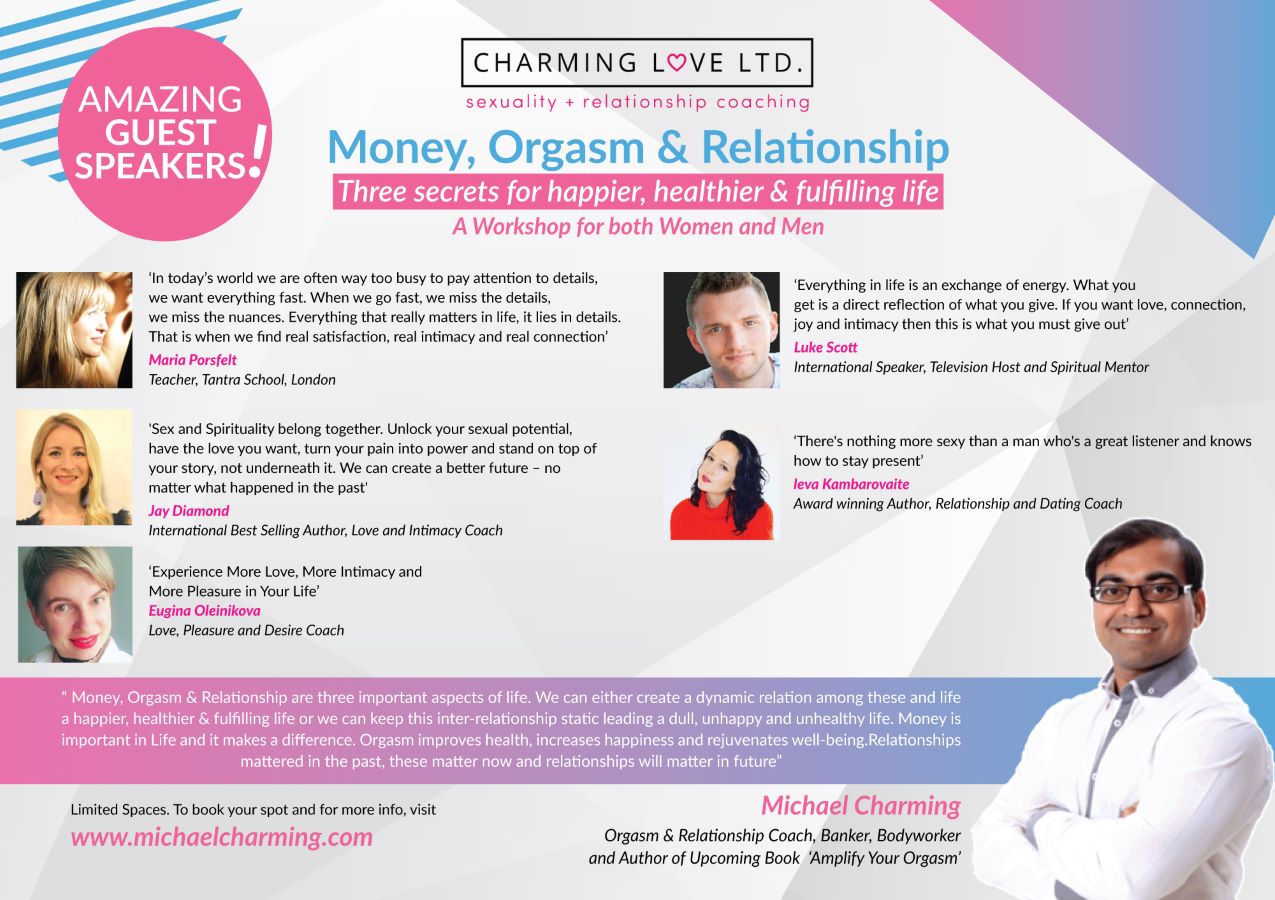 Preview of our past event
https://www.youtube.com/watch?v=HdXOAAHWjE0&t=3s
Money, Orgasm & Relationship (for both Women and Men)
Three secrets for happier, healthier & fulfilling life
In this workshop, different speakers will share their expertise relating to Money, Relationship, Letting Go, Trust, Masculine and Feminine Polarity, Desire and Orgasm. In a safe and loving space, the workshop will enable you to an embark on a journey that will peel off different interconnected layers that you have been holding onto, thus bringing one of the most transformative and profound experiences you would have ever had.
'Money, Orgasm & Relationship are three important aspects of life. We can either create a dynamic relation among these and life a happier, healthier & fulfilling life or we can keep this inter-relationship static leading a dull, unhappy and unhealthy life. Money is important in Life and it makes a difference. Orgasm improves health, increases happiness and rejuvenates well-being. Relationships mattered in the past, these matter now and relationships will matter in future'
Michael Charming
Orgasm & Relationship Coach, Banker, Bodyworker and Author of Upcoming Book 'Amplify Your Orgasm'
Issues relating to financial difficulties is one the most common factor of breakdown of relationships. Infact, money is such an important part of relationship, that right from the onset of dating, the question of 'Who should be paying for the date?' becomes prevalant.
In this workshop, you will find your own money blueprint and how you can use this blueprint in strengthening your financial box which in turn will have a positive impact on your relationship. You will get to learn how to bring your and your partners energy in synergy when it comes to money? We will also be looking at your different attitudes with regards to money, the fundamental differences in values relating to money and will give you strategies that you will enable you to help you manage your money effectively.
We think you would agree if we were to say that Orgasm improves health, increases happiness, re-juvenates well-being. Orgasms are amazing, complete bliss and fun to have. However, there is a big difference between understanding of Orgasm between men and women. Men view of Orgasm is limited to ejactulation (also known as climax). Whereas, women view of Orgasm is much more holistic and more embodied which in turns makes them multi-orgasmic. Men can become as multi-orgasmic as women too but it will take deeper understanding of Orgasm, practice and discipline.
In this workshop we will be sharing about differences between masculine and feminine orgasm, different stages of Orgasm and will give tools to be able to Amplify Your Own Orgasm which in turn will amplify your partner's.
Would you agree that when you have deeper, honest, intimate and nourishing relationship, your life feels happier, healthier & fulfilling. In this workshop, we will be sharing various tips that will make your relationships better.
Throughout this workshop, we will be sharing how money, orgasm and relationships are connected. We will share tools that will enable you to move from lack of money and drained in orgasm to feeling abundance around money, creating paths for infinite orgasms and for having tools for deeper and nourishing relationships
The workshop will also focuses on the following:
* How to let go and moving from hurt and pain from relationships in the past to sense of deep love and gratitude
* How to become better lovers and make love making as regular practice
* Learn skills that will enable you to understand opposite gender's communication better
* Discover our own sexual fantasies and desires and how not to feel shame for having them
* Explore the importance of trust, intimacy and surrender
* Other aspects like boundaries, consent, yoga, intimacy, sex etc
Our previous workshop, 'Better Relationship, Better Sex', was absolutely amazing and everyone who came were happy on taking a step forward and coming to the workshop.
This workshop is open both for singles and for couples who are in relationship.
Couples who are in relationship will get to take the money, orgasm and relationship to the next level. Singles will get to understand the broader specturm of these three elements which will then enable them to have better relationship, abundance of money and starting the journey of becoming multi-orgasmic.
**Book your ticket and get the early bird pricing**