Description
Over two days Money, Power and People will be exploring community-focused financial alternatives – complementary currencies, universal basic income, fintech and much more.

It'll be rabble-rousing and enabling in equal measure, with day one devoted to big ideas and day two to practical sessions for alternative currencies and financial activists.
Day 1 will start at 9am and end at 4pm. Day 2 will run until 4:30pm. A light lunch and refreshments will be provided.

Agenda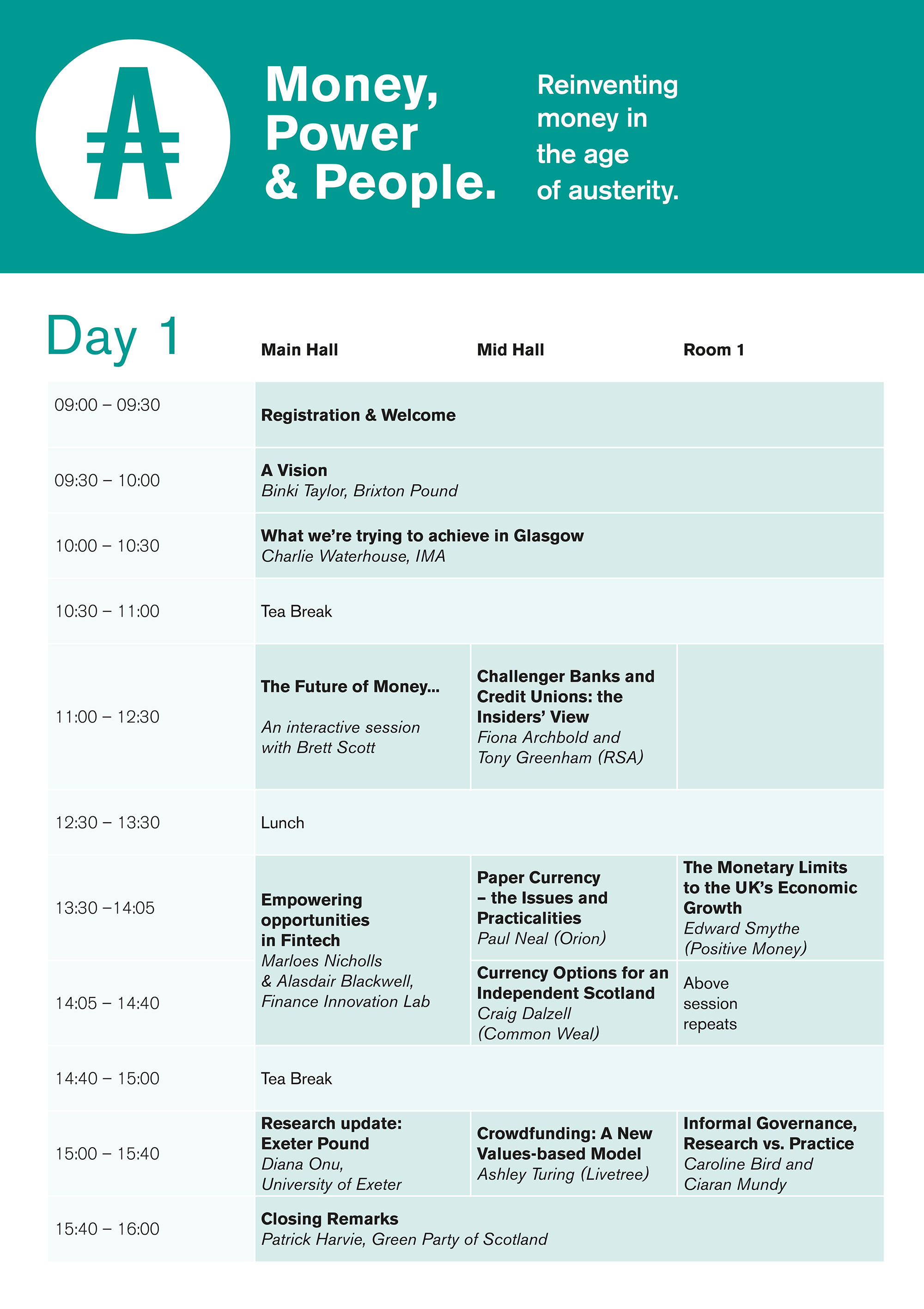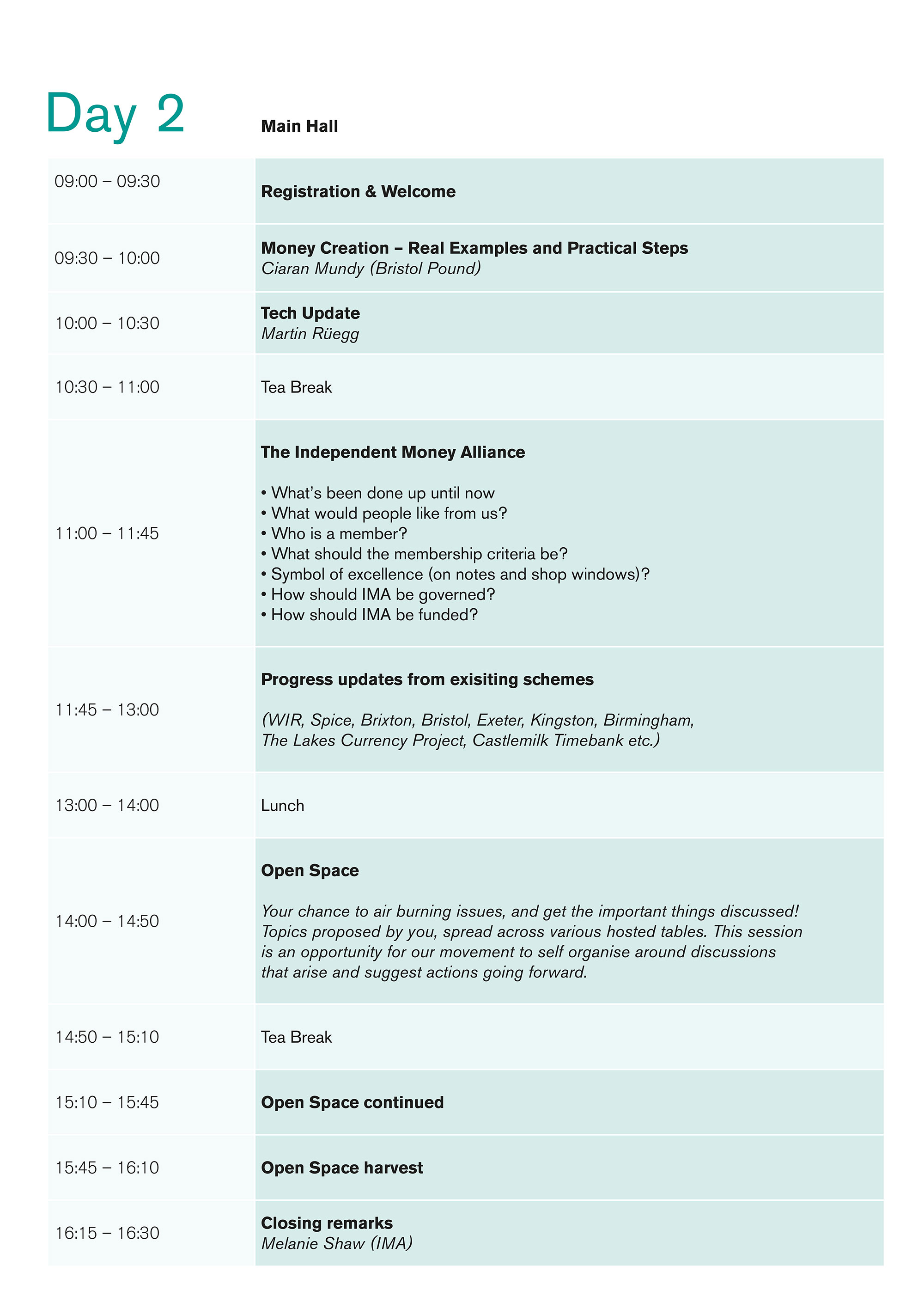 Brett Scott is a journalist, campaigner and the author of The Heretic's Guide to Global Finance: Hacking the Future of Money (2013). He works on financial reform, alternative finance and economic activism with a wide variety of NGOs, artists, students and start-ups, and writes for publications such as The Guardian, New Scientist, Wired Magazine and CNN.com. He is a Senior Fellow of the Finance Innovation Lab, an Associate at the Institute of Social Banking and an advisory group member of the Brixton Pound. He tweets as @suitpossum

Fiona Archbold, founder and CEO of Tusmor. Having managed the initial technology platform and regulatory journey for two new entrants to the UK Banking Sector, IvoBank and MetroBank, Fiona learned at first-hand how difficult it is to launch a new entrant. She then followed this up by implementing a new Credit Union in London's Kensington and Chelsea and discovered that was even more difficult. Tusmor, coming from the Gaelic TUS meaning 'beginning' and MOR meaning 'big', was founded to lobby for change and work towards supporting small and differentiated financial service organisations. With the CivilisedBank build underway, being on the Board of Kensington and Chelsea Credit Union (YourCU) and working with the ACE credit union trade body she hopes 2018 will be the year when Tusmor is able to provide shared technology solutions to help the small guys to grow. Fiona has a BA in Accounting and Computer Science from Heriot Watt university from more years ago than she cares to admit to.

Tony Greenham leads the Economy, Enterprise and Manufacturing programme at The RSA. He is a chartered accountant and former investment banker with experience in social and environmental NGOs, including NEF.
Edward Smythe, Positive Money's economist, responsible for research. He worked for nine years in asset management as an equity analyst and macro-economist. He has an MA in Economics from Cambridge University including a top-five placed Double-First in microeconomics. More recently, he worked as a senior researcher at Tomorrow's Company leading their work on the investment chain and a project to financially map the UK economy.

Marloes Nicholls is Innovation Programme Manager at the Finance Innovation Lab - a charity that incubates the people, ideas and movements building a financial system that serves people and planet. An economist by training, Marloes is passionate about finding ways to engage everyone in the future of money and finance. In 2011, she co-founded the campaign Move Your Money UK.
Alasdair Blackwell of the Finance Innovation Lab is a designer, developer and entrepreneur. Inspired by the revolutionary potential of Distributed Ledger Technology (DLT), in 2016 he took on the role of Head of Technology at blockchain startup Everledger. There Ali worked very closely with the teams behind various DLT initiatives, including IBM's Hyperledger Fabric and R3's Corda, ran proof of concepts on Ethereum, and sat on TechUK's DLT Working Group.
Dr Craig Dalzell is the Head of Research for Common Weal, a Scottish "think-and-do tank" which advocates building a society which places less emphasis on the "Me First" politics of the past several decades and instead builds one which puts "All of Us First". He holds a Masters degree and a PhD in laser physics and optoelectronics from the University of Strathclyde and runs the economics and politics blog The Common Green.
Diana Onu is a lecturer and researcher at the University of Exeter. She is a psychologist studying people's economic behaviour, focusing on questions of identity, motivation, and emotions. Much of her work focuses on people's willingness to cooperate at national level (e.g. by contributing to the tax system, by taking part in social movements), but she has also recently worked with Exeter Pound to look at motivations to participate at local level.

Ashley Turing – CEO, Founder of LiveTree. Ashley has over twenty years' experience in technology innovation. Having started programming at an early age, he studied computer science in Seattle. His career began by working with a team from MIT who developed a network printer before the advent of computer networks. After a brief time at Microsoft, he went on to work with the founder and inventor of Winamp/MacAmp. Upon his return to Europe, Ashley became CTO of an online charitable lottery gaming company, before returning to the UK to consult to several tier-1 investment banks in the areas of data systems and artificial intelligence for regulatory compliance and trade surveillance. Having acquired an acute understanding of the weaknesses in the current global economy first hand, he launched LiveTree as an alternative sustainable model for economic development.
Caroline Bird is a Research Fellow at the University of Bristol focussing on grassroots and cross-sectoral, collaborative responses to issues of urban sustainability. She is also a director of the Bristol Energy Network CIC, supporting local energy initiatives.
Ciaran Mundy is a founder and Chief Executive of the Bristol Pound and a resident of Bristol since 2002. He previously worked as an entrepreneur in the telecoms and property sectors while supporting various social and environmental campaigns and research projects.
Patrick Harvie has been Glasgow's Green MSP since 2003, and is Co-Convenor of the Scottish Green Party. He currently sits on the Scottish Parliament's Finance and Constitution Committee. During the independence referendum campaign Patrick was a member of the advisory board of Yes Scotland, and following the referendum was appointed to the Smith Commission on Devolution. He lives in Partick, in the Glasgow Kelvin constituency.
Save