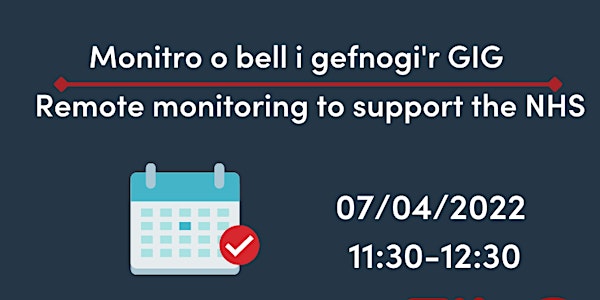 Monitro o bell i gefnogi'r GIG / Remote monitoring to support the NHS
Webinar astudiaeth achos Huma / Huma case study webinar
About this event
English below
Mae'r Gronfa Atebion Digidol (DSF) yn rhaglen a ariennir gan Lywodraeth Cymru a gydlynir gan Ecosystem Iechyd Digidol Cymru (DHEW) i gefnogi'r ymateb i COVID-19.
Un o'r prosiectau diweddaraf yw llwyfan technoleg monitro o bell a ddyluniwyd gan Huma.
Gan weithredu fel cydweithrediad rhwng Huma, Bwrdd Iechyd Prifysgol Cwm Taf Morgannwg a Bwrdd Iechyd Prifysgol Betsi Cadwaladr (BIPBC), bu'r treial yn galluogi cleifion sy'n byw gyda methiant y galon i rannu gwybodaeth bwysig am eu hiechyd yn ddiogel gyda chlinigwyr gan ddefnyddio Ap yn seiliedig ar ffôn clyfar.
English
The Digital Solutions Fund (DSF) is a Welsh Government-funded programme coordinated by the Digital Health Ecosystem Wales (DHEW) to support the COVID-19 response.
One of the latest projects is a remote monitoring technology platform designed by Huma.
Operating as a collaboration between Huma, Cwm Taf Morgannwg University Health Board (CTMUHB) and Betsi Cadwaladr University Health Board (BCUHB), the trial enabled patients living with heart failure to safely share important information about their health with clinicians using a smartphone-based App.