Monkton Arts Prize Entry Fee and Award Ceremony (21st August 2021) An Island-Wide Open Arts Prize with Award Ceremony (August 21st 2021)
About this event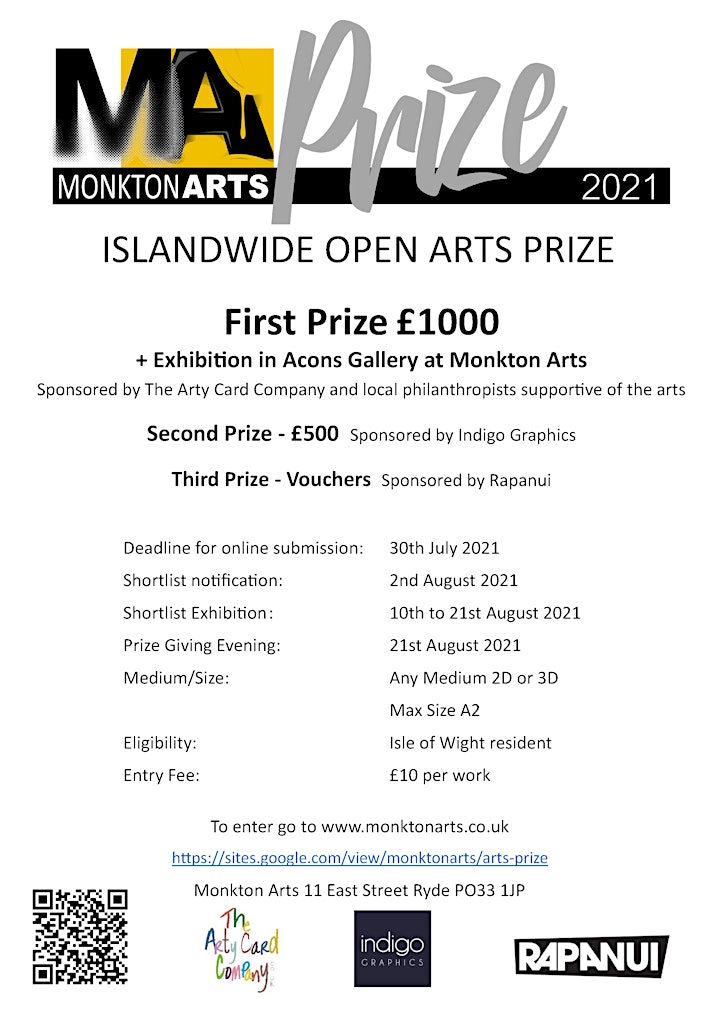 Monkton Arts Prize Entry and Award Ceremony
An Islandwide Open Arts Prize
First Prize
£1000
Second Prize
£500
Third Prize
Vouchers sponsored by Rapanui
Prize Giving Evening: 21st August 2021
Deadline for online submission: 30th July 2021
Shortlist notification: 2nd August 2021
Shortlist Exhibition: 10th to 21st August 2021
Specification:
Any Medium 2D or 3D (Max Size A2)
Eligibility: Isle of Wight residents only
Entry Fee: £10 per work
Instructions
Once you have paid your entry fee, please submit your Eventbrite ticket number and along with your artwork using the Google Form on our website below .
https://sites.google.com/view/monktonarts/arts-prize
The Award Ceremony will take place on the evening of 21st August 2021. This can be attended in person, by visiting Monkton Arts or remotely via Zoom.