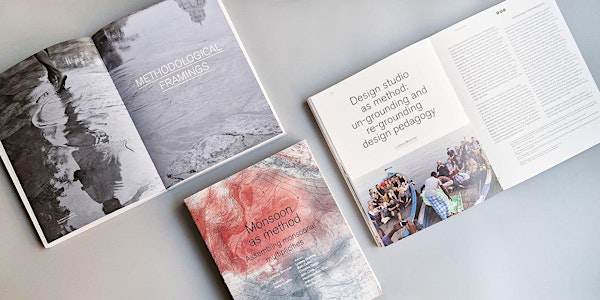 Monsoon as Method: Assembling Monsoonal Multiplicities Book Launch
Online launch of Monsoon as Method: Assembling Monsoonal Multiplicities
About this event
Monsoon as Method: Assembling Monsoonal Multiplicities, Barcelona, Actar, 2022, is a book by Monsoon Assemblages, a five-year project funded by the European Research Council (2016-2021).
The book presents the methods that Monsoon Assemblages developed for understanding the monsoon, a globally connected weather system, as a co-producer of urban life and space in south and southeast Asian cities. It challenges views of climate as an inert backdrop to urban life, instead suggesting that it is materially and spatially active in shaping urban politics, ecologies, infrastructures, buildings and bodies. The book invites urban practitioners, from architects to policy makers, to think differently about space, time, representation and human and non-human agency. It offers intra-disciplinary, intra-active methods for rethinking human and non-human relations with weather in ways that meet the challenges of climate breakdown and the Anthropocene.
The launch will host a series of dialogues between guest panellists and contributors to the book:
Alfredo Ramirez Galindo (Architectural Association) with Lindsay Bremner (University of Westminster)
Ed Wall (Greenwich University) with Christina Geros (Royal College of Art)
Karen Coelho (Madras Institute of Development Studies) with Anthony Powis (Central St Martins)
Pamila Gupta (University of the Witwatersrand, Johannesburg) with Harshavardhan Bhat (Incoming, Ohio State University)
Jonathan Cane (University of Warwick) with John Cook (University of Westminster)
Following these dialogues, the audience will be invited to participate in the discussion.