For schools interested in finding out more about the child-centred systematic synthetic phonics programme that delivers results
About this event
Monster Phonics has organised a series of online demo events designed to give you more information on how the programme can support your school.
Monster Phonics is a complete systematic synthetic phonics programme which is fully aligned to the new DfE criteria and already used successfully by over 7000 teachers. The systematic colour-coding of graphemes linked to phoneme monsters makes phonics easier to understand. Children also love the monsters and this brings phonics to life.
Find out more about the range of Monster Phonics memberships, book and eBook packages and resources.
We recommend that you take a free trial of the Monster Phonics programme prior to the event. This expires automatically after 15 days.
"The improved results in schools using Monster Phonics are significant. I would urge any school and any teacher seeking to better help all children to start using Monster Phonics today."
Ros Wilson, Creator of Big Writing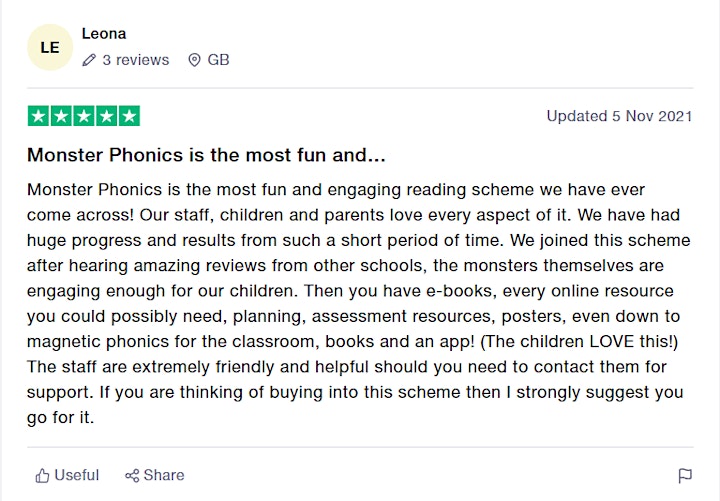 How does Monster Phonics accelerate learning?
This video gives an overview of how to teach a Monster Phonics lesson. It demonstrates how engagement and learning are improved through this approach.
Monster Phonics accelerates learning which is particularly important at this time. Sign-up for a free trial at Monster Phonics Free Trial
MEET OUR MONSTER PHONICS TRAINERS
Laura Aulsberry is an EYFS teacher and Year Group Leader and Holly Palmer is a Year Group Leader. Both teach at an 'outstanding' Model Monster Phonics School.
Dan Cawley is a KS1 teacher at a Model Monster Phonics School rated 'outstanding' by Ofsted.