Join us as we discuss family trauma in a safe & intimate space for self-identifying South Asian women.
About this event
The aim of this workshop is to provide an open, honest and safe space for South Asian women (non-binary folkx welcome with open arms) to discuss family trauma.
A few of the questions that will be explored within the workshops are:
- What is family trauma?
- How have we experienced family trauma?
- What are the roots of our family trauma?
- How do we navigate family trauma at the intersection of identifying as South Asian women?
- How does family trauma affect us and the people around us?
- What are some ways we can tackle and navigate family trauma in a healthier way?
The workshop will be limited to 10 spaces only. The reason we are putting limitations on spaces is because we want to ensure a intimate space for all attendees.
With this in mind, please be mindful to only sign-up if you can make it.
If you cannot make it please do email us at expertbyexperienceuk@gmail.com so that we can pass the ticket on.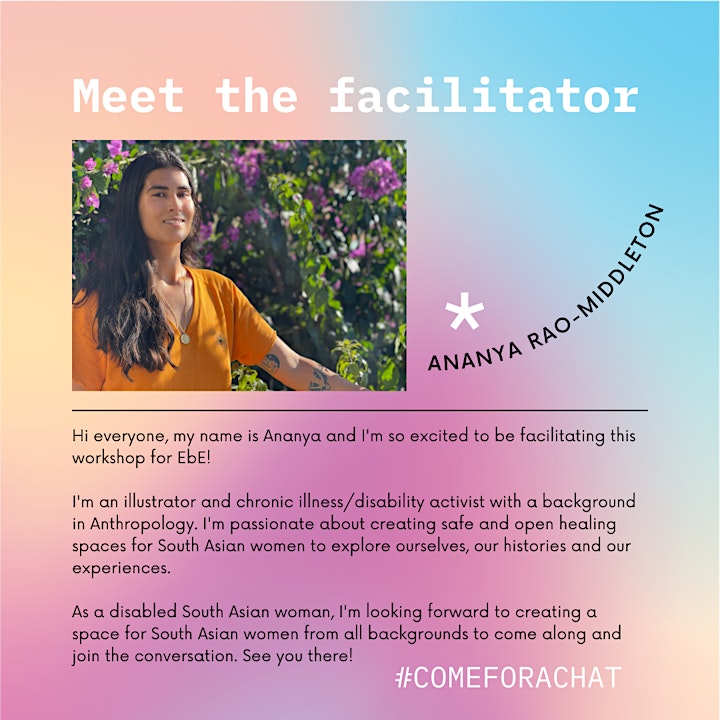 Organiser of Monthly Virtual Space To Talk For South Asian Women - Family Trauma