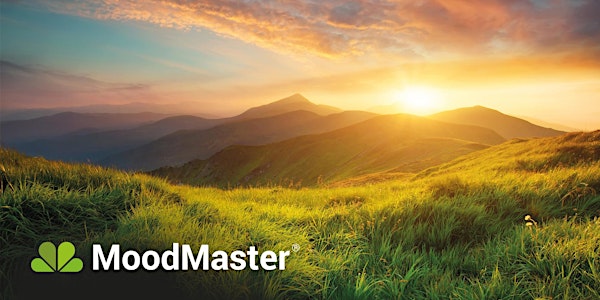 MoodMaster: Deliver world-class programmes on mental health and wellbeing.
Refund policy
Refunds up to 30 days before event
Eventbrite's fee is nonrefundable.
Train to become a MoodMaster Programme Leader and deliver world-class programmes on mental health and wellbeing direct to your clients. C
About this event
Train to become a MoodMaster Programme Leader and deliver world-class programmes on mental health and wellbeing direct to your clients.
CBT-Based.
The input is based primarily on Cognitive Behavioural Therapy, which is generally accepted as the leading approach in this sphere. For its success it relies upon the person (a) knowing key information and (b) acting on it. The programmes are designed to help you achieve both of those as quickly and easily for your patients as possible.
The idea is simple.
Namely to provide suitable professionals with attractive, relevant, material they can run for groups of people. We know that people run groups already, but feel that in many cases the content could be better, the structure could be better, and the materials that group members receive could also be better. We know that many people, even those in in-patient psychiatric units, have not necessarily covered the basic skills such as how to organise your life, how to get a good night's sleep, how to manage your emotions, how to run rewarding relationships, and how to solve problems, to take just five examples.
What are the benefits of being a MoodMaster Group Leader?
You attend a 3-day training course on how to run effective MoodMaster Programmes.
You can run any or all of 7 programmes covering: Mental Resilience, Depression, Anxiety, Stress and Worry, Irritability and Anger, Emotional Control, Panic, and Optimising mental health in the workplace.
You can download excellent materials for your patients to keep, for each of the MoodMaster sessions.
You can enjoy being part of a group of (currently 90) professionals delivering effective MoodMaster input.
Every three months you submit the data on how your patients have progressed.
Covers important topics.
We hope that you will want to add to the MoodMaster story by training programme leaders to deliver MoodMaster sessions. We are convinced that MoodMaster Programmes cover the most important topics that people really should know about and that currently many people do not. We believe the potential benefit of delivering this material direct to those who need it is immense.
What are the costs involved of becoming a MoodMaster Programme Leader?
Firstly, you need to attend a 3-day course on how to become an effective MoodMaster Programme Leader. The cost is £1,000 per person and entitles you to run any of the 7 MoodMaster programmes available, and download the materials you need to run them for a period of 12 months. To renew your license after this date, for a further 12 months, you can complete an online refresher course at a cost of £250 per person.
What type of qualification does a group leader need?
You don't need any formal qualifications, but you do need to be supported by an organisational framework. So, for example, you might be employed by an NHS Mental Health Trust, a specialist mental health charity, an educational establishment, or even a corporation. And, even though the programme is pre-written, you also need to have a natural flair for communication and supporting people in groups.