Event Information
Location
Violet Hill Studios
6 Violet Hill
St Johns Wood
London
NW8 9EB
United Kingdom
Description
Happy Full Moon in Libra Healing Circle
This is a Crystal Healing Workshop with a Guided Meditation

from 7pm-10pm
on Wednesday 23rd March 2016

Please bring some food to share if you can.
(e.g. Vegetarian)
Thank you.
Element: Air/Fire
We meet in a Circle so that We May:

1. Meditate

2. Pray

3. Channel Crystal Light

4. Send Healing Energy

5. Receive Healing Love

6. Celebrate our Lives
This Full Moon Alchemy Gathering is a wonderful sacred time to celebrate yourself and your completions. We will celebrate actions you have completed and areas in your life that are blooming. Sometimes we do not know how much we have achieved until we sit in a sacred supportive space to do this.
LIBRA QUOTE:
"Without forgiveness life is governed by …. an endless cycle of resentment and retaliation." Roberto Assagioli
REQUEST: If you need energy or support for an intention or your life, please drop us a private email (tokscoker@handsoflight.co.uk) with your name, age, place where you live and the subject. We will place a candle in the circle for every person or intention. If you are asking on behalf of a friend, relative or animal, please ask their permission first. The act of asking already activates the healing.
Alternatively, please feel free to go to my Hands of Light Healing Facebook Fan Page - https://www.facebook.com/handsoflighthealing/. 3 Days before each Moon, a Pinned Image will be put up advertising said Moon. Feel free to put your healing request as a comment on this picture.
We will be working with these Libra Full Moon Energies:
1. Being aware of what you want to achieve as you journey through the mud of your emotions.

2. Illuminate your fears, feel them and then decide ENOUGH IS ENOUGH.

3. Now you are able to create and manifest what you want.

4. We will be healing the pain and sorrow within with the energy of Fire and setting ourselves free with the energy of Air; feeling liberated in the expression of our blooming. The guided meditation will help with all of this.

5. Making internal and external changes to be happier in your interactions and relationships.

6. What needs to change in the dynamics of your relationship?

7. Acknowledge, communicate and merge with your infinite heart.

8. Calling on Sacred Deities to protect us, energise us, rejuvenate us, fight for us, and empower us: to prepare us to go forward with confidence and courage into the unknown.

9. Work on having more harmonious co-creation, blooming and co-operation of partnerships and in groups.
We will be Asking....

1. What patterns are being revealed in your life that you do not like?

2. Is this a pattern you have been repeating for a while and you now realise it does not serve you?

3. Would you like to change this pattern now?

4. What needs to change in the dynamics of your relationship?
LIBRA QUOTE:
"The superior man perseveres long on his course, adapts to the times, but remains firm in his direction and correct in his goals." I Ching

OFFERING: Please bring some refreshments to share if you can. Thank you.
WHAT WILL WE DO?
1. We will be doing Sacred Chakra movements which will be empowering your divine self.
2. We will be writing your completions and achievements with this Full Moon; and beyond.
3. We will be dressing up the God/Goddess in you and dancing to Shamanic music, Honouring you.
4. There will be an extensive guided Meditation.
5. We will be working with crystals to clean, uplift and guide your Energy. A very healing experience.
6. We will be drawing cards towards the end of the workshop in order to crystalise what you have intended and what you have received.
7. We will be co-creating a Crystal Portal Matrix for the World. Here is One made at a previous Full Moon: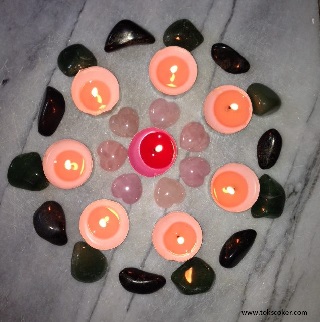 All of this will be done, and quite possibly more, all within a Safe Healing Circle with guided interpretation and lots of laughter!
LIBRA QUOTE:
"The wind should rest and think……….A playful wind stops when it wants to." Lines from the film House of Flying Daggers
Food Options: Vegetarian, snacks, nibbles etc.
TESTIMONIALS
"This woman is pure magic. She is gracious, she is kind, she is generous. She helped me through many difficult and tight moments in my life in the appropriate way. She used whatever technique was required for each issue. She has a knowing and I want to thank her many times over." Lisette
"Exact and precise and positive." Natalie Tarrant
"I loved the fact that we set up the Sacred Crystal Portal together. We shared the energy. I love your room. So many things to look at and so many sacred things to engage with. There are many things we can relate to. Thank you very much." Claire
"I felt the reading was healing, insightful and positive. Toks is loving and full of light and encouragement." Dancer
FULL MOON ENERGY
Mother Moon is pregnant with life. There is power and magic in the air. The moon is round, making the atmosphere pregnant with emotion and desire. The cup is full and the cup 'runneth' over. As such, it is a time full of emotional energy which is very high. It is a time to face these varied emotions.
Everything is amplified with the energy of the Full Moon e.g. emotions, passions, love etc. You may experience strongly charged emotions with abundant, sometimes uncontrollable feelings; which can lead you to lose control in a positive or negative way. Remember – the choice, as always, is yours.
What you perceive as your reality depends on what you are feeling. At the time of the Full Moon, this can cause a lot of confusion if not checked. The gravitational pull of the Sun and Moon on our beloved Earth set these extremes up. This can be a hard time to find balance. A time of extremes.
MAY THE FORCE BE WITH YOU.

Free Invocation Blessings: http://tokscoker.wordpress.com/spiritual-blog/
Nearer the date of the meditation, or on the day itself, you can check the Energy of the Time - of that particular Now, by reading Toks' Invocation Blessing. This can be found on her blog. It is very extensive, informative and includes exercises for you to do so that you can gain greater clarity with your processing of the Energy of Now. These exercises, like the Invocation Blessing itself, are channelled each time and so they change with the Energy of each Moon.
2016 Moon Dates: http://tokscoker.wordpress.com/diary-dates/
Date and time
Location
Violet Hill Studios
6 Violet Hill
St Johns Wood
London
NW8 9EB
United Kingdom