Location
Violet Hill Studios
6 Violet Hill
London
NW8 9EB
United Kingdom
Description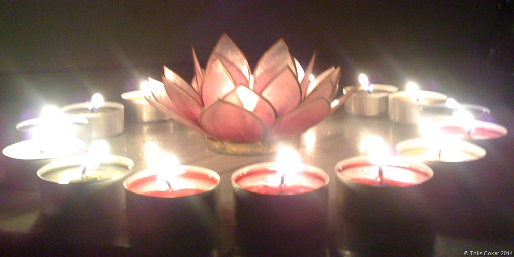 Happy New Moon in Capricorn Healing Circle
This is a Sacred Coaching Meditation Workshop
from 7pm-10pm
on Sunday 10th January 2016
Please bring some food to share if you can.
(e.g. Vegetarian)
Thank you.
Element: Earth
Symbol: Mountain Goat
CAPRICORN QUOTE:
"When led by the hand, one will never stumble." Nichiren Daishonin (WND, 451)
This New Moon Sacred Coaching Meditation Workshop is:
1. A time to honour the beginning of new things in your life.
2. A time to start again.
3. A time to refresh and look at your life in a new way.
4. A time of new beginnings.
In this Healing Circle, you will receive Empowerment through a LIVE Channeled meditation so that you can reclaim your Power whilst planting new seeds in your life, breaking through and going to the next level.
We will be working with these Capricorn New Moon Energies:
1. The Energy of Success and Achievement.
2. Not knowing; knowing that the relevant skills and means will come through.
3. Acknowledging your life: the development of strengths, skills, insights, wisdom and your character.
4. Reflecting on and integrating the learnings of 2015.
5. Recognise your growth and success; Celebrate it - go to dinner or see a film.

6. This Energy is about never quitting; do not give up on your life or your dreams.

7. Determining to conquer your limitations within you.

8. We will declare what we are wanting for 2016 in the silence of your mind and in the power of invocation with the spiral energy of the vortex of healing power.

9. We will leave with a feeling of knowing and inner joy and peace you have not felt for a long time or have never felt before.
We will be asking....
1. What decisions have you made as you stepped into the energy 2016?
2. What old negative energy are you choosing to release now?

Toks has been holding New Moon Meditation Workshops for almost 20 years now. Toks Channels Invocation Blessings that Inspire and Encourage One's Own Personal Spiritual Journey. They are Channelled in such a way that it is as if she is talking directly to you and only you.
CAPRICORN QUOTE:
"Where your treasure is, there also will be your heart," The Alchemist had told him. (Paulo Coelho, The Alchemist)

The New Moon Meditation is Guided and Channeled by Toks - Live, in the Moment. This is what it entails:
1. It is a Journey to your Sacred Space of Light or Sacred Cave of Light.
2. It is a Journey into your Deeper Self, your True Self, your Real Pure Note, your Spiritual Resonance.
3. It is a Healing Meditation on a Multi-Dimensional Level.
4. It is about Starting Afresh, Planting a New Seed and Connecting to your Higher Self.
5. It is a Self-Healing and Self-Discovery Meditation.
6. It Empowers you with the Knowledge and fact that Once you can Attend to Yourself, you can Attend to Others with Ease.
7. It is about Renewing Yourself, Rebirthing New Ideas and Activating the Creative Life Force in Yourself and Around You. It is a very Rejuvenating Meditation.
Here are some Benefits for this Workshop:
1. It empowers you, enabling you to return to your own centre.
2. It allows you to begin afresh when you may have felt stuck or disempowered.
3. It enables you to clearly see the reality of your life and it encourages you to face the truth and to move forward in a positive light.
4. Some of the types of realisations that come through include:
a. Deciding to get pregnant.
b. Wanting to get married.
c. Applying for a mortgage.
d. Changing jobs.
e. Getting a new partner.
f. Develop a better relationship with family.
g. Breaking away from people, places, and habits that no longer
serve.
h. Recognizing that you are on the right path and simply need to continue on your journey, with freshness and vitality.
HEALING REQUEST: If you need energy or support for an intention or for your life, please drop me a private email (tokscoker@handsoflight.co.uk) with your name, age, the area where you live and the subject. We will place a candle in the circle for every person or intention. If you are asking on behalf of a friend, relative or animal please ask their permission first. The act of asking already activates the healing.
Alternatively, please feel free to go to my Hands of Light Healing Facebook Fan Page - https://www.facebook.com/handsoflighthealing/. 3 Days before each Moon, a Pinned Image will be put up advertising said Moon. Feel free to put your healing request as a comment on this picture.
CAPRICORN QUOTE:
"When you want something, all the universe conspires to help you achieve it," the old king had said. (Paulo Coelho, The Alchemist)


What to expect during the Workshop....

1. We will be balancing the Life Force of Your Chakras.
2. We will be writing your New Moon Wishes; for this Moon and beyond.
3. There will be an Extensive Guided Meditation.
4. We will be working with crystals to clean, uplift and guide your Energy - a very healing experience.
5. We will be drawing cards towards the end of the workshop in order to crystalise what you have intended and what you have received.
6. We will be co-creating a Crystal Portal Matrix for the World. Here is One made at a previous New Moon: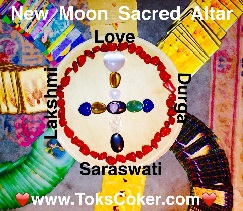 All of this will be done, and quite possibly more, all within a Safe Healing Circle with Guided Interpretation and lots of Laughter!

MAY THE FORCE BE WITH YOU.

TESTIMONIALS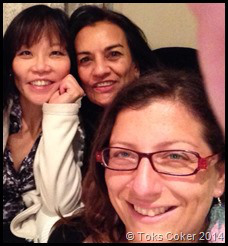 "This is the first time I've met Toks Coker and done her class. It was really a very interesting and energetically moving class. I feel I have a greater clarity to start my New Year 2014 and look forward to making this year a very successful joyful year for me and all the people I meet on my journey. Thank you Toks." Indira Raj-Guru
"Great session helping us to let go of any 2013 energies that no longer helps us. More importantly, it was great to acknowledge and anchor lessons / blessings for 2013 and the 2014 vision. Beautiful, loving and nurturing energy throughout the session. Toks was amazing holding the space and leading us through this journey. Powerful meditation anchoring the new year's energies that we want to bring in our lives. Thank you very much." Maria Fotiou
"The session is enlightening and very helpful." Yummy Yummy Yap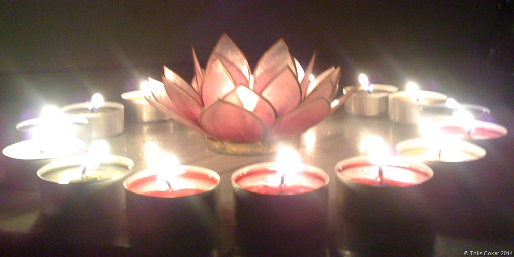 Food Options: Vegetarian, snacks, nibbles etc.
Free Invocation Blessings:
http://tokscoker.wordpress.com/spiritual-blog/
Nearer the date of the meditation, or on the day itself, you can check the Energy of the Time - of that particular Now, by reading Toks' Invocation Blessing. This can be found on her blog. It is very extensive, informative and includes exercises for you to do so that you can gain greater clarity with your processing of the Energy of Now. These exercises, like the Invocation Blessing itself, are channelled each time and so they change with the Energy of each Moon.
2016 Moon Dates: CLICK 2016 MOON DATES

2016 Moon Calendar: CLICK 2016 MOON CALENDAR