Description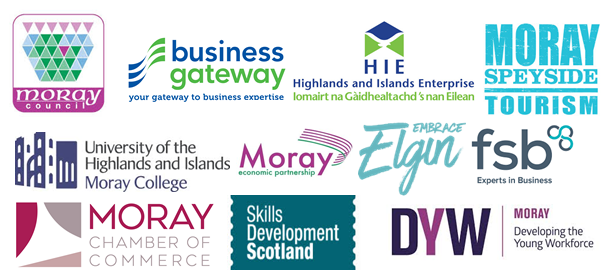 MORAY BUSINESS WEEK 2018 - CREATING AN ENTERPRISING FUTURE IN MORAY led by Moray Council's Business Gateway, Highlands and Islands Enterprise and Moray Chamber of Commerce, in collaboration with other stakeholders, is bigger than ever with an exciting range of events supporting local businesses, creating an enterprising future in Moray.
Click on the events below to secure your place and to explore our full programme.
Monday 5th November
Moray Chamber of Commerce Awards Lunch - 11:30am-2:30pm
The Moray Chamber of Commerce lunch opens this years Business Week. Join us for the Annual Awards as we come together to celebrate Moray business. This year the awards will be hosted at The Mosset Tavern, Forres and guests will be well looked after with a welcome drink and a two-course lunch.
Tuesday 6th November
Living Wage Business Breakfast – 8:00am-9:30am
Join us at this FREE breakfast event organised by Moray Foodbank in partnership with Business Gateway Moray. Find out more about the Living Wage, the benefits of paying it and the myths around it.
The Changes to Data Protection Legislation... - 10:00am-12:00pm
And How These Impact Upon Your Organisation. There will be clear, concise guidance as to what you need to be aware of and what steps you need to take in order to ensure that you are compliant. Sign up now for this FREE seminar.
Who Wants to Pay Less Tax? Lunch 'N' Learn – 12:30pm-2:00pm
Join Business Gateway Moray for a FREE Lunch 'N' Learn event to find out if you are paying too much tax.
Fraud - The Hidden Industry Seminar – 3:00pm-5:00pm
Attend this FREE seminar to find out how you can protect your business against fraud.
Wednesday 7th November
Video Production for Social Media – 9:00am-12:00pm
Do you want to find out how you can use video to capture your audience online? Attend this FREE event to discover how this kind of content has become a powerful way to engage with your audience.
Highlands & Islands Enterprise - Internationalisation Lunch – 12:00pm-2:00pm
This free lunch-time event (lunch is included) is a must for anyone trading internationally. Grant Strachan from Brodies, Solicitors will cover Intellectual Property and protecting your brand, including sharing those assets with your international supply chain and protecting your domain name.
Highlands & Islands Enterprise - Cyber Strong Business Masterclass - 2:30pm-4:30pm
This FREE masterclass is targeted at businesses of all sizes and sectors and aims to make them aware of the risks that they face online.
Pathway to Public Procurement Workshop - 3:00pm-5:00pm
Attend this FREE workshop to help you understand all about the tendering process and how to submit the perfect tender.

Thursday 8th November
Year of Young People Business Breakfast – 8:00am-10:00am
DYW Moray and Moray Chamber of Commerce are joining up forces with Elgin High School's Pupils to offer a Business Breakfast for professionals across Moray.
Highlands & Islands Enterprise - Drones & UAVS - Scottish Industry Expo – 9:00am-4:30pm
A one day conference to get hands on with Drones and UAVs, and receive expert advice on the legislation, safety and training to use them in your business.
Friday 9th November
Moray Speyside Tourism Conference – 9:00am-5:00pm
Join fellow tourism businesses from across Moray and beyond at the Eight Acres Hotel, Elgin on Friday 9th November for the 2018 Moray Speyside Tourism Conference.
Highlands & Islands Enterprise - Innovate your Business Clinics - 9:00am-5:00pm

Innovate Your Business (IYB) aims to help businesses in the Highlands and Islands develop new ideas into commercially viable opportunities. Book a one to one appointment with an Innovation Specialist to see how IYB can help you in exploring unexploited market opportunities, overcoming internal process/efficiency challenges, increasing your turnover and attracting external investment (if required) to take it to market.