Description
Your brand story or narrative is the bones your business.
It's the foundation, the core, the script around which your 'branding' movie is created - and it should shine through every single piece of communication.
With so many platforms firing information on a second-by-second basis, origin 'storytelling' has the power to inspire and really connect with consumers on a human level.

Following our completely sold-out February event, creative agency Idea Dolls is back to delve into the captivating world of brand narrative, exploring some of the world's most powerful brands and examining how you can apply proven brand strategy to your business.
Some of the things you'll learn -
• What a 'brand story' is - exploring how global brands such as Brew Dog live and breathe their mission
• How to create your visual identity - branding is more than a logo after all

• About the process of logo crafting - a 'behind the scenes' look at the logo-making process

• How to create your own brand guidelines - you'll also get a 'cheat sheet' template to get you started

• About different 'tones of voice' - and get a chance to define how your brand speaks

• How to create engaging stories on digital platforms - and why you shouldn't try to be JK Rowling when writing for web

Who it's for:
If you're connecting with people, whether you're selling a product, service or working as part of a marketing department, you'll be challenged to produce original engaging stories on a daily basis. If you're knee deep in conflicting advice from 100 different Udemy courses, this workshop is for you.
Tutors:
Siena Dexter is the founder of Idea Dolls London, her background is in advertising where she started her journey at BBDO as a Copywriter in retail marketing. She cut her teeth on TTL campaigns at TBWA before working freelance on brands including Deliveroo, Moonpig, and Cadbury while setting up Idea Dolls creative agency. She now works directly with founders to develop brand identity, marketing, and digital campaigns.
And there's more...
There will also be porridge - delicious nutritious, berry and seed-filled porridge, and lots of it thanks to our sponsors The Great British Porridge Co.
We believe that nice surroundings are as important as a good breakfast for fuelling the creative mind, so will be holding the event at WeWork Medius House with views overlooking SoHo, plenty of natural light and a cosy seminar environment.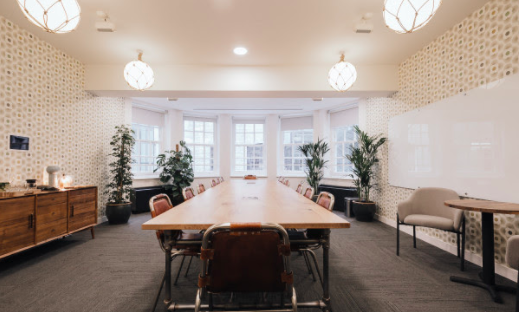 Smaller groups are more intimate and engaging - which is why our room holds a maximum of 16 people.
If you still have a few questions about the venue, programme or flavors of porridge available, shoot us an email and we'll get back to you as soon as we can- siena@ideadolls.com