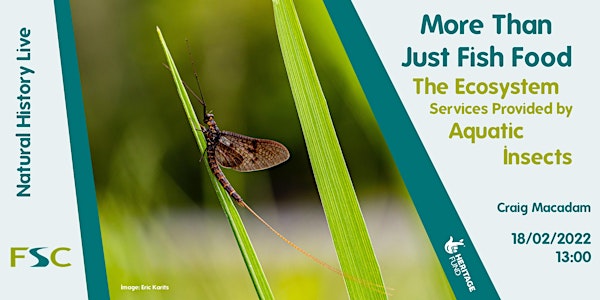 More Than Just Fish Food:The Ecosystem Services Provided by Aquatic Insects
Freshwater ecosystems cover less than 1% of the planet's surface but support up to 10% of known species.
About this event
The ecosystem services and benefits provided by freshwater insects are diverse and unexpectedly wide-ranging including decomposition and nutrient cycling, food for a wider range of species including humans, and the inspiration for art, music, and literature.
This talk will explore some of these services and benefits with examples from around the world.
About the speaker: Craig Macadam has been studying and recording freshwater invertebrates for over 25 years. His particular specialism is mayflies, stoneflies and caddisflies, collectively known as 'riverflies'. Craig is the national recorder for mayflies and stoneflies and a founder member of the Riverfly Partnership. He co-authored the Field Studies Council pictorial key to mayflies and the fold-out chart for stonefly families.
FSC Natural History Live webinars are free online learning experiences for adults, comprising of a 30-40 minute talk from a guest speaker, followed by a question and answer session. We host them on Zoom and we will send out joining instructions on the day of the event.
Sign up for the FSC Biodiversity newsletter to find out about our other online learning opportunities and receive exclusive discounts.