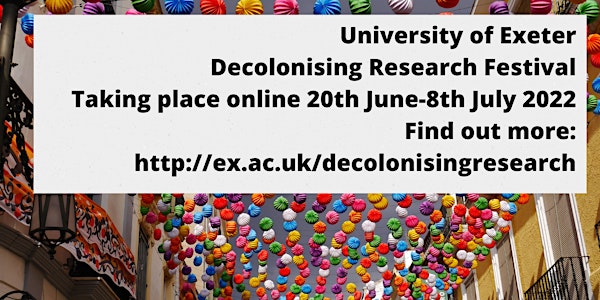 More than Words Together: Representing and Presenting Narratives...
More than Words Together: Representing and Presenting Narratives with visual and digital stories as a creative, participatory approach
About this event
In this workshop, Laura will share examples of her digital/multimodal stories. She will talk through how she created them collaboratively. She will encourage discussion on the role visual and creative methods can play in the sharing and telling of lived experiences and whether the mode of presentation of narratives matters.
Laura Shobiye is a final-year PhD research student in the School of Social Sciences at Cardiff University, exploring the learning experiences of mothers seeking sanctuary in Wales using qualitative, creative and participatory methods. She uses Critical Race Theory, Intersectional Feminism, and Decolonial Approaches to inform and frame her work. She explores the UK's racialised and gendered immigration policy and how that impacts both formal and informal learning experiences in the context of devolved education in Wales. Her work with asylum-seeking and refugee mothers involved ethnographic and participatory approaches, with carefully positioned interviews and the elicitation of drawings and photographs to generate data with her participants. Laura co-founded a research group focused on migration, race, ethnicity and diversity in December 2019 (which is still running with new leadership) and has recently published a paper on the harms mothers (and their children) experience through the asylum system. Laura also has a background in project management and ESOL and EFL teaching and is a PhD parent!