About this Event
Another spectacular food event here at Moregeous HQ which throws together breakfast and afternoon tea - a High Boozy Brunch if you like! Perfect for a pre-shopping treat or just a leisurely dining experience in beautifully designed surroundings.
Weekend lunches have never tasted so good. We'll start with a welcome cocktail in the garden, accompanied by brunch inspired canapes and nibbles. This event will be socially distanced and in line with the most current Govt guidelines so please book and attend accordingly.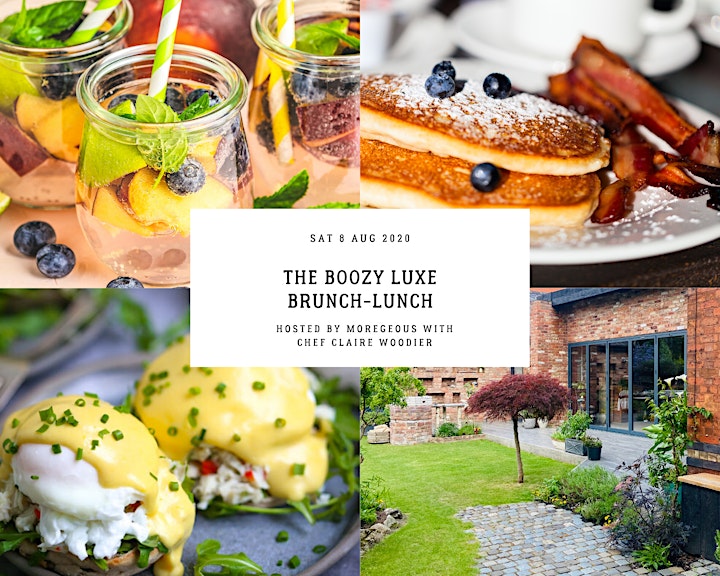 A delicious Eggs Benedict brunch will follow, before delicious sandwiches, then fabulous sweet treats and cake.
Full veggie options throughout. BYO. We suggest prosecco ;)
Hosted at Moregeous Mansions, outdoor in the lushly planted garden. Enjoy spectacular food in relaxed surroundings, with great company, safely and without much of the uncertainty causing concern to those wanting to start enjoying life and going out again.
Saturday 8 August 2020, 11 am - 2pm
Blueberry & Peach Bellini, homegrown lemon verbena
Canapes
Chipolatas (regular, veggie), quails egg
Mini pancakes, bacon, blueberry, maple syrup
Smoked salmon blini, beetroot, horseradish
Hot Brunch
Eggs Benedict served with ham hock or smashed avocado.
Fresh hollandaise, spinach.
Cool Lunch
Chargrilled chicken, homegrown tarragon sandwich
Smoked mackerel pate, lemon zest, melba toast
Summer vegetable tartlet, charred asparagus
Veggie: Brie, sauteed brown sugar pear open sandwich, home grown thyme
Desserts
Fresh raspberry & lemon sherbet fancy cakes, fresh fruit, mascarpone
Lemon posset pots, Pimms granita, summer fruits, homegrown apple mint
BYO. No corkage charged. 
Our events over Summer 2020 are planned around outdoor eating in the lush garden at Moregeous HQ and will adhere to the Govt guidelines on social distancing, with temperature testing on entry, limited contact, distanced tables and the necessary cleanliess rules.
Tickets limited to 30 and with guests booking as per Govt guidelines.
See www.moregeous.com for general info, previous events & reviews, or our Facebook page for photos, or Instagram for videos!
There may be slight changes to the menu due to market conditions.