Welcome to Soho in the 80's! It's time to be fabulous & sparkle like a star! Join us! :-)
About this event
Soho in the 80's // 19:30-22:00
Soho was more fabulous than ever in the 80's, so let's transport ourselves to magical Soho & enjoy a little time travel adventure! 💖
Dance Party with DJ Darren James // 7:30pm // Heaven - The Dance Club 🏳️‍🌈
DJ Darren James of Namaslay Music is super excited to share some amazing tunes with us. His sets are always full of surprises! Expect the unexpected & get ready to groove to the rythym! 🎵
With feel good tunes from DJ Darren James (@realdarrenjames), you'll be on your feet in no time. We're going to get playful & have fun. Darren's infectious energy and vibrant performance will ensure you're having the party of a lifetime. 🎉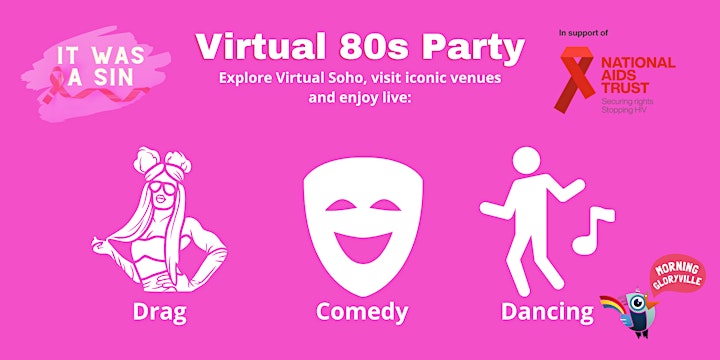 We're bringing you an 80s themed virtual experience & party!
All proceeds from this event will be donated to the National AIDS Trust. Explore virtual Soho and enjoy live entertainment in it's iconic venues.
What will you experience?
Join us on Saturday 15th of May for an evening of fun and frolics all in support of the National AIDS Trust.
This virtual 80s party is like no other. And certainly not your bog standard Zoom call! This is an exciting adventure where you'll get to explore many of Soho's Iconic venues featuring some of the UKs Top LGBTQ+ performers and DJs.
⭐️ You'll explore Soho through our virtual map that simulates the centre of London's LGBTQ+ scene.
⭐️ You can transport yourself into a new world of amazingness by clicking on Soho's iconic 80s venues.
⭐️ You'll enjoy live entertainment in each venue, each with a different theme.
The beauty of this event format is that you can dip in and out of the venues as and when you please, you'll never get bored. You will be able to access the full entertainment program with just a donation of £5!
These are the fabulous venues you can explore:
🏳️‍🌈 Heaven - The Dance Club 🏳️‍🌈
It wouldn't be a party without somewhere for a boogie. Our dance club is themed after the iconic Heaven Nightclub. In this room you can expect to dance the night away to some iconic 80s bangers.
👉 Start the night with an amazing DJ set from @realdarrenjames hosted by the sober raveolution @morninggloryville.
👉 Take part in a bad dancing competition. We love Dad dancing!
👉 Dance along with @ionamcdance @sirtomlincoln & @kingofmore you're gonna love their wicked moves and cheesy music taste. They're part of the iconic @popupboogie crew.
👉 Once all of our live entertainment has finished. We'll be leaving this room open so that you can dance the night away with your fellow revellers to some prerecorded DJ sets.
🏳️‍🌈 Admiral Duncan - The Comedy & Drag Venue 🏳️‍🌈
Themed after the iconic Admiral Duncan this venue includes some of Admiral Duncan's resident drag queens, and some absolutely fabulous comedy sets.
👉 Start the night with an engaging performance from 'Complimentary Drinks' featuring @ionamcdance @sirtomlincoln & @kingofmore
👉 Enjoy a comedy set from prominent Trans activist @shon.faye
👉 And let the light hearted humour continue with our drag queens including: @wilmaballsdrop @chanelno5 & @stephvonclitz
🏳️‍🌈 The Pink Palace - The Quiz Room 🏳️‍🌈
The Pink Palace is hosted by @nationalaidstrust, this is our quiz room. Head to this room for a fun quiz with rounds themed on:
👉 'It's a Sin' the hit TV Show
👉 HIV 1980 - 2000
👉 HIV 2000 - 2021
👉 Soho Throughout the Years
🏳️‍🌈 Village - The Live Music Venue 🏳️‍🌈
Join us in Village, our live music venue. It wouldn't be an 80s party without some live 80s music, in this venue we have a great mix of genres & musicians.
👉 Enjoy @phantomInk a London based Electronic Rock Duo inspired by the image and sound of The White Stripes, and Royal Blood.
👉 Listen to @withdoryan a fabulous pop artist who wrote the hit song "The Rest of Us" with @prideinlondon. Doryan was also the first ever winner of Prides Got Talent.
👉 Boogie with PALEDAY (@stubbsjackson) Variously described as 'camper than Kenneth Williams and Charles Hawtrey' and 'creamier than a gay cow', PALEDAY write disco pop torch jazz country funk songs of love, loss and fabulosity set against a backdrop of discrimination & hate.
👉 Vibe with @LamontRicketts winner of 2018 Prides Got Talent a famillar phase throughout the LGBTQ+ music scene.
Tickets are £5 plus booking fee with the entire £5 going to National AIDS Trust.
So what are you waiting for? Get those glad rags on and step back in time for a virtual 80s party in Soho and explore it's iconic venues. All in aid of a vital cause.
Can't make the event? Why not still support this important cause by texting ITWASASIN to 70085 to donate £5.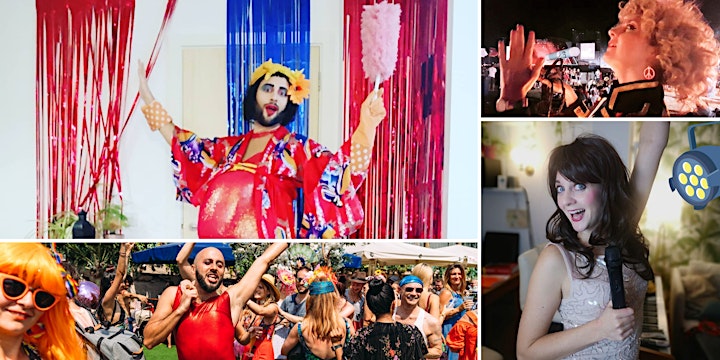 Pop Up Boogie with the Tropicana Fantasea Collective
Following the dance party we'll keep on having more fun and enjoying special acts and performances by the incredibly talented Tropicana Fantasea Collective crew including King of More, Tom Lincoln and Iona McNeil! Join the Pop Up Boogie - it's super fun! 💃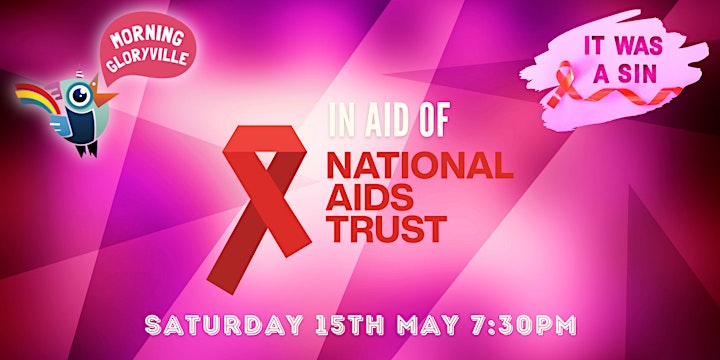 All Proceeds go to the National AIDS Trust
In honour of a very important cause we are donating all proceeds to the National AIDS Trust, so please donate generously and join us for a fun night in the 80's - let's go to Soho baby! 😍
Joining is so easy...
Look out for the email from Eventbrite containing the access link. This will be sent on the morning of the party! (Make sure to check your spam or junk folders as the email may end up there.)
Get dressed up to join the party.
By the way...
We recommend that you join the party with your camera turned on for the fully interactive experience.
Why not connect to your TV screen for a more immersive party? We recommend headphones or powerful speakers. If you're using a Smartphone place it sideways for a better experience.
Ethernet cabled or fast fibre broadband internet connection will enable you to have the best online party experience.
The online dance parties are recorded and we may use these to promote upcoming events.
See you online! 🤩
Morning Gloryville & It Was a Sin! & Pop Up Boogie & Tropicana Fantasea Collective
Corporate Wellbeing
Morning Gloryville is an immersive entertainment, wellness and mindfulness brand that specialises in virtual, in person & hybrid experiences. We would love to curate unique events for your organisation! Are you thinking of creating a summer party or a wellness event? Check out https://linktr.ee/morninggloryville get in touch with us at roxy@morninggloryville.com to find out more. 💖
Date and time
Location
Refund policy