About this Event
We have teamed up with Sober & Social for our rave & online wellness party this month!
Join us for 4 HOURS of dancing, connection & fun for the whole family! 💃
Our world famous sober morning rave is coming into your living room! Awesome tunes, a whole lotta dancing, live DJs, yoga, wellness, mindfulness, wisdom, connection, playfulness and awesome entertainment for the whole family... 😍
We're so EXCITED to announce that the incredible DJ Fat Tony will be on the decks bringing us the best tunes, so you'll be up on your feet in no time!!! 🤩
Join your tribe on Saturday 26th September for our Sober is My Superpower Rave & Online Dance Party! 💖
Check out the incredible line up… 🎵
Decor & Dress Code:
Superheroes! Get into the spirit. Embody your inner HERO or VILLAIN. Be playful! We invite you to make your own costumes, recycle, repurpose and use what you already have where possible. What is your Superpower? 💫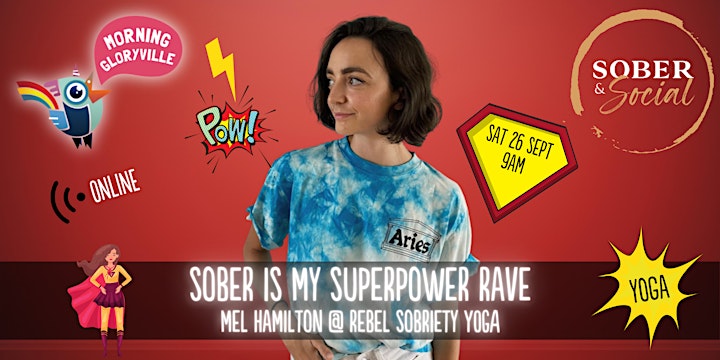 THE LINE UP
YOGA:
09:00 Hero Yoga Flow // Mel Hamilton @ Rebel Sobriety 🧘
RAVE:
10:00 Opening Ceremony 🔮
10:05 Superpowers Rave // DJ duo WeAreSunana 🌈
11:05 Heroes & Villains Rave // DJ Fat Tony 🎶
12:00 Soundscape 🎧
12:15 Closing Circle ⭕
WISDOM LOUNGE:
12:15 Sober Socialising Panel // Emily @ Sober & Social 💕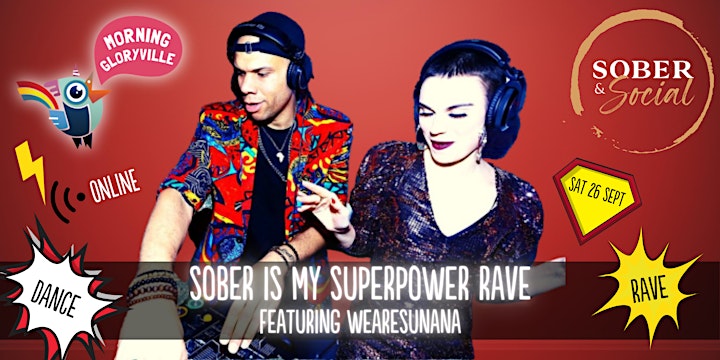 HOW TO JOIN
- Attendees should register for this virtual event via Eventbrite.
- Registered participants will receive a confirmation of their ticket after purchasing via email.
- The access links for the event will be emailed to all registered participants on the morning of the event from Eventbrite.
- Check your inbox before the event. Please also check your spam / junk folders.
- This experience will take place on Zoom.
- Download the free Zoom application on your device in advance and access the event using the link in the email.
- Places are limited. Early registration is recommended.
IMPORTANT DETAILS
- Please test your camera and speakers in advance.
- Switch your camera on for the interactive experience.
- Please ensure that your broadband router is nearby.
- For a more stable connection please disconnect other devices from the WiFi and switch off apps / tasks running in the background.
- Fibre broadband and ethernet cabled connection is recommended.
- This event will be recorded. Footage from the event may be used across our community channels for promotional purposes.
- Your image may appear on screen during the event.
- Any person deemed to be behaving inappropriately during the event will be removed without warning by the event moderators.
- If you're participating in a workshop, yoga or dance class please follow at your own pace. We recommend that you stretch before the rave.
- This experience is produced by Morning Gloryville pioneers of the sober rave, and global wellness movement
CORPORATE WELLBEING:
Morning Gloryville delivers impactful online mindfulness and wellbeing events, workshops for organisations. Get in touch to find out more.