Breathe, stretch, move & groove your way in to the day with Polly Griffiths of Morning Gloryville! Join the Friday sunrise disco yoga flow!
About this event
This Friday morning session offers uplifting yoga flow to funky disco dance tunes, with time for a little rave up and cool down to leave you in bliss! 🧘🏾‍♀️
This joyful, playful vinyasa yoga is for ALL levels, everyone's invited to the party… so bring your kids, your pets, or simply your fabulous self! ✨ And let's be honest - we could all do with some extra sunshine disco vibes in our lives at the moment, right? 💗
Yoga, dance and meditation are so good for our wellbeing and when we enjoy these powerful practices together in community, magic happens! 🌟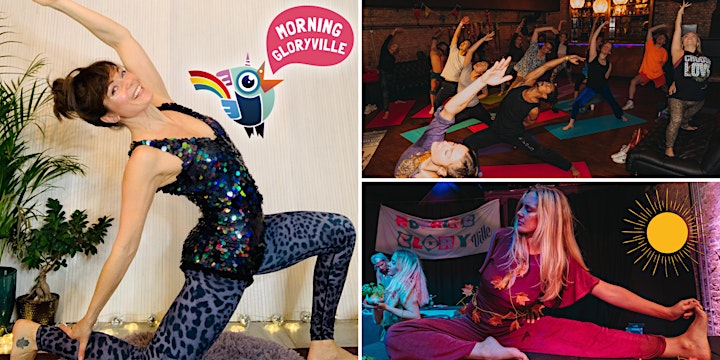 We'll flow to a mix of 70s and 80s disco, funk and dance tunes - with a few old school rave tunes thrown in. After the yoga, we can freestyle and go wild, before we slow the energy down with a grounding stretch, breath exercises and guided meditation. 💫
So let's open our bodies and our hearts, immerse ourselves and everything in our household with love, light and eco-glitter and get our GLOW on! 🤸🏼‍♀️
Dress Code: This is your time to sparkle and shine! Wear comfortable clothes to practice in with as much added sparkle as you like! 💖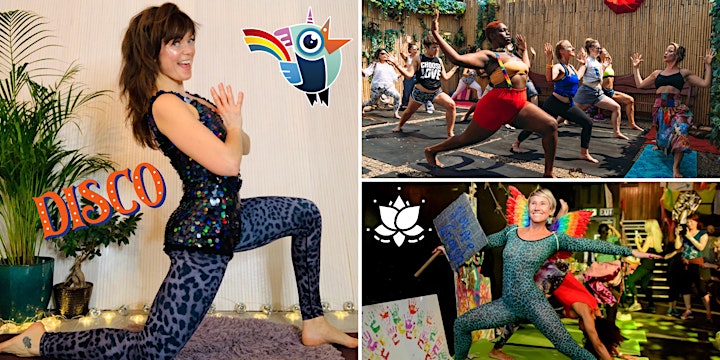 Friday Sunrise Disco Yoga Flow with Polly Griffiths
Polly teaches yoga for all levels in a range of styles, from restorative to dynamic. She offers a heart opening, nourishing yoga which is grounded in self compassion, as well as strong and uplifting Hatha and Vinyasa. Her training is in Hot Yoga and follows the B C Ghosh lineage - a methodology which is rooted in healing, and focuses on developing strength, health and functionality in the body and stillness in the mind. 💕

Disclaimer
By taking an online class instructed by our qualified teacher, you accept all responsibility for your own health and wellbeing. Your participation is your agreement to this disclaimer.
You acknowledge and represent that:
to the best of your knowledge, you suffer from no medical or physical condition or disability that will or might increase the normal risks associated with exercise;
your doctor has approved your participation in yoga classes.
You must inform the teacher, as soon as possible, if:
you suffer from any injury, illness or other medical condition;
you feel any pain or discomfort during a yoga class; or
you feel that an exercise included in a yoga class would be unsafe or uncomfortable for you.
#discolovers #oldschoolravers #familyfuninlockdown #discoyoga #soberraving #consiousdancing #yoga #rave #disco
Joining is so easy...
Download the free Zoom application on your device of choice.
Look out for the email from Eventbrite containing the access link. (Make sure to check your spam or junk folders as the email may end up there.)
Grab a bottle of water, get sparkly and join us on your yoga mat.
By the way...
We recommend that you join with your camera turned on for a fully interactive experience.
Why not connect to your TV screen for a more immersive experience? We recommend headphones or powerful speakers. If you're using a Smartphone place it sideways for a better experience.
Ethernet cabled or fast fibre broadband internet connection will enable you to have the best online experience.
The online experiences may be recorded and we may use these to promote upcoming events.
See you online! 🤩
Morning Gloryville

Corporate Wellbeing
Morning Gloryville is an immersive entertainment, wellness and mindfulness brand that specialises in virtual experiences. We would love to curate unique events for your organisation! Are you thinking of creating a virtual seminar or a wellness event? Get in touch with us at roxy@morninggloryville.com to find out more. 💖 Check out our https://linktr.ee/morninggloryville