About this Event
We're inviting you to our social community gathering this Saturday 1st August between 9am and 12pm. We've really missed each other and we thought it would be amazing to create a virtual space for our community to connect and truly be present with each other. 💖
At such uncertain times we need this authentic connection more than ever! Morning Gloryville invites you to a very special online event, where we will practice virtually hugging each other, play games, get in the groove and enjoy some uplifting tunes! 🤩
A little bit of yoga to begin the day... Music, dancing, being playful and some genuine connection in the spirit of community and supporting each other. 💃
What more can we ask for? 🌈
What to expect...
Sunrise Gratitude Yoga with Cat Duval
Connection Games and Sharing with Aileen Gonsalves
Music & Dancing with DJ Marc JB
And more surprises...
Dress Code & Decor
We invite you to get sweet and summery! Warm sunset tones, bright orange, yellow and reds... 🍊
Flower explosion all round! 🌺
Bring your favourite house plants near the screen to share the garden of love with our community! 🌱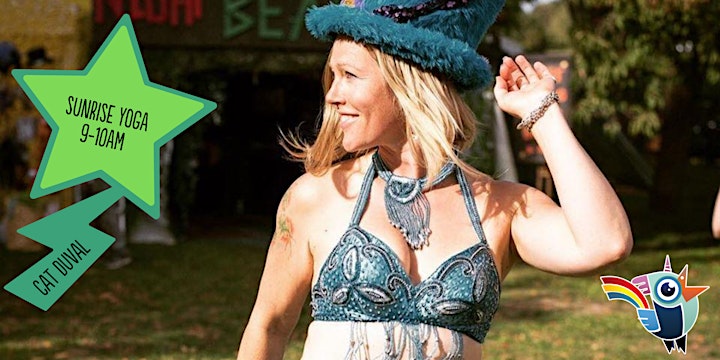 Sunrise Gratitude Yoga Flow with Cat Duval
9-10am BST
Let's begin the beautiful day with gratitude. Join Cat Duval of Nine Lives Yoga for a nourishing yoga flow to awaken your gorgeous bodies. 🧘🏽
Allow yourself to get out of your mind and into your body, to feel deeply, to be present... wherever you may be and whatever you may be experiencing, remembering that it's all welcome and we are community! We hold each other through all the emotions and we stay true to each other. 💕
All levels welcome and no prior experience is required. 🥰
Connection, Games, Authentic Relating with Aileen Gonsalves
10-11am
This event is our gift to our community! Founder of Gonsalves Method, theatre director, actor and writer Aileen Gonsalves and our Fairy Princess Roxy will guide us through some weird and wonderful connection games. All you need is an open heart and your senses... 🎭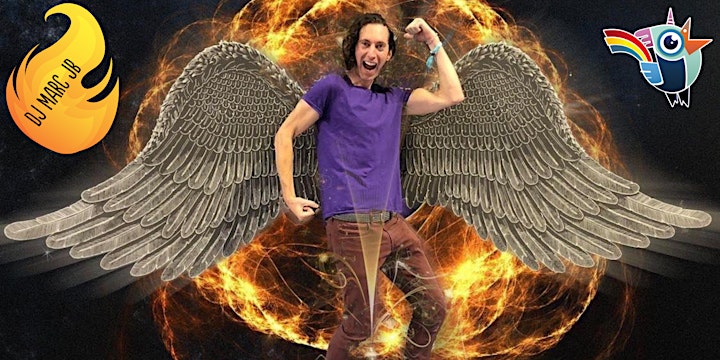 Music and Dancing with DJ Marc JB
11am-12pm
The bringer of joy, happy feelings and connection DJ Marc JB is going to bring us an uplifting and fun party. 🎵
The best way to finish our online community connection is to enjoy some beautiful tunes together and boogie! The sober morning rave comes to you spreading positivity. We're bringing the virtual club and dance floor right into your homes, so you can keep your bodies moving and set your souls free! 🕺🏽
HOW TO JOIN
- Attendees should register for this virtual event via Eventbrite.
- Registered participants will receive a confirmation of their ticket after purchasing via email.
- The access links for the event will be emailed to all registered participants on the morning of the event from Eventbrite.
- Check your inbox before the event. Please also check your spam / junk folders.
- This experience will take place on Zoom.
- Download the free Zoom application on your device in advance and access the event using the link in the email.
- Places are limited. Early registration is recommended.
IMPORTANT DETAILS
- Please test your camera and speakers in advance.
- Switch your camera on for the interactive experience.
- Please ensure that your broadband router is nearby.
- For a more stable connection please disconnect other devices from the WiFi and switch off apps / tasks running in the background.
- Fibre broadband and ethernet cabled connection is recommended.
- This event will be recorded. Footage from the event may be used across our community channels for promotional purposes.
- Your image may appear on screen during the event.
- Any person deemed to be behaving inappropriately during the event will be removed without warning by the event moderators.
- If you're participating in a workshop, yoga or dance class please follow at your own pace. We recommend that you stretch before the rave to avoid post rave stiffness.
- This experience is produced by Morning Gloryville pioneers of the sober rave and global wellness movement.
CORPORATE WELLBEING
Morning Gloryville delivers impactful online mindfulness and wellbeing events, workshops for organisations. Get in touch to find out more.