Our tropical adventure continues! This time we're going exploring on a tropical island & having fun at the Tropicana Fantasea Island Resort!
About this Event
Morning Gloryville goes island hopping in the tropics! 🏝️ We've been in lockdown for so long that one luxury holiday cruise was simply not enough! This is the second edition of our Tropicana Fantasea experience. 🌴
This time we're getting off the world's finest virtual cruise liner and going exploring on a tropical island. 🥥 We're gonna be having so much fun at the world-famous Tropicana Fantasea Island Resort - the ideal choice for those who love sandy shores & sunny adventures. 🌊
Oh and there's gonna be lots of banging TUNES & mind-blowingly high-energy sober RAVE! 🕺🏾
Check out the incredible experience we've prepared for you... 🦩
THE SCHEDULE
10am Opening Circle ⭕
10am Surprise Immersive Show with Music & Guided Movement 💃🏿
10:30am Tropical Island Tiki Beach Party with DJ MUZZ KHAN 🔊
11:55am Magical Island Safari 🦜
12pm Island Vibes and RAVE with DJ KRYSTAL ROXX of SUPERFOXX 🎧
13:25pm Immersive Entertainment with Tropicana Fantasea 🍍
13:30pm Closing Dance 👯‍♀️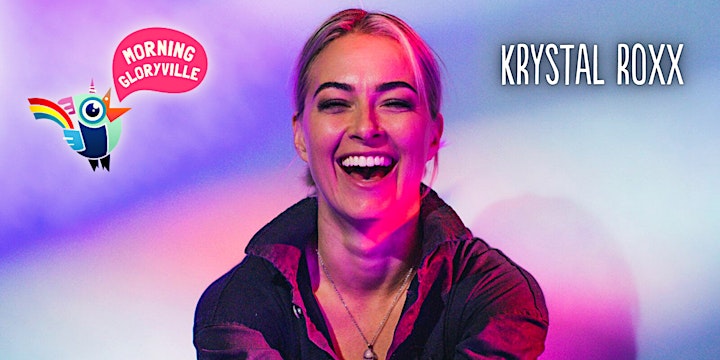 Krystal Roxx is a high energy, in demand DJ and performer taking her DJ sets & live shows to clubs and huge events around the world from playing 90,000 for the Euro Football Ceremonies to fronting regular early morning rave at Morning Gloryville where she plays alongside Fat Boy Slim, Bakermat, Felix Jaehan, Taio Cruz, Ricky Martin and Robbie Williams. Krystal is regularly asked to curate and perform at VIP events including Henley, Cosmopolitan Magazine, Tia Maria mixing her unique selections of House, Old School House, Upfront Grooves, Garage, Bass and Balearic beats. As a producer, Krystal's debut releases through her own label Superfoxx, have charted in the Top Ten and been heavily featured on television commercials for brands including Barry M. When not touring, releasing top dance records, headlining live shows, or speaking at music industry events, Krystal runs DJ Agency and Social Enterprise - Superfoxx, mentoring the next generation of female talent.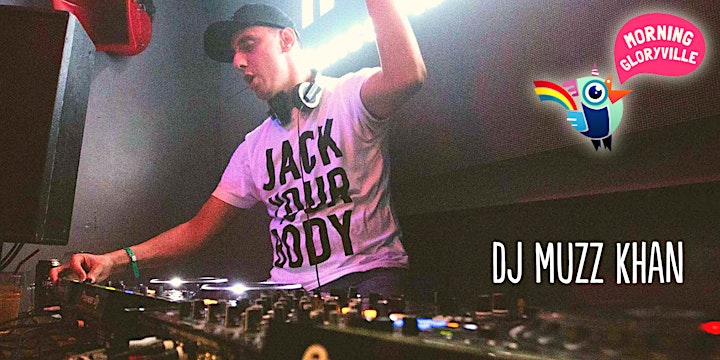 Muzz Khan is a bit of a firecracker. He's a critically-acclaimed actor and highly-sought-after DJ. Since bursting onto the scene - quite literally at Pacha London in 2007 - Muzz has had a glittering career spanning the last 14 years. He's played for Defected, Kim Cattrall, Hed Kandi, Ministry of Sound, the Royal Shakespeare Company, the O2 Academy, at festivals, at clubs across Europe and even on buses! He holds DJ residencies throughout London and Kent, runs a successful club night in Shoreditch and is a resident DJ for the English Disco Lovers and Rave of Thrones. When he's not DJing, you can find him on stage or on screen in shows like 'Casualty', 'Year of The Rabbit', 'Catastrophe', 'Black Mirror', 'Me Before You' or as the face and voice of a certain supermarket!
You'll be meeting some wonderful creatures on our tropical island holiday. Perhaps some of those may be listed below...
Captain of the Ship ⚓
Cabin Crew 🐙
Doletta, our hardworking cleaner 🦑
Holiday Reps (Holly Day, Sonny Shore, Sandy Beach, Mandy Lifeboats) 😂
Stacey Lorrafun, the Lifeguard 🐬
Cruising Grannies 👵
Moby the Whale, Ducks and Sharks 🐋
Under the Sea Crabs 🦀
Mermaids Galore 🧜🏾‍♀️
We'll be partying on the white sanded beaches and heading over to the Tiki Island Shack for a full on rave! 🐢
Get ready for the second episode of our magical tropical adventure. Surfs up! 🏄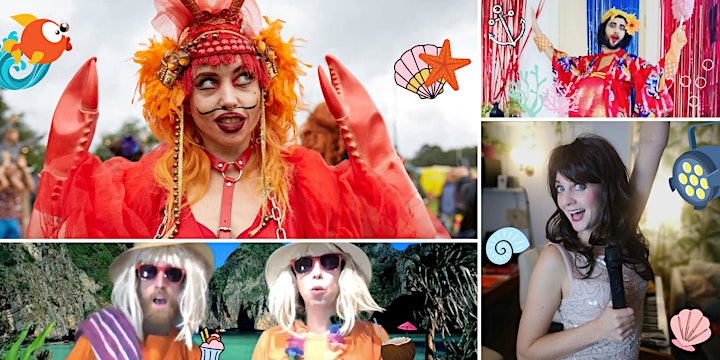 This is REAL! This is a circus of our imagination! 🎪 We want you to get wild, shake your body, release control and free your minds. 🎊 We're bringing you awesome tunes, authentic expression, the dance of life and pure magic created by all of us! 💫
Dress up, join the party & dance with us. Let our incredible facilitators, fabulous live DJs and uniquely talented artists entertain you and remember that you're the star of the show too! 🌟
Join us on Saturday 27th of February 2021 between 10am - 1:30pm GMT on Zoom for a most exciting virtual rave & wellness party. 🥰
Connection is key to our joy and happiness! We're excited to nourish your mids, bodies and souls. Our parties are designed to keep you moving, get you fit, and healthy. You will get your 10,000 steps done by midday with a bit of Morning Gloryville fun in your life! ♒
Dress Code & Theme:
You are boarding the cruise ship as a holiday goer and going island hopping in the tropics! We invite you to pack your suitcase, bring along your flip flops and favourite holiday outfits! 🏖️
Tropical Bright Colours, Flowery Dresses, Hawaiian Shirts, Mermaids, Sea Creatures, Sailors, Flower Garlands, Bikinis, Snorkelling Gear, Sunglasses 🐚
Joining is so easy...
Download the free Zoom application on your device of choice.
Look out for the email from Eventbrite containing the access link. This will be sent on the morning of the party! (Make sure to check your spam or junk folders as the email may end up there.)
Get dressed up to join us in the virtual club.
By the way...
We recommend that you join the party with your camera turned on for the fully interactive experience.
Why not connect to your TV screen for a more immersive party? We recommend headphones or powerful speakers. If you're using a Smartphone place it sideways for a better experience.
Ethernet cabled or fast fibre broadband internet connection will enable you to have the best online party experience.
The online dance parties are recorded and we may use these to promote upcoming events.
See you online! 🤩
Morning Gloryville

Corporate Wellbeing
Morning Gloryville is an immersive entertainment, wellness and mindfulness brand that specialises in virtual experiences. We would love to curate unique events for your organisation! Are you thinking of creating a Virtual Summit or a wellness event? Get in touch with us at community@morninggloryville.com to find out more. 💖