Join us for a nourishing Vinyasa Yoga Flow and Guided Full Moon Meditation experience on Monday 26th of July.
About this event
We're inviting you to join us on Monday 26th July at 7:35pm for a nourishing Vinyasa Yoga practice lead by the incredible Amy Mercado of The Mercado Method.
The Offering:
19:35 Heart Opening Freedom Vinyasa Yoga Flow
20:05 Guided Full Moon Manifestation Meditation & Affirmation Setting and Journalling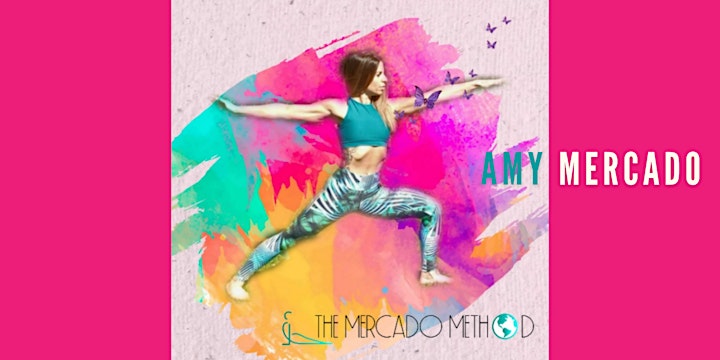 About Your Facilitator:
Amy Mercado believes in creating a lifestyle balance with exercise, yoga and nutritional harmony balancing your entire wellbeing. Amy has developed her own signature methods and is the founder of The Mercado Method. She has over a decade of experience in fitness, nutrition and yoga. She loves being outdoors and she is also training as a DJ!
About The Workshop:
Join us to embrace our Full Moon in Aquarius in Leo season.
This moon is all about breaking free of old chains, realigning with what makes your heart sing and trusting that inner voice that is here to guide us into our brightest future. With the sun in Leo it is a time to find more freedom by embracing our inner child with creativity,  spontaneity, self-expression & stepping into the unknown to live more in the moment. Aquarius is fiercely independent and wants us to embrace personal freedom for inspiring changes to help us transform our lives and become our authentic selves with the guidance of the universe and begin brand new adventures. With Leo (the ruler of the heart) & Aquarius (emotionally cool & calm) they are a powerful combination to help bring up what is in your heart into your head to embrace your inner warrior and begin to share your uniqueness with the world, bringing our visions & dreams to life.
Freedom Vinyasa Yoga Flow 💙
We will begin with a heart opening freedom Vinyasa Yoga to harness this full moon energy. By opening across our hearts we can release old stuck energy & tension (emotionally, mentally & physically) to release blockages that may be affecting your freedom or holding us back. We will also be working with our solar plexus to enhance our personal power to help activate more confidence & self-expression to fire us up to be more courageous with who we are and work towards being our higher selves.
Breathwork 💚
In Hindu and yogic tradition, we have an energy system where prana (breath)— our vital force — flows to all parts of our body. Following the yoga Amy will guide you through a breathwork practice to help you connect with your authentic self through self-inquiry.
Guided Meditation 💙
Amy will guide us through a Full Moon Manifestation Meditation for happiness, success & motivation followed by a Mind Exercise to programme new beliefs.
Journalling & Affirmations 💜
We will finish with some journalling and chakra activation affirmations to embrace this energy for making small changes to work towards a bigger overall transformation in our lives. Amy's journal prompts will help you uncover your emotions and connect to your inner wisdom and the depths of your soul. We will set intentions and affirmations to help your visions come to life.
You will require a yoga mat, a candle to light and a small glass or bowl with some water in it.
#fullmoon #onlineyoga #onlinemeditation #onlinemoonworkshop #onlinenewmoonworkshop #onlinelifementor #onlinebreathwork #onlineexerciseclasses #awakening #moonenergy #newmoon2021 #newmoon #yoga #breathwork #meditation #themercadomethod #livingconsciously #newmoonintentions #newmooncancer

Joining is so easy...
Look out for the email from Eventbrite containing the access link. This will be sent 1 hour before the workshop! (Make sure to check your spam or junk folders as the email may end up there.)
By the way...
We recommend that you join with your camera turned on.
Why not connect to your TV screen for a more immersive experience? We recommend headphones or powerful speakers. If you're using a Smartphone place it sideways for a better experience.
Ethernet cabled or fast fibre broadband internet connection will enable you to have the best online experience.
The workshop will not be recorded. We want you to feel completely safe to fully step into the practice.
See you online! 🤩
Morning Gloryville & Amy Mercado

Corporate Wellbeing
Morning Gloryville is an immersive entertainment, wellness and mindfulness brand that specialises in virtual, in person & hybrid experiences. We would love to curate unique events for your organisation! Are you thinking of creating a summer party or a wellness event? Check out https://linktr.ee/morninggloryville get in touch with us at roxy@morninggloryville.com to find out more. 💖
Date and time
Location
Refund policy
Organiser of Morning Gloryville Vinyasa Yoga & Full Moon Meditation with Amy Mercado