Location
The Healing House
99 Truro Road
London
N22 8DH
United Kingdom
Join us for an evening of devotional singing in community. This multi-faith Kirtan evening is open to everyone!
About this event
After a joyful year of events in our hometown of Brighton, Atomic Kirtan are excited to announce our regular events in London! Our events in Brighton have been consistently selling out and we now want to bring multi-faith Kirtan to the masses!
Tom, Lewis and Ella invite you to share this practice of multi-faith mantra singing, 'Kirtan'. This event is open to everyone; whether you have experience in group singing / chanting or are totally new, whether you want to sit, listen and meditate or get up and dance, all are welcome!
We will be sharing and singing some simple mantras from Hindu, Buddhist and Sufi traditions and ending with a short meditation. This is a beautiful practice for connecting with yourself, your community and for opening the heart.
We will start at 19:30 so please come along a little bit earlier to settle into the space. Our experiences usually run for around two hours and we always check in to see how everyone's feeling.
Our event will take place at The Healing House. The venue is a short walk from Bounds Green station. We will provide a limited number of yoga mats, blankets and cushions. You're encouraged to bring your own blankets, cushions or anything else you may need in order to be comfortable.
This is a drug / alcohol free event.
We look forward to seeing you soon!
Morning Gloryville & Atomic Kirtan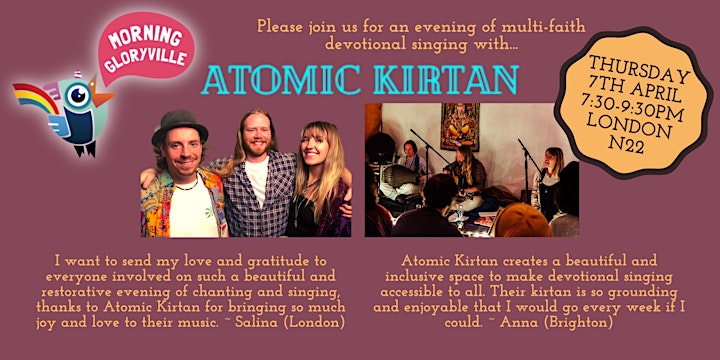 "Atomic Kirtan creates a beautiful and inclusive space to make devotional singing accessible to all. Their Kirtan is so grounding and enjoyable that I would go every week if I could." Anna (Brighton)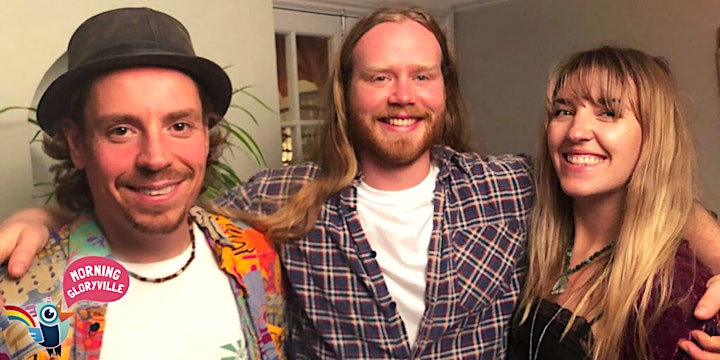 About Your Facilitators
Tom (lead vocals and guitar) has been practicing Meditation, Yoga, Tai Chi and Kirtan for over a decade. Initially trained in the Taoist lineage, he then studied Ashtanga and Vinyasa Yoga. Tom has been teaching Yoga , Meditation and leading Kirtan for 7 years. He brings together his experience from various traditions to create a Kirtan that drops deep, welcomes all and associates itself to no religious beliefs or dogma.
Ella (backing vocals) has been practicing Yoga and Meditation for 8 years. Originally beginning Meditation in the Vipassana tradition, Ella trained in Vinyasa Yoga in 2016 and has since been teaching Yoga regularly in Brighton, and is currently completing a 500hr training. She brings the feminine touch to Atomic Kirtan with an open heart and beautiful harmonies.
Lewis (percussion and vocals) has been involved in music most of his life. At the age of 11 he became involved in Brazilian samba, and has in the last few years found a home for his talents in sacred sound. He has spent many years producing electronic music and DJ'ing, as well as playing percussion and other instruments to audiences in the UK and beyond. Thanks to this he is able to cultivate the group energy in a way that often leads to an ecstatic experience for the attendees.

Community Pledge
Morning Gloryville is a conscious community dedicated to the wellbeing of everyone. In the spirit of inclusivity we'd like to ask you to get in touch with us at roxy@morninggloryville.com or +447861801878 if you wish to access this event, but are experiencing financial hardship. We'll do our best to help!

Corporate Wellbeing
Morning Gloryville is an immersive entertainment, wellness and mindfulness brand that specialises in virtual, in person & hybrid experiences. We would love to curate unique events for your organisation! Are you thinking of creating a festival, Christmas party or a wellness event? Check out https://linktr.ee/morninggloryville get in touch with us at roxy@morninggloryville.com to find out more. 💖