Morning Gloryville & Headstock Festival joined up, because we believe in the power of music to positively impact our mental health!
About this Event
Morning Gloryville & Headstock Festival joined up to create meaningful change. We believe in the transformative power of music, dancing and mindfulness to positively impact our emotional and mental wellbeing. Join us on Sunday 11th October in support of two incredible charities! The Headstock Festival will be raising funds for Help Musicians UK and Manchester Mind - we also offer free tickets to students currently in lockdown - this one is for you!
If you are able, your donations will help our charity partners deliver vital support and services at a time when people need them most.
We've prepared an incredibly exciting and fun event for you to enjoy. Check out our fantastic schedule:
10am Yoga Rave // Liam Browne
11am The Dance Party // DJ Paulette
1pm Soundscape Adventure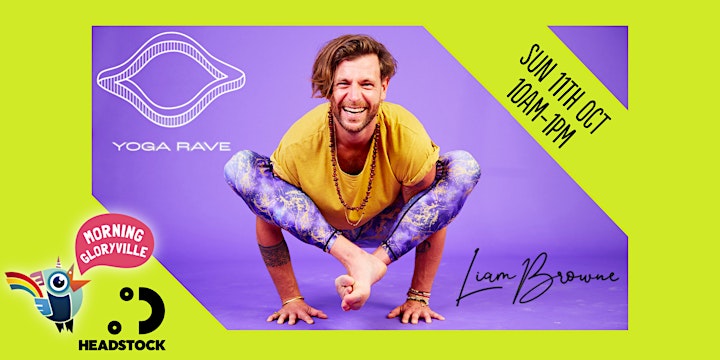 10am Yoga Rave // Liam Browne
Liam Browne is on a mission to wake up the world, connect with people and inspire them to seek out their true essence and live a healthier, love and laughter filled life.
This will blow your socks off, make your jaw drop, make you dance like never before, feel things you never thought possible. It will keep you talking about it for months. You will step out of the room ready to take on the world like the true warrior you are.
Get ready for Yoga Rave with Liam Browne!
11am The Dance Party // DJ Paulette
We are so excited to announce that DJ Paulette will be headlining our Morning Gloryville Rave!
For nearly three decades and over three countries, Paulette has held residencies at some of the most prestigious clubs and best parties in the world. She has a unique range, a keen musical ear. She has supported the cream of the DJ establishment – from David Guetta, Afrojack, Bob Sinclar to Duke Dumont and Mr Scruff. Her selections are on point, no matter which genre or room she plays in and she shines – and headlines – above her own star.
Get ready for the RAVE of your life!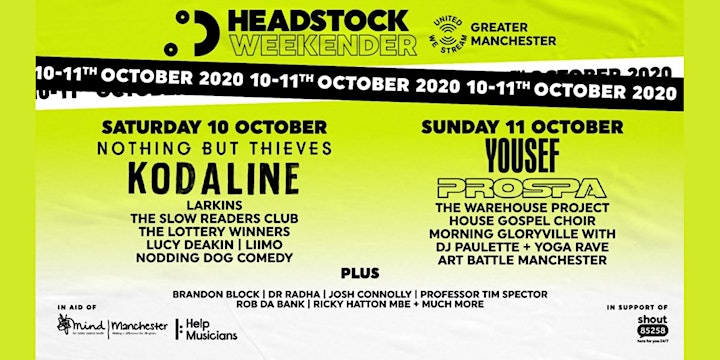 Headstock Weekender
Headstock Weekender is a music and mental wellbeing festival that takes place between 10th-11th October 2020. The festival features incredible acts, artists and wellness experts including Kodaline, Brandon Block, Rob Da Bank, Dr Radha, Josh Connolly and more.
The festival will raise funds for Help Musicians UK and Manchester Mind charities.
Morning Gloryville is proud to support this important cause. We're bringing you our signature Morning Gloryville rave & wellness experience on Sunday 11th October between 11am-1pm.
You can join the interactive & immersive Morning Gloryville experience by purchasing a £5 ticket on this page. This ticket will give you full access to the interactive Yoga Rave with Liam Browne, the dance party with star DJ Paulette and a soundscape adventure.
You can make additional donations through the Headstock Festival Just Giving page here.

How to Join
- Attendees should register for the interactive virtual experience via Eventbrite.
- Registered participants will receive a confirmation of their ticket after purchasing via email.
- The access links for the event will be emailed to all registered participants on the morning of the event from Eventbrite.
- Check your inbox before the event. Please also check your spam / junk folders.
- This experience will take place on Zoom.
- Download the free Zoom application on your device in advance and access the event using the link in the email.
- Places are limited. Early registration is recommended.
Important Details
- Please test your camera and speakers in advance.
- Switch your camera on for the interactive experience.
- Please ensure that your broadband router is nearby.
- For a more stable connection please disconnect other devices from the WiFi and switch off apps / tasks running in the background.
- Fibre broadband and ethernet cabled connection is recommended.
- This event will be recorded. Footage from the event may be used across our community channels for promotional purposes.
- Your image may appear on screen during the event.
- Any person deemed to be behaving inappropriately during the event will be removed without warning by the event moderators.
- If you're participating in a workshop, yoga or dance class please follow at your own pace. We recommend that you stretch before the rave.
- This experience is produced by Morning Gloryville pioneers of the sober rave, and global wellness movement
CORPORATE WELLBEING:
Morning Gloryville delivers impactful online mindfulness and wellbeing events, workshops for organisations. Get in touch to find out more.