Join us online for a nourishing Full Moon Yin Yoga Workshop. We're bringing you a Yin Yoga, Guided Moon Meditation & Journalling experience.
About this event
We're inviting you to join us on Wednesday 18th May at 7:35pm UK for a graceful and nourishing Yin Yoga and Meditation practice lead by the incredible Amy Mercado of The Mercado Method.
The Offering
19.35 Yin Yoga Practice
20:05 Guided Moon Meditation, Affirmation Setting & Journaling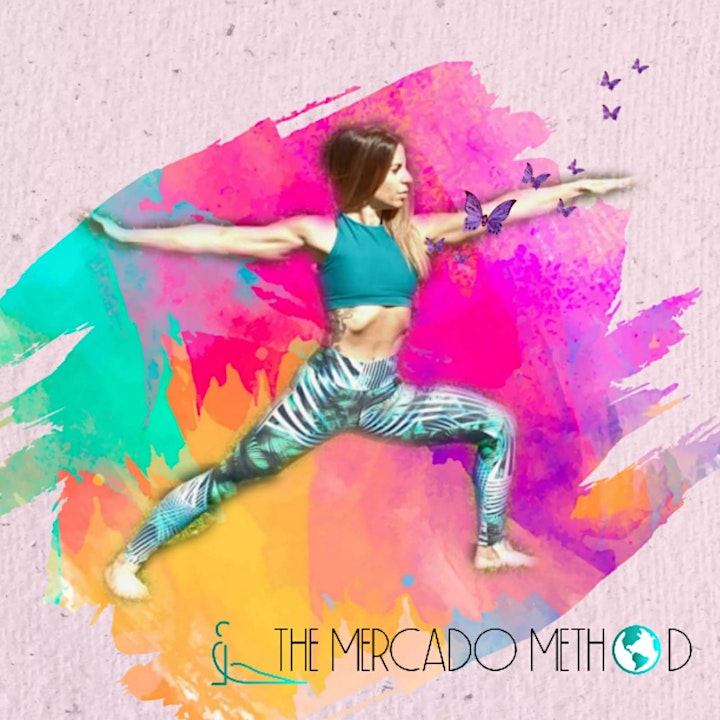 About Your Facilitator
Amy Mercado (@ammieelou_pt) believes in creating a lifestyle balance with exercise, yoga and nutritional harmony balancing your entire wellbeing. Amy has developed her own signature methods and is the founder of The Mercado Method. She has over a decade of experience in fitness, nutrition and yoga. She loves being outdoors and she is also training as a DJ!
About The Workshop
Join us on Wednesday 18th May at 7:35pm in preparation for our Full Moon in Scorpio this week. Our Scorpio Full Moon is here to help us dive deep beneath our surface bringing a vast opportunity for transformation, stripping off our masks to reveal our vulnerable selfs that we so often hide from others and the world we live in. It is time to reveal what we have pushed down deep into our shadows and do some emotional healing. Perhaps you hold yourself back from fear of being seen, imposter syndrome, not feeling good enough or worthy? It is time to shine a light on these fears and face them with curiosity and compassion like a true warrior that you are and step into your POWER.
Recorded Catch Up Session Option
This session will be available on catch up for 7 days to do in your own time if you are unable to attend the live session. The recording will not be available for download and after 7 days it will expire. Get in touch directly with Amy at ammieelou31@gmail.com with the confirmation of your booking to request the recording.
Yin Yoga 💙
At 7.35pm we will connect to Scorpio energy of Water complemented with the Earth energy of Taurus in our Yin Yoga practice. Taurus is here to bring us home to ourselves, reminding us to nurture the process so we can slow down and feel safe to be honest with ourselves and hold space to be vulnerable and feel our deep emotions so we can release them, freeing us of sabotaging patterns or behaviours we are ready to shed. Scorpio energy will allow us to face the parts we try to avoid or reject in ourselves so we can become more complete and self-accepting.
Guided Meditation 💚
At 8.05pm I will guide through a healing meditation with affirmations to help us slow down and give our minds a rest, becoming one with ourselves, to bring a deep sense of trust from within. Let us come home to our hearts and empower our inner warriors on this beautiful journey.
Journalling & Affirmations 💜
We will follow with some self-enquiry journalling to bring us strength over these next weeks with this magical energy.
What to Bring 💖
Please bring pen / pencil & paper / journal. Crystals are optional but bring a favourite if you have one. You may also wish to cleanse your space before your practice with some incense or sage.
#fullmoon #newmoon #onlineyoga #onlinemeditation #onlinemoonworkshop #onlinefullmoonworkshop #onlinenewmoonworkshop #onlinelifementor #onlinebreathwork #onlineexerciseclasses #awakening #moonenergy #fullmoon2022 #newmoon2022 #yoga #breathwork #meditation #themercadomethod #livingconsciously #fullmoonintentions #newmoonintentions #astrology #onlinementor #wellness #health #meditation #guidedmeditation #journaling #affirmations #affirmationsetting #intentionsetting #intuition

Joining is so easy...
Look out for the email from Eventbrite containing the Zoom access link. This will be sent 15 minutes before the workshop! (Make sure to check your spam or junk folders as the email may end up there.)
Join us online & enjoy! ;-)
By the way...
We recommend that you join with your camera turned on.
Why not connect to your TV screen for a more immersive experience? We recommend headphones or powerful speakers. If you're using a Smartphone place it sideways for a better experience.
Ethernet cabled or fast fibre broadband internet connection will enable you to have the best online experience.
You will not be recorded. We want you to feel completely safe to fully step into the practice. The session will be recorded, but the recording will only capture the facilitator.
See you online! 🤩
Morning Gloryville & Amy Mercado
Corporate Wellbeing
Morning Gloryville is an immersive entertainment, wellness and mindfulness brand that specialises in virtual, in person & hybrid experiences. We would love to curate unique events for your organisation! Are you thinking of creating a summer festival, Christmas party or a wellness event? Check out https://linktr.ee/morninggloryville get in touch with us at roxy@morninggloryville.com to find out more. 💖