Description
Last opportunity before it gets Grey and Dark for winter in the UK!



Join me at Cli Surf Morocco, a traditional Moroccan Surf House – for our first Morocco Surf & Yoga Retreat – located in the beautiful and friendly village of Taghazout Bay, known for its tranquility and great surf spots, close to other bustling villages and markets so that you get an authentic feel of traditional Moroccan life.



Yoga & Surf
Practice morning and evening yoga and meditation on the roof-top Yoga Shala with 360 degree views – including the 3km long beach and Atlas Mountains. The Yoga space sees the first and last rays of sunshine every day making it the perfect space to practice yoga. Surfing is on offer daily (all equipment supplied), or you can choose to spend more time chilling around the surf house or on the beach! The house offers double/twin rooms as well as quad rooms, with shared & en suite bathroom options, and communal chill out areas.
The Venue
Cli Surf House is equipped with comfortable bedrooms, spacious bathrooms, a communal chill out area and a huge rooftop terrace – the perfect setting to enjoy delicious home cooked meals while watching the sun set over Taghazout Bay. The house is in the peaceful village of Taghazout bay, just 3 km from Taghazout center and 14 km from Agadir. The spacious and stylish surf house is very close to local shops and cafés and just a few minutes' walk to Croco Beach & Devil's Rock.
The Food
Breakfast: Served on the rooftop terrace where you can take in the fresh air and sea views.
A wide selection vegetarian/ vegan gluten free food includes freshly squeezed orange juice, local honey and jams, yoghurt, cereal, crêpes, omelets and seasonal fresh fruits.
Perfect to set you up for a day of surfing, exploring or relaxing.
Lunch: Served on the beach or at the house. Take a break from the waves and enjoy a healthy salad typically made with Cli Surf Morocco's signature Moroccan style cheese and veggies. Wash it down with some refreshing fruit and a tasty snack.
Dinner: Served back at the house – what better way to replenish after a long day at the beach than with a tasty home cooked meal? The cooks at Cli Surf Morocco prepare an amazing variety of delicious meals (& generous portions!). You can look forward to the likes of Moroccan healthy blend of tagines and salads.
Each day is different and you can look forward to a starter, main and dessert… all topped off with traditional mint tea, of course!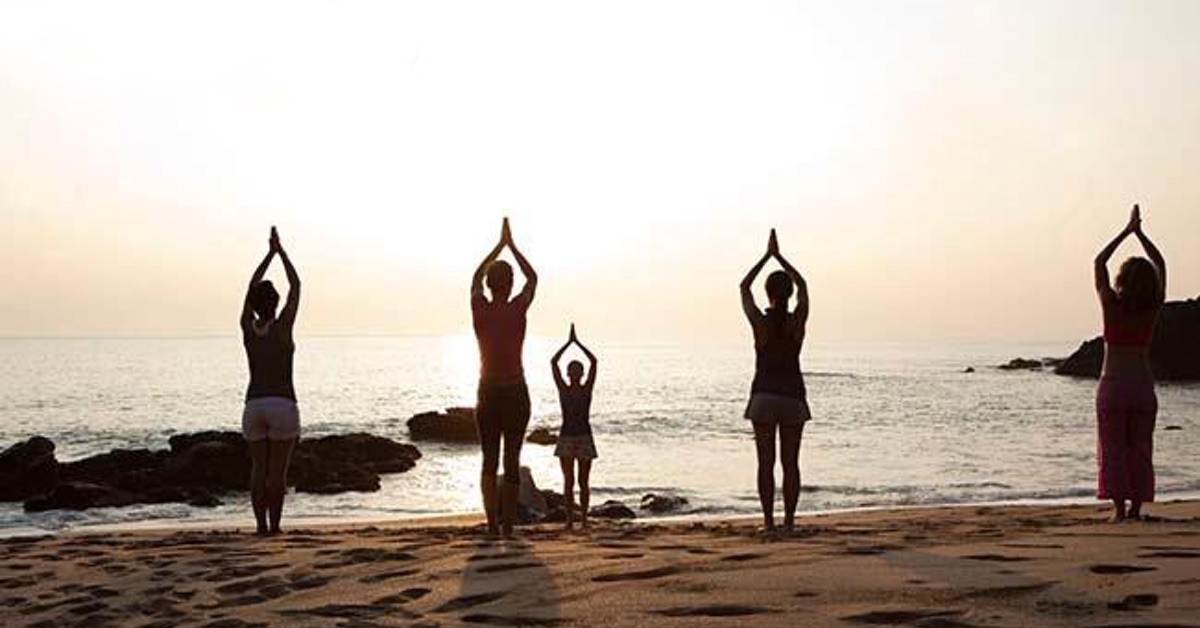 Lodging & Pricing
Quad Occupancy with shared bathroom – £625
Twin/Double Occupancy with shared bathroom – £675
Twin/Double Occupancy with en suite bathroom – £695
Single Occupancy with shared bathroom – £695
Single Occupancy with en suite bathroom – £725
Sample Daily Schedule
6 – 8 am: kundalini Yoga & Morning Chanting
8:30 – 9:30 am: Breakfast
10 – 1 pm: Surfing or Free Time
12 – 1 pm: Lunch either at the beach or house
2 – 5 pm: Healing Sessions ( needs prebooking ), Free Time or Excursion
6 – 7 pm: Dinner
9pm: Free Time, Meditation Night, Awakening the Senses with Dance, Sound Healing

Details
Unlimited transport to surf spots all day
Day excursion to Paradise Valley
Visit to the souk – local Market in Agadir
1 week's accommodation
Traditional Moroccan Meals 3 x daily (excludes 1 x dinner)
Agadir airport pick up, transfers, drop off
Two daily yoga sessions – 3.5 hrs. of yoga a day
Surf lessons and equipment for all levels

Reserve Now
– £200 non-refundable deposit followed by monthly instalments
– There are only 2 quads & 4 twin/double rooms with shared bathroom – Rooms allocated on a first come first serve basis
– Limited option for single occupancy.
– Retreat prices are per person
– Transfers to/from Agadir airport will be determined by the groups flight details

Reserve your space with a non-refundable deposit of £200 before September 15th, jump on the mat & surf with us!
Please contact Maitri for bookings at info.kawakening@gmail.com