Refund policy
Contact the organiser to request a refund.
Eventbrite's fee is nonrefundable.
Get creative in the company of others at our Mosaic Make-along
About this event
Join BAMM Chair, Rachel Davies with special guest Sophie Robins, for a couple of hours mosaic making!
The aim of this online event is for everyone to set aside some time to make a mosaic, based on the Prompts from the Pros series. This month we are creating mosaics in response to Sophie's prompt, which is about using collage to create an abstract mosaic design.
Details of the prompt can be found at the bottom of this page.
Please note that the prompt is intended to be a starting point and you are free to create what you wish at this event, using the materials you have available.
Sophie and Rachel will be discussing the prompt and sharing some of their work in relation to it, as well as having a chat with you all. We hope that some of you will also share what you are working on. So gather your tools and materials and join us!
If you would prefer to simply watch and see what others are up to, or even work on something that is not connected to the prompt that is ok too. The main thing is to enjoy a bit of creative time!
Please note that this is NOT a workshop. While various hints and tips may be shared throughout the event, the main aim of the evening is to provide an opportunity to get creative in the company of others. The event will be held via zoom and access details will be shared on the day of the event
This event is free to BAMM members and there is a small charge for non-members. There are a limited number of spaces available so book your ticket now!
If you are interested in becoming a BAMM member please visit our website: https://bamm.org.uk
To learn more about this month's guest, Sophie Robins, please visit her website or instagram page.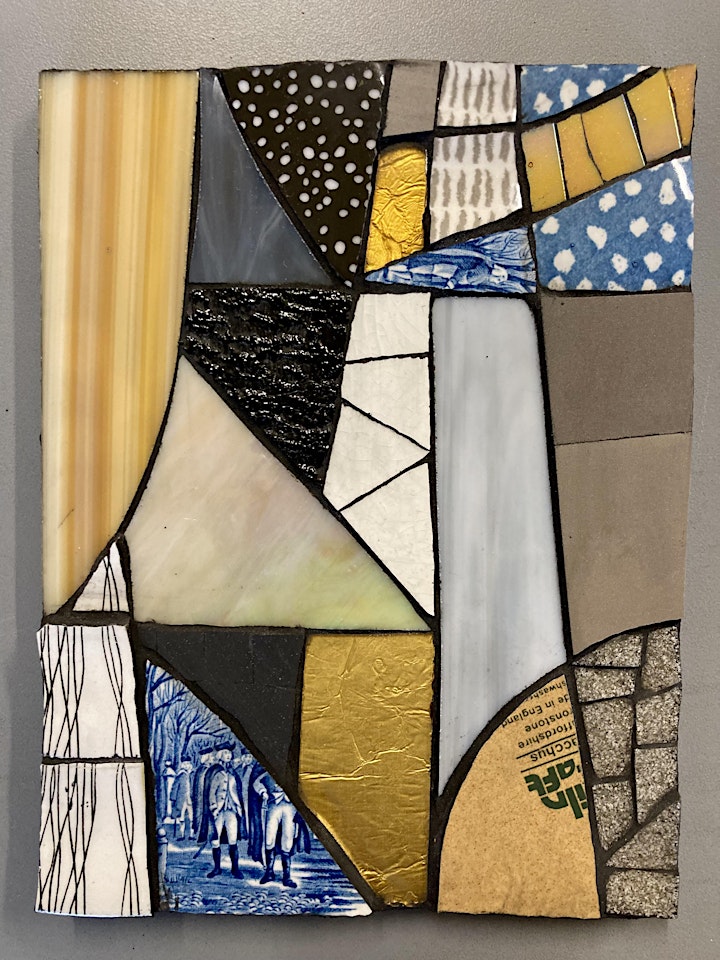 "Abstract"
An exploration into designing and creating original abstract compositions for our mosaics!
Often we struggle in knowing just how to get started on a new piece. We can identify styles and subjects that we are drawn to but how to use these influences and turn them into an original mosaic.
The aim for this prompt is to experiment and play with a collage approach, enabling confidence in our own abstract designs.
Take a look at the collages and paper cuts by Rex Ray and Matisse. Start collecting scrap paper! Neutral shades are good as it's more about shape, proportion, scale and composition at this stage . Old envelopes, packaging, old pages from notebooks, newsprint etc.
Create a collage using different sizes and shapes of paper. When you are happy with your collage design, create a mosaic based on this.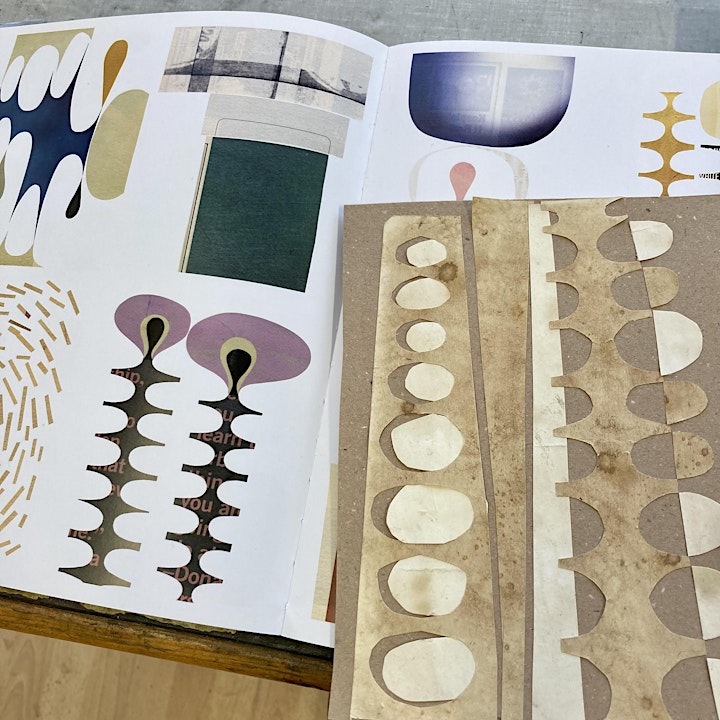 Above image shows a book of Rex Ray's work with collage by Sophie Robins laid out over it.