'Most Likely To Succeed' community screening in Greenwich schools #MATMLS

Tuesday, February 28, 2017 from 6:30 PM to 9:30 PM (GMT)
Event Details
Join us for a community screening of ​'Most Likely To Succeed' - the Sundance nominated film that's helping school communities reimagine what our children and their teachers are capable of doing.
And do stay on to share your thoughts in a discussion around the issues raised around educating our children for the fourth industrial revolution that is unfolding at the speed of light.
This screening is presented by the non-profit connectors, collaborators and cocreators at STEAM Co. in partnership with Maritime Academy Trust and their schools around Greenwich.

                Click the image above to see short film for the event.
Panel/audience discussion.
After the film, we hope you'll stay on to share your thoughts with our panel with a wide range of perspectives:
Nick Osbourne - Executive Head : Maritime Academy Trust (chair)

Dr Gary Pritchard - Dean School of Media : Ravensbourne Art College

Josie Todd : Youth and Education Team : Greater London Assembly

Rachel Gott - MD : Apple and Ink Creative Recruitment

Julian Astle - Director of Creative Learning : The Royal Society of the Arts

Allana Gay : Co-founder of BAMEed Network
Building on great work
Speaking ahead of the event, Nick Corston, co-founder of STEAM Co said:
"Amazing work is being done for our children in our schools across the country by amazing people like those in the team at Maritime Academy Trust.
But the education system they work within was designed over a hundred years ago and a lot has changed. Our children certainly have. This evening gives us a chance to stop and think about it.
To engage and florurish in tomorrow's world, our young people need to be encouraged to create, collaborate and innovate. 
I am very much looking forward to watching the film with carers*, creatives, teachers, headteachers, governors, employers, academics and local government representatives, and hearing what they have to say about the future of education in the UK."
* Carers: people who care for/about children and all our futures. They may be parents, guardians, pre-child, not having children, empty nesters, creatives, technologists, secondary/higher education students, etc, etc.
Tickets
STEAM Co. is a non-profit community interest company and is requesting donations for tickets to cover screening and other admin costs involved in staging this evening, but making tickets available to unwaged but engaged carers. Refreshments will be served in aid of the school PTA fund.
Timings
6:30 Arrival, refreshments and talking to strangers
7:00 Introduction by Nick Corston STEAM Co.
7:15 Film starts
8:45 Panel and audience discussion 
9:30 Event ends. 
Film synopsis
MLTS explores compelling new approaches that aim to revolutionise teaching as we know it. After seeing this film, the way you think about "school" will never be the same.
Over a century ago, education underwent a dramatic transformation as the iconic one-room schoolhouse evolved into an effective system that produced an unmatched workforce tailored for the 20th Century. As the world economy shifts and traditional white-collar jobs begin to disappear, that same system remains intact, producing potentially chronic levels of unemployment among graduates in the 21st Century.
The film follows students into the classrooms of High Tech High, an innovative new school in San Diego. There, over the course of a school year, two groups of ninth graders take on ambitious, project-based challenges that promote critical skills.
MLTS points to a transformation in learning that may hold the key to success for millions of our youth – and our nation – as we grapple with the ramifications of rapid advances in technology, automation and growing levels of income inequality.
See the full movie trailer here
Tweet with #MATMLS
Download flyers and posters to give out in your community.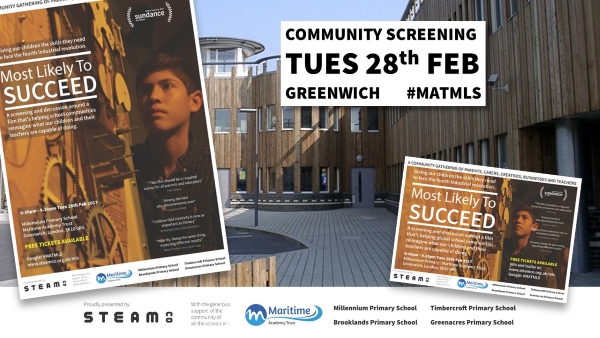 Thank yous
STEAM Co. is indebted to our all supporters who believe in the power of creativity to engage children, innovate business and connect communities.
We're particularly grateful to our media partner, the leading education newspaper Schools Week and NetMums, Maritime Academy Trust and their schools for collaborating with us on this event and the distrubutors for making the film available to us at a nominal screeeing fee.
If you'd like STEAM Co. to help you run a Community Screening like this with you or to see how previous events went, visit: www.steamco.org.uk/mls 
Find out more about and join STEAM Co. here

Small print
STEAM Co. is the trading name of STEAM Collaboration CIC – a non-profit community interest company no; 10376457. Reg address: 27 Old Gloucester Street, London, WC1N 3AX
Please excuse itypos on this page... found out too late that Eventbrite doesn't spell check!
Have questions about 'Most Likely To Succeed' community screening in Greenwich schools #MATMLS?
Contact STEAM Co.
When & Where

Millennium Primary
50 John Harrison Way
Greenwich,
SE10 0BG London
United Kingdom


Tuesday, February 28, 2017 from 6:30 PM to 9:30 PM (GMT)
Add to my calendar
Organizer
STEAM Co. is a UK wide non-profit Community Interest Company that believes in the Power of Creativity to Inspire Children, Innovate Business and Engage Community.
We Power Communities to Inspire Children with Creativity.
For more info see: www.steamco.org.uk