How To Academy presents... Mother of Invention - How the Ingenuity of Women Can Save the World | Katrine Marçal
About this event
Why did it take us 5,000 years to attach wheels to a suitcase? How did bras take us to the moon? And what would the world be like if we listened to women?
Bestselling author Katrine Marçal joins us to reveal the shocking ways our deeply ingrained ideas about gender continue to hold us back. Every day, extraordinary inventions and innovative ideas are side-lined in a world that remains subservient to men.
But it doesn't have to be this way. From the beginning of time, women have been pivotal to our society, offering ingenious solutions to some of our most vexing problems. More recently, it is women who have transformed the way we shop online, revolutionised the lives of disabled people and put the climate crisis at the top of the agenda.
Despite these successes, we still fail to find and fund the game-changing ideas that could alter the future of our planet, giving just 3% of venture capital to female founders. Instead, ingrained ideas about men and women continue to shape our economic decisions; favouring men and leading us to the same tired set of solutions.
For too long we have underestimated the consequences of sexism in our economy, and the way it holds all of us – women and men – back. Katrine Marçal's blistering critique will set the record straight and shows how, in a time of crisis, the ingenuity and intelligence of women is that very thing that can save us.
Praise for Katrine Marçal's Mother of Invention:
'This is an absolute must-read. Equal parts informative and infuriating.' - Dr Fern Riddell
'From wheeled suitcases to witch trials, Katrine Marçal makes you look again at history in this funny, clever and provocative book' – Helen Lewis
'…Infuriating, but always thought-provoking and intriguing. A clearly-needed wake-up call to future innovators not to view the world through a narrowly gendered lens but to pay attention to the skills and lived experiences of all. ' – Prof. Gina Rippon
'Sometimes we are lucky to experience a leap in new thinking. We look in amazement at the world around us and ask: why didn't we see this before? This what Katrine Marçal offers us in Mother of Invention. She brilliantly proves how male-driven technology over the ages has limited full human development by neglecting a liberating female narrative and perspective.' - Jan Eliasson, former Deputy Secretary-General of the UN
Katrine Marçal is a Swedish writer, journalist and correspondent for Swedish daily newspaper Dagens Nyheter. Her first book, Who Cooked Adam Smith's Dinner? was shortlisted for the August Prize and won the Lagercrantzen Award. She lives in London.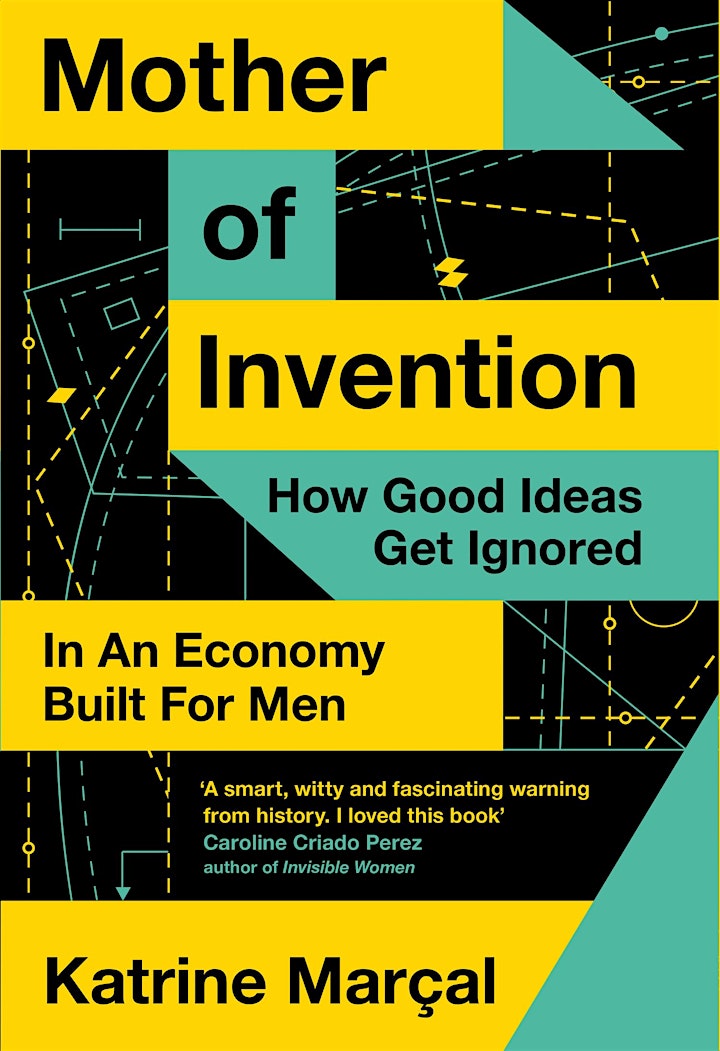 Organizer of Mother of Invention - How the Ingenuity of Women Can Save the World
How To Academy is an organisation for people who think big. From Nobel laureates to Pulitzer Prize winners, we invite the world's most influential voices to London to share new ideas for changing ourselves, our communities, and the world. 
We host leading artists and thinkers in an unrivalled programme of public talks, debates and conferences – from Yuval Noah Harari to Natalie Portman, Emma Watson to Eric Schmidt.
We help businesses discover transformative new strategies, anticipate the future, and inspire their staff with keynotes and workshops by internationally-acclaimed economists, psychologists, politicians, and thought leaders. 
We offer masterclasses live and online with experts in essential twenty-first century skills, like leadership, public-speaking, decision-making and resilience. And we make books, podcasts and films to share insight and innovation around the world.