What 'becomes' motherhood at the scale of a city or a neighbourhood – a mother 'hood'?
About this event
Towering above a landscape strewn with miniscule buildings stands the figure of a mother. Below her, public life creeps through city streets into neighbourhoods, from neighbour-hoods into homes. What 'becomes' motherhood at the scale of a city or a neighbourhood – a mother 'hood'?
The work of the mother is historically kept out of the public sphere, but that doesn't mean that the Mother[hood] is only as large as her house. What a mother makes be-comes economy, what a mother teaches becomes knowledge and what a mother touches becomes society. The figure of the mother reminds us that in the end we are all mutually interdependent, that we are all part of the same social fabric.
Fruit leather is made through a slow method of sundrying fruit pulp, predominantly practiced by women in the Caucasus and Middle East. Recipes like these are often passed on between generations, but fruit leather is a material that also managed to traverse territorial borders, different uses and traditions. 'Ttu lavash' in Armenia, 'tklapi' in Georgia, 'lavashak' in Iran, 'pestil' in Turkey, 'pastilla' in Russia, and 'qamar el deen' in Lebanon and Syria, the material carries many names. The thread running across these skins of fruit encompasses the ways in which we pass on knowledge, identity and trauma, making them part of our collective memory.
What do you want to draw on this skin of memories?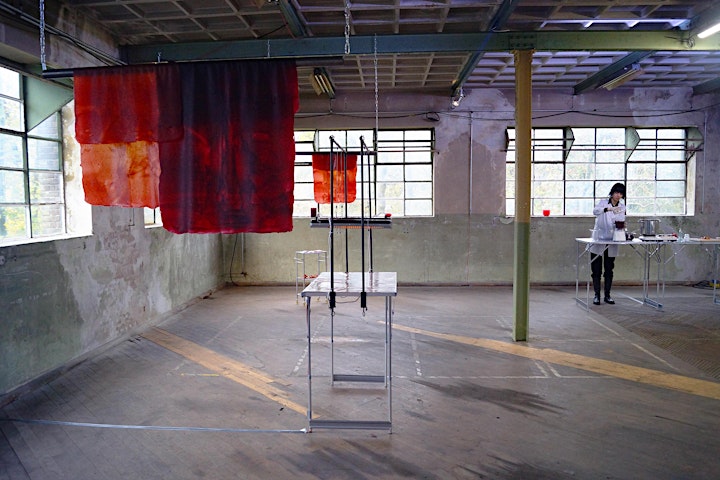 Veronika Babayan, Sour Counterfeits, De Dood, Zaandam, 2020 (Sandberg Graduation)
Olga Ganzha is a Russian multimedia artist who lives and works in The Netherlands. Her works range from photography, graphics and artist's books to texts and audio-visual installations.
Nowadays Olga works on autonomous projects that walk the edge between design and art. In her works she often looks for balance, connecting disjointed elements or elements of different grounds in an interdisciplinary way; ritualizing personal memories of history and culture in 'artlike' shapes.
Olga received her MA in Linguistics and Literature from Volgograd state university (RU) and a BA in Graphic Design from St.Joost Art Academy in s' Hertogenbosch (NL) in 2012. She participated in a number of exhibitions and collaborative projects in Europe, Africa and former Soviet countries.
●
Veronika Babayan is an artist, writer and educator whose work progresses between The Netherlands, Armenia and Turkey. She uses a meta-autobiographical approach to study pedagogies that affect the perpetual production of national identity.
By looking at motherhood, she works with collective memories that offer alternative accounts to those of mainstream histories. Using and animating traditional women's practices, she emphasizes the role of feminism in undermining hegemonic authority in patriotic memory. Veronika reaches out through existing cultural elements, signs and symbols shared between antagonistic histories to discover how they could transcend nationalistic narratives and to create spaces for interterritorial belonging.
Veronika studied at the Yerevan State Academy of Fine Arts, then at the Willem de Kooning Academy, Rotterdam, and obtained her master's degree at the Sandberg Institute, Amsterdam, in 2020. She has also been a guest lecturer in Critical Studies at the Willem de Kooning Academy and works as a Projects Assistant at Kunstinstituut Melly in Rotterdam. Currently, she is working on publishing her MA thesis 'Dear Mother; Fluid Mechanism of Belonging'.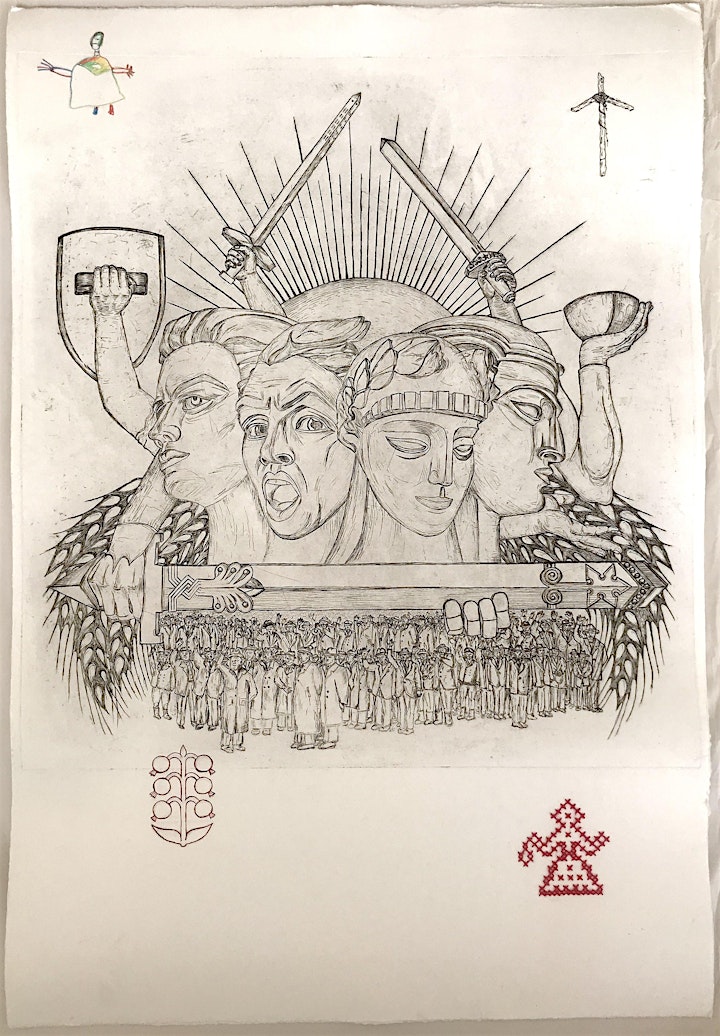 Olga Ganzha, My Armed Mothers
Boven het glooiende landschap torent een moederfiguur uit, hoog over een zee van minuscule gebouwen. Onder haar baant het openbare leven zich een weg door de straten van de stad, om vervolgens thuis aan te komen. Wat behelst 'moederschap' op de schaal van een stad of een wijk – een moeder- 'hood'?
Het werk van moeders wordt historisch gezien aan het publieke oog onttrokken, maar dat betekent niet dat 'de Mother[hood]' zich slechts uitstrekt tot de buitenmuren van haar huis. Wat een moeder maakt wordt onderdeel van de economie, wat een moeder leert wordt onderdeel van onze kennis en wat een moeder aanraakt wordt uiteindelijk onze samenleving. Het symbool dat de moeder representeert herinnert ons aan het feit dat wij uiteindelijk allemaal van elkaar afhankelijk zijn, dat zij een rode draad vormt binnen onze samenleving.
Fruitleer wordt gemaakt door middel van het drogen van fruitpulp in de open zon, dit tijdrovende proces wordt voornamelijk beoefend door vrouwen in de Caucasus en het Midden Oosten. Recepten zoals deze worden vaak van generatie op generatie doorgegeven, maar fruitleer is een materiaal dat zelfs landsgrenzen, verschillende toepassingen en tradities heeft overschreden. 'Ttu lavash' in Armenië, 'tklapi' in Georgië, 'lavashak' in Iran, 'pestil' in Turkije, 'pastilla' in Rusland, and 'qamar el deen' in Libanon en Syrië, het materiaal draagt vele namen. De rode draad die deze vruchtenhuiden verbindt is de veelzijdige wijze waarop wij kennis, trauma en identiteit delen en doorgeven en onderdeel maken van ons collectieve geheugen.
Welke herinneringen wil jij achterlaten op dit vel?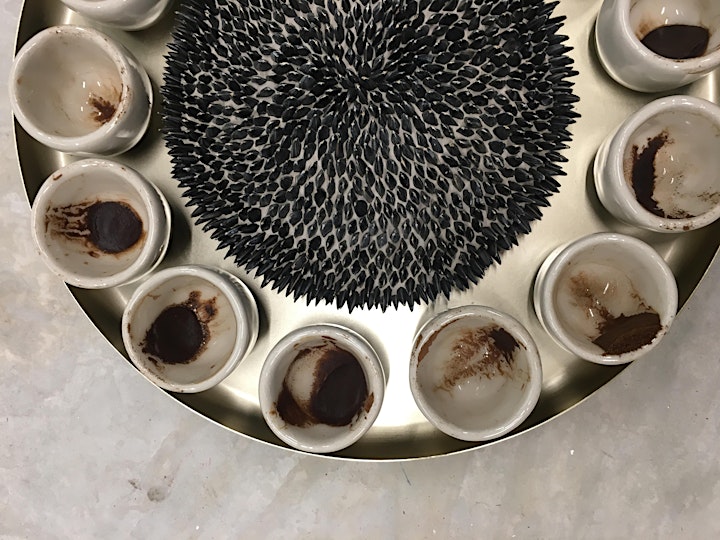 Veronika Babayan, Performative session - Coffee Divination, 2019
Russische multimedia kunstenaar Olga Ganzha woont en werkt in Nederland. Voor haar werk maakt ze gebruik van fotografie, grafiek, tekst, audiovisuele installaties en produceert ze kunstenaarsboeken.
Olga's huidige projecten bevinden zich op het snijvlak van kunst en design. In haar praktijk zoekt ze naar een balans door schijnbaar onsamenhangende elementen, met verschillende achtergronden, met elkaar te verbinden door middel van een verscheidenheid aan technieken. Zo weeft ze persoonlijke herinneringen, geschiedenis en culturele referenties samen tot een ritueel patroon in diverse artistieke vormen.
Olga behaalde haar Master in Taal- en Letterkunde aan de Universiteit van Volgograd (RU) en een Bachelor Grafisch Ontwerp aan de Kunstacademie St.Joost in s' Hertogenbosch (NL) in 2012. Ze nam deel aan meerdere internationale tentoonstellingen en samenwerkingsprojecten in Europa, Afrika en in voormalige Sovjetlanden.
●
Veronika Babayan is kunstenaar, schrijver en mediator werkzaam tussen Rotterdam, Amsterdam, Istanbul en Yerevan. Ze maakt gebruik van een meta-autobiografische invalshoek om de invloed van pedagogie te onderzoeken in de totstandkoming van een nationale identiteit.
Vanuit het thema 'moederschap' onderzoekt ze het collectieve geheugen en narratieven die een alternatief bieden voor traditionele geschiedschrijving. Door haar focus op vrouwen-tradities, wijst ze op de rol van het feminisme in het ondermijnen van het patriarchale geheugen. Veronika werkt met bestaande culturele elementen en symbolen die tussen verschillende antagonistische geschiedenissen worden gedeeld om te zien hoe deze nationalistische narratieven kunnen overstijgen en de ruimte kunnen scheppen voor interterritoriale saamhorigheid.
Veronika studeerde aan de Yerevan State Academy of Fine Arts, de Willem de Kooning Academie, en behaalde haar master aan het Sandberg Instituut, Amsterdam, in 2020. Ze was gastdocent Critical Studies aan de Willem de Kooning Academie en is Projects Assistant bij Kunstinstituut Melly in Rotterdam. Momenteel werkt ze aan de publicatie van haar scriptie 'Dear Mother; Fluid Mechanism of Belonging'.