Motherhood, Gender, Translation and Censorship in Eastern European Women's Writing: An Online Discussion with Writers and Academics
About this event
The AHRC-funded Slavic and East European Motherhood Studies network (SEEMS) is delighted to host as part of its inaugural conference a public discussion about motherhood and gender in Eastern European literature with FIVE women scholars and writers, chaired by Eglė Kačkutė (Associate Professor in French at Vilnius University, Lithuania), talking about how women writers in the countries of Eastern Europe have shared their experiences of femininity and motherhood through their fictions - and how current developments in gender politics, translation publishing, and state censorship are affecting their choices.
Eglė Kačkutė will be in conversation with Justyna Wierzchowska( Associate Professor at the Institute of English Studies, University of Warsaw and Fulbright Fellow at NYU) , Svetlana Satchkowa (US-based Russian novelist and Truman Capote Fellow at Brooklyn College), Noémi Kiss (Hungarian novelist and scholar), and Urszula Chowaniec (Professor of Literature at Andrzej Frycz-Modrzewski Cracow University in Poland, and Research Fellow at UCL SSEES). All welcome! Q&A to follow discussion.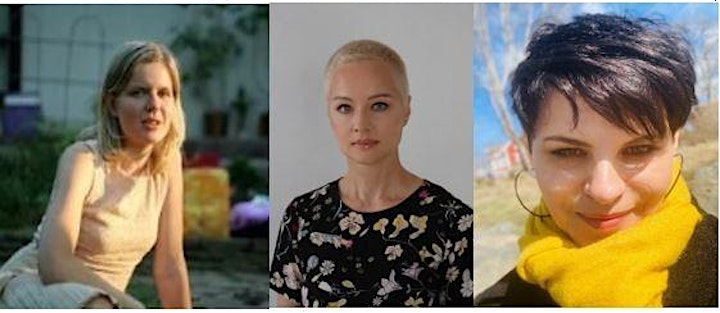 Ula (Urszula) Chowaniec, Ph.D. is a professor of literature at the Andrzej Frycz-Modrzewski Cracow University in Poland, and a research fellow at University College London's School of Slavonic and East European Studies and. She lives in Stockholm, where she also teaches Jewish Women's Literature and Yiddish Literature at the Paideia Folkhögskola, the European High School for Jewish Studies in Sweden. She is the author of Melancholic Migrating Bodies in Contemporary Women's Writing (2015) and W poszukiwaniu Kobiety: O wczesnych powieściach Ireny Krzywickiej (In Search for a Woman: Early Novels of Irena Krzywicka, Kraków 2007), and themain editor and co-author of Women's Voices and Feminism in Polish Cultural Memory (2012), Mapping Experience on Polish and Russian Women's Writing (2010), Masquerade and Femininity. Essays on Polish and Russian Women Writers (2008).
Eglė Kačkutė is Associate Professor in French at Vilnius University. Her research focuses on contemporary women's writing and transnational mobilities, especially on mothering across cultural and linguistic barriers. She is the co-author of Portrait of a (Working) Mother (Georg, 2019) as well as co-editor of Transgression(s) in Twenty-First-Century Women's Writing in French (Brill/Rodopi, 2021). She is the co-investigator of the AHRC-funded SEEMS research network and she also collaborates with the Horizon 2020-funded project MotherNet.
Noémi Kiss is a Hungarian writer, whose works have been translated into English, German, Polish, Bulgarian, Romanian and Serbian. The German press considers Kiss as one of the most promising writers of her generation. She is a columnist for the German weekly Die Zeit.
Kiss studied Comparative literature, Sociology and Hungarian Studies University of Konstanz in Germany, and also at the University of Miskolc in Hungary, where she has been a lecturer since 2000. She received her PhD from the University of Miskolc in 2003 for a dissertation on Paul Celan, published with the title Határhelyzetek. Paul Celan költészete és magyar recepciója (Borderline cases: Paul Celan's poetry and its Hungarian reception). Kiss regularly publishes short stories, fictional travelogues on Eastern Europe, and essays on photography and literature.
Kiss often attends international literature festivals, among others in Berlin, Graz, Hamburg, Krems, Timișoara, Ruse. In 2009 she was a fellow at the Literarisches Colloquium in Berlin and in 2013/2014, she was writer-in-residence in Zurich.
Born in the Soviet Union and raised in Moscow, Svetlana Satchkova worked for many years in Russian media. She is the author of three novels in Russian; her latest one, Люди и птицы (People and Birds) came out from Eksmo in 2020. She now lives in New York City and is studying for her MFA at Brooklyn College, where she is a Truman Capote Fellow."
Justyna Wierzchowska is Associate Professor at the Institute of English Studies, University of Warsaw and a Fulbright Fellow at New York University. She researches contemporary visual art and culture through psychoanalysis, affect theory and motherhood studies (especially attachment theory and object relations theory). Justyna has published and co-edited three books and is currently working on two interlinked book projects: Related for Life: Mothering in Contemporary Art and Self-Writing: Critical Theory after War World II.