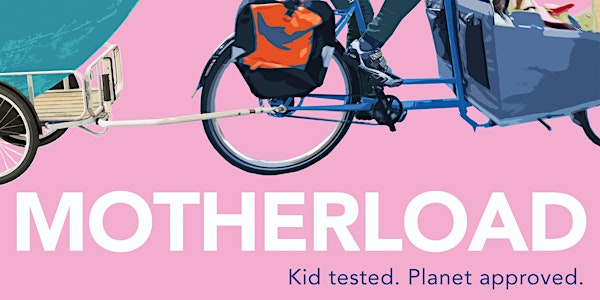 MOTHERLOAD virtual screening and Q + A with Director Liz Canning
MOTHERLOAD virtual screening and Q + A with Director Liz Canning and invited guests
About this event
As part of the New Forest Awakening Festival we have chosen to screen the excellent independent film, MOTHERLOAD. Plus we have the pleasure of an Q and A with director Liz Canning all the way out in California. Liz will be joined by invited guests from the New Forest and around to talk about the film and its impact.
Invited guests confirmed so far-
Megan Streb, Sustrans
Natalie Martin, Cargo biker
Hosted by Aynsley Clinton, Sustainable Visitor Experience Officer, NFNPA
This screening is being brought to you by the New Forest National Park Authority, New Forest Transition and New Forest Zero Carbon Alliance.
Your booking will include the MOTHERLOAD film plus the live Q + A. You will receive a digital password/code to view the film 3 days prior before the event, so you have 48 hours to watch the film before the Q&A. We really hope that everyone watches the screening before attending the discussion. Any questions at all, please contact events@newforestnpa.gov.uk
The Q and A will take place on Zoom on Tuesday 9 February 19:00 to 20:30
MOTHERLOAD is a crowdsourced documentary in which the cargo bicycle becomes a vehicle for exploring motherhood in this digital age of climate change. The film follows director and new mother Liz Canning on her quest to understand the increasing tension between modern life and our hunter-gatherer DNA, and how cargo bikes offer a solution. As Liz meets the people behind this push to replace cars with purpose-built bikes, she learns about the history and potential future of the bicycle as the "ultimate social revolutionizer." Conflict arises when characters encounter cultural resistance, in particular bikelash focused on women and mothers. MOTHERLOAD draws connections here to the struggle of cyclist Suffragettes and to women's seemingly endless fight for bodily autonomy. Ultimately, Liz's experiences as a cyclist, as a mother, and in discovering the cargo bike world, teach her that sustainability is not necessarily about compromise and sacrifice, and that there are few things more empowering in an age of consumption than the ability to create everything from what seems to be nothing.
Subject Areas : Sustainability, Green transportation, Bicycle history, Feminism & women's empowerment, Connecting to nature, Childhood and parenting, Community, Social movements, Storytelling.
MOTHERLOAD Director/Producer/Editor/Animator: Liz Canning.
BIO: Liz's work has screened internationally, winning awards including a Sundance Special Jury Prize (American Blackout - editor/producer). After graduating from Brown University in Semiotics, Liz worked at San Francisco's Artists Television Access and Film Arts Foundation while making films. Her award-winning Handmirror/Brushset Included screened internationally, on PBS and at the Museum of Modern Art in NYC (distributed by Art Com). Since 2000, Liz has worked as a professional filmmaker focused on editing and animation for documentaries. Girls Rock! secured theatrical distribution and featured five animated sequences created by Liz and to demonstrate the cultural forces affecting young girls.
Reactions:
MOTHERLOAD took me quite by surprise… I truly had tears in my eyes throughout — tears of happiness, anger, frustration, love, and pure joy!
— Joni Cooper, Director of Programming, DOCLands Film Festival
I over heard someone yesterday in a cafe say: "I keep seeing moms bringing kids around on bikes. It must be because of that movie."
— Tarrell Kullaway, Executive Director, Marin Bicycle Coalition
Thank you so much for creating this beautiful film. Everyone was so inspired. I was struggling to hold back every type of emotional tear one is capable of. You're a bloody legend.
— Matt Loft, Australia
Official website: www.motherloadmovie.com/welcome