Description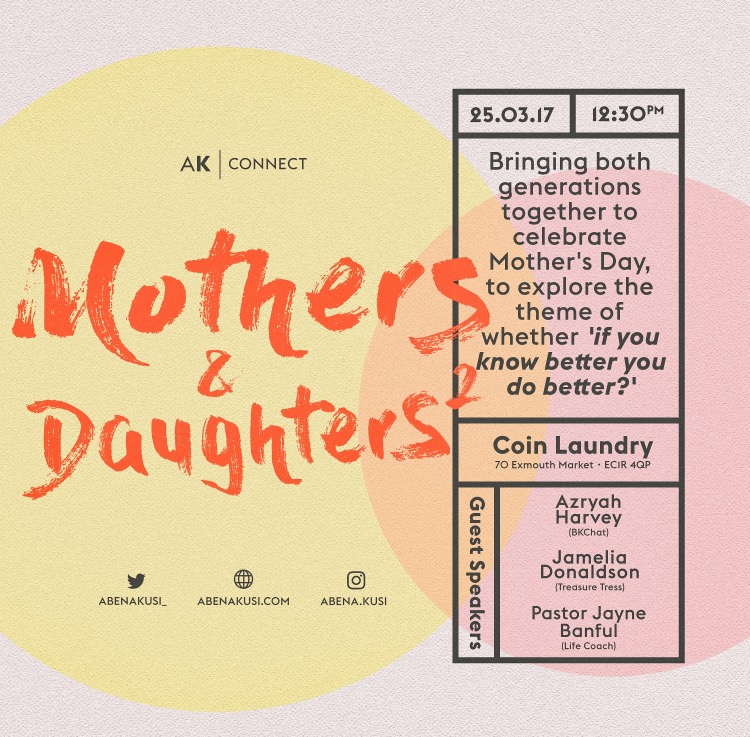 AK|Connect is excited to host it's 2nd Mothers & Daughters event on 25th March 2017 in celebration of Mother's Day.
We are back with an amazing event, bringing both generations together to explore and celebrate the relationship between mother and daughter. Our 2017 Mothers & Daughters is all about exploring the theme of 'If you know better, you do better' - our guest host will be sharing their personal journeys and relationships with their mothers.
---
WHAT TO EXPECT:
Hors d'oeuvres
Guest Speakers
Games
Sponsered Gift Bags
---
GUEST SPEAKERS:
Azryah Harvey - Singer/Songwriter and panelist from YouTube's latest hit 'BK Chat'
Jamelia Donaldson - Founder of TressureTress, the UK's first subscription box specifically catered to young girls with naturally kinky hair.
Pastor Jayne Manful - Professional Counsellor, Life Coach and an Associate Pastor of Praise Christian Centre
---
FINAL NOTE:
We encouge all guests to bring their mothers to celebrate this special occasion. The main goal for this event is to celebrate and to also insipre young women to build stronger bonds and communiction with their mothers.