About this Event
We are off our seats excited to announce the launch of our very first LIVE event for Mothers of Enterprise.
We're bringing you 4 amazing workshops covering topics from social media, email marketing, understanding & controlling cashflow to productivity and time management... or something like time management - anyone with small kids at home will know there's no managing time when every moment is pretty much unpredictable!
There will be time for relaxed networking (don't worry, no awkward 1 minute pitches!) and socialising with the many inspiring women in business.
We'll be providing you with a rather lovely lunch, coffee/tea, snacks and cake.
So come along, relax and let yourself be treated to a few hours off mum duty whilst soaking up inspiring talks that will provide you with powerful actionable tools to help grow your amazing business.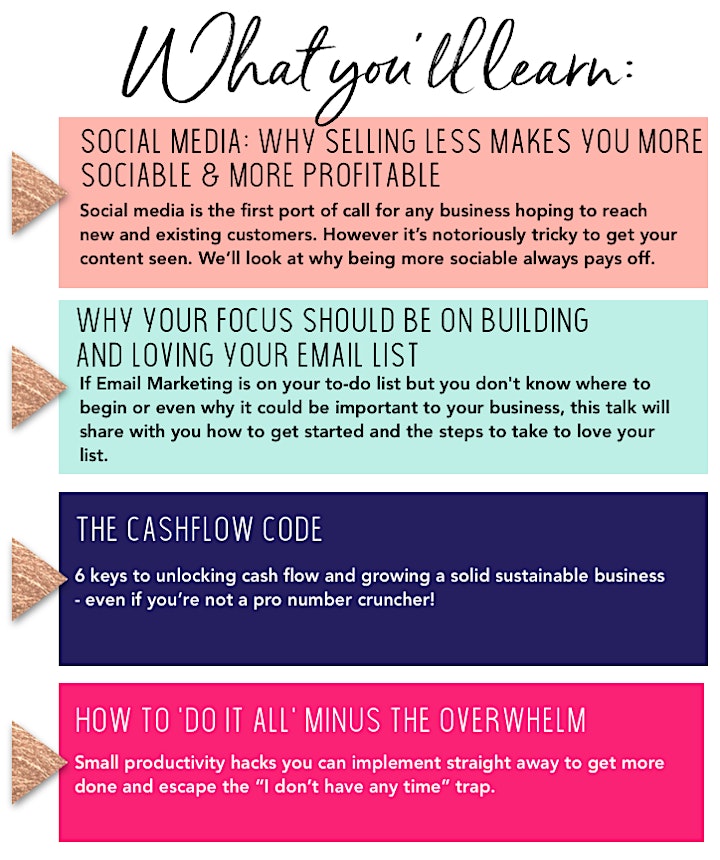 After a day of inspiration, learning, networking, and you've been thoroughly caffeinated, we'll round the day off with a panel Q&A.
This will allow you, our wonderful attendee, to ask our panel of business experts anything you like about your business or the topics covered during the day.
We promise you, that you'll leave this event not simply feeling inspired and motivated, but with actionable tools to help carry those good feelings into productive, business growing ACTION.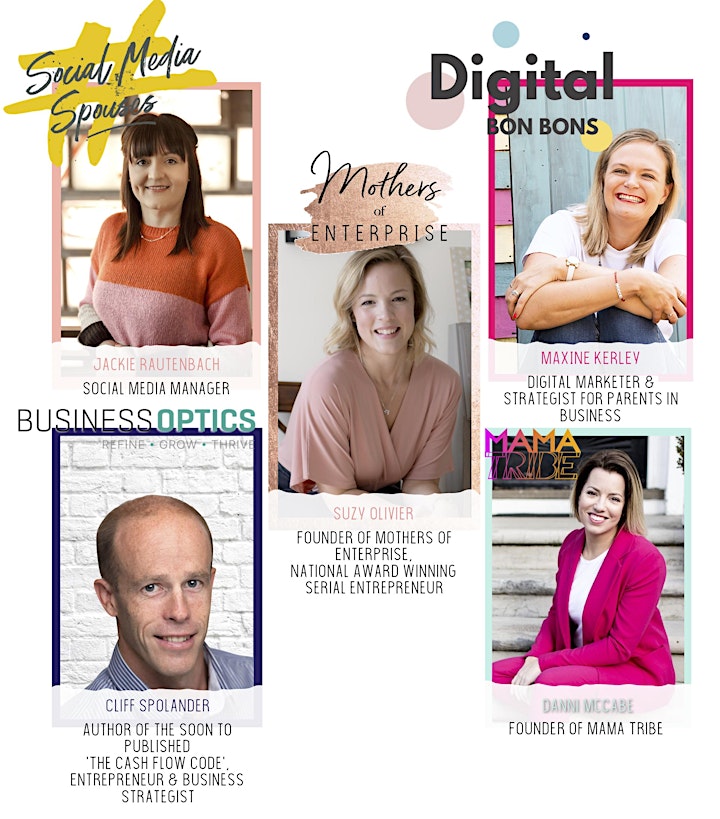 FAQ's:
Is there parking at the event?
Yes, there's plenty of FREE parking.
Are the tickets refundable?
Due to the fact that catering and other service providers will need final numbers confirmed, tickets are non- refundable but they are transferrable, so you're welcome to offer your ticket to someone else, but please ensure you email us immediately in this case- info@mothersofenterprise.com.
I've got dietary requirements, can you cater for this?
Yes of course! After you've booked your tickets, simply email us at info@mothersofenterprise.com and let us know what you need.
Can I bring my kids?
Unfortunately due to the policy of the venue no children are allowed, except for young babies that aren't yet mobile.
I'm not actually a mum, can I still come?
Oh yes of course! We have so many members inside our Mothers of Enterprise Society who aren't mothers - anyone and everyone is welcome :)
Who/what is Mothers of Enterprise?
You can find all about us an our mission right here.
Got a question that's not answered here?
Simply email us and we'll be happy to help - info@mothersofenterprise.com