Find out more about what motivates and distresses us. By observing how people behave in distress, we can learn how to motivate them.
About this Event
Anna is exceptional in organizing activities and detailed planning. She gladly takes on responsibility, which makes her a welcome person in both professional and personal relationships. She structures her ideas logically and explains them quickly and clearly to others.
However, lately she is not really herself. For the last weeks she started to micro-manage her team, over-control and, when things are not going the way she expects, to criticise their thinking, demotivating them. She takes more of their work over, thinking "I'll do it better and faster than anyone". Sadly, she's getting close to burn-out.
Does Anna's story ring a bell? She is, in fact, under stress and really needs to charge her batteries. Fulfilling her specific psychological needs could do wonders for her at this time.
Learn more about this and other useful ideas in this FREE WEBINAR.

Learn about our triggers...
We often talk about how managers need to be equipped with techniques that allow them to successfully motivate their team members and, most of us agree this is not an easy feat, as we are all different. The same is true for when we see people in distress and we want to help them get out of it.
... and how to use them as motivators
Well, there are some things that we can do. In this 45 minutes webinar, I will introduce to you one tool that does that. It helps us to observe the behaviours of others and, based on that, understand how we can motivate them and how we can invite them out of stress.
It's not rocket science, but... it is science.  NASA used this tool for decades. Why shouldn't we?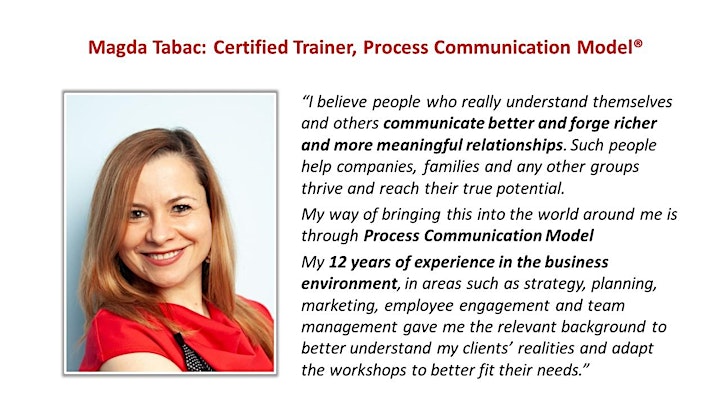 Please note: by registering for this Webinar, you will automatically be signed up to my Mailing List. You are welcome to Unsubscribe at any time.